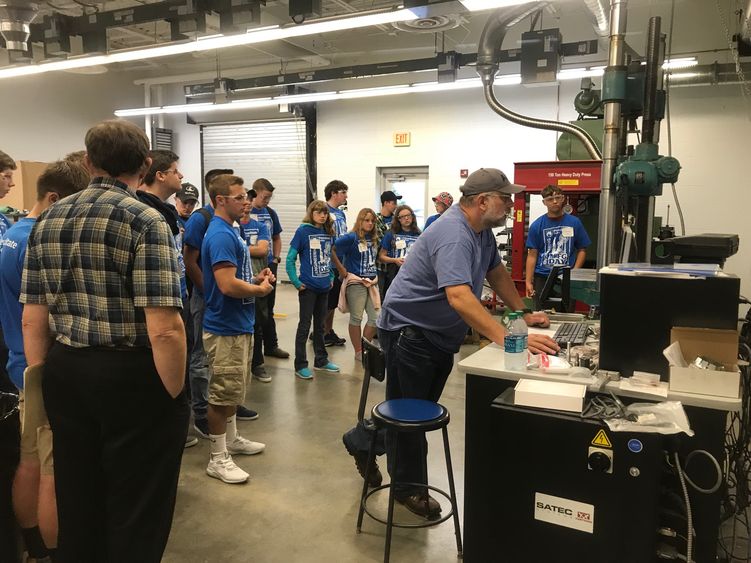 A total of 200 students from 11 high schools visited Penn State DuBois on Oct. 6, for Manufacturing Day. Those attending learned about a significant need within areas of the manufacturing industry for skilled and well-educated workers. Professionals representing local companies at the event said they are actively seeking skilled workers to fill their workforce demands, and hope that initiatives like Manufacturing Day can raise awareness that there is opportunity in the region for successful careers.
All guests had the opportunity to take part in a product design exercise, received tours of campus engineering labs and production labs, and learned more about engineering degree programs offered at Penn State DuBois that can prepare individuals to launch careers in a variety of fields. Presentations were also made by faculty members in the campus engineering programs.
Manufacturing Day is a national event supported by a group of industry sponsors and co-producers. Events were held at more than 2,000 locations across the country, intended to addresses common misperceptions about manufacturing by giving manufacturers and educational institutions an opportunity to open their doors and show, in a coordinated effort, what manufacturing is about.
Companies represented at Manufacturing Day on campus were Brownlee Lumber Company, Metco Industries, Netshape Technologies, Symmco Inc., Brookville Equipment Corporation and Advanced Powder Metal Products.
Schools visiting for the event were Jeff Tech, DuBois Area Middle School, DuBois Area, State College Area, Clearfield County Career and Technology Center, the Community Education Center of Elk and Cameron counties, Lenape Technical School, Moshannon Valley, Bald Eagle Area, and area home school students.