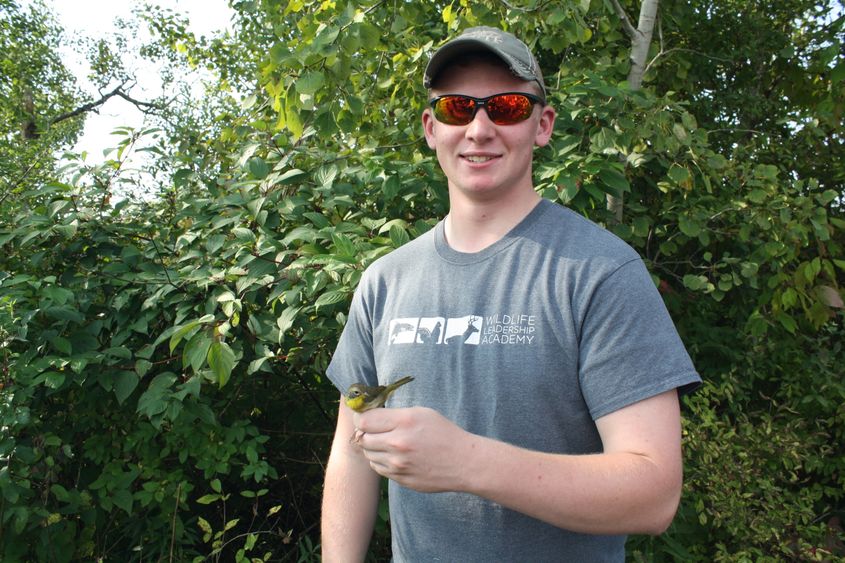 Faculty and staff at Penn State DuBois welcomed members of the Wildlife Leadership Academy (WLA) on Sept. 18, providing a look at educational options available to those looking to start careers in wildlife conservation and research. In all, 15 students between the ages of 14 and 17 visited the campus to learn more about the Wildlife Technology Degree program at Penn State DuBois.
According to representatives from the WLA, the organization's mission is to engage high school age youth to become Conservation Ambassadors to ensure a sustained wildlife, fisheries and natural resource legacy for future generations. A year-round program, the academy begins with rigorous summer field schools that focus on wildlife biology and conservation, as well as development of leadership skills. It continues with community outreach through education, service, and interaction with media and the arts. The academy is based in Lewisburg, Pennsylvania, but has field schools throughout the state, enrolling a total of 118 students this year.
"We take them to colleges and expose them to opportunities outside of our field schools; to see what else is out there to help further their education and networking, like this degree program, or to professional conferences," explained Katie Cassidy, a program and outreach coordinator for WLA. "This is a way of showing them that there's a really great wildlife sciences program here available to them. It's nice that they get to learn about the processes used in this program at this campus, and to see things they might not be exposed to anywhere else."
At Penn State DuBois, the WLA students worked with faculty and students in the campus' Wildlife Technology program in bird banding exercises on a small piece of wetlands near campus, and tagged butterflies for tracking during migration in the campus monarch butterfly garden. These experiences gave the students a first-hand look at some of the types of work performed by professional wildlife conservationists in fields they may wish to enter in their own careers.
"We are bird banding today, which gives our students experience. They set up nets to capture the birds, get the birds out, and collect data, then release the birds back into the habitat," said Instructor in Wildlife Technology Emily Thomas, explaining that conservation professionals use such data in the management of habitat for wildlife. "We're able to see how the birds are moving during migration, and how they use the habitat. There are a lot of different things you can learn about birds from banding studies."
Zack Redmond is a freshman in the wildlife technology program at Penn State DuBois, and an alumnus of the WLA. He assisted during the bird banding demonstration during the WLA visit. His early experiences helped him to gain knowledge he's now using in his college courses, and to instruct younger students who are now where he was just a year ago.
"I went into the program to get more hands-on experience with wildlife," Redmond said. "Opportunities like this help me substantially in the long run. I get to work with species I might not have otherwise had the opportunity to work with."
The WLA students completed their day by meeting with admissions representatives from Penn State DuBois, and receiving a complete description of the Wildlife Technology program and the professional opportunities that can be made possible by earning the degree. They also traveled to the Keystone Elk Country Visitors Center in Benezette, Pennsylvania, to meet with graduates from the Penn State DuBois program who are now employed there. While at the center, they also were able to take in a tour, and view the elk herd.