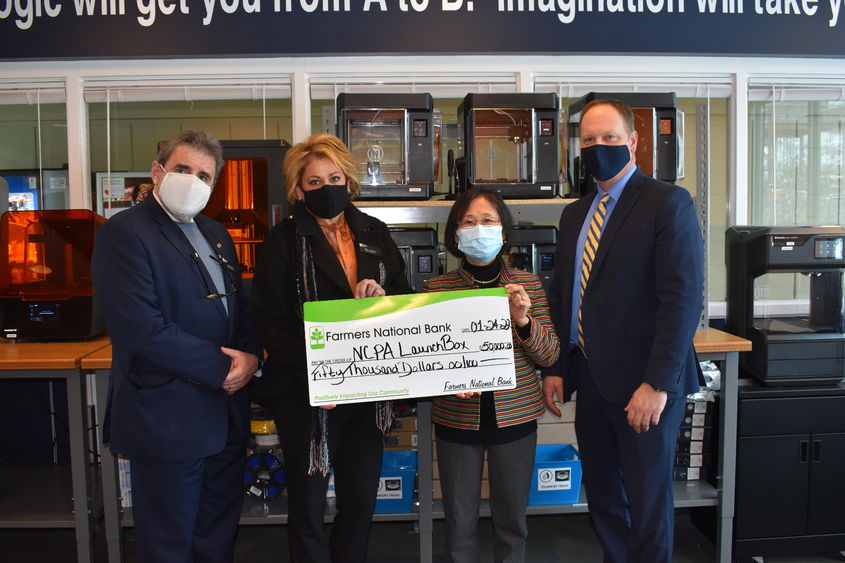 DuBOIS, Pa. – With the economic prosperity of the people in their communities a priority, the Farmers National Bank of Emlenton, Pennsylvania, has pledged $50,000 to create the Farmers National Bank Endowment in support of the North Central PA LaunchBox powered by Penn State DuBois. This gift will activate a one-to-one match from Penn State, creating a $100,000 program endowment to support the NCPA LaunchBox.
Launched in 2019, the North Central PA LaunchBox provides services such as assistance with business plan development, assistance with grant applications, educational seminars for entrepreneurs, workforce training and more. A downtown location contains offices for industry partners, a conference area and coworking space that provide facilities fitting the needs of LaunchBox clients performing research and development for their products and services.
The LaunchBox also innovates solutions for area businesses and individuals in the on-campus Idea Lab. Featuring 12, 3-D printers, 3-D scanning hardware and software and a vinyl printer/cutter, the lab is available to anyone in search of help in developing a prototype, reverse engineering, and inspection.
"Farmers National Bank takes great pride in supporting the LaunchBox in its mission of stimulating economic growth in our communities as it serves industry, small businesses and entrepreneurs," said Farmers National Bank Chairman of the Board, President and Chief Executive Officer William C. Marsh. "We are excited to be part of a program that values entrepreneurs and helps them build our local communities by establishing new businesses and creating new jobs in our area."
The Farmers National Bank of Emlenton is an independent, nationally chartered, FDIC-insured community commercial bank headquartered in Emlenton, Pennsylvania. Founded in 1900, with the aim of being a bank committed to the communities it serves, Farmers has expanded to operating 20 full-service offices in Allegheny, Butler, Clarion, Clearfield, Crawford, Elk, Jefferson, Mercer and Venango counties in Pennsylvania, and Hancock County, West Virginia. The bank is a wholly owned subsidiary of Emclaire Financial Corp. For more information about The Farmers National Bank, visit www.farmersnb.com or call 877-862-9270.
Penn State DuBois students also benefit by having access to the LaunchBox and all available assets while being encouraged to delve into the world of entrepreneurship. A new entrepreneurship minor was created to work in conjunction with this initiative. This interdisciplinary degree will help students, regardless of their chosen major, learn how to bring ideas for products or services to fruition.
LaunchBox Director Brad Lashinsky expressed gratitude for the endowment, saying, "We are grateful for the support of Farmers National Bank in helping to further the LaunchBox mission. We invest in the growth of local economies by assisting both existing and budding businesses achieve their goals, and we train Penn State DuBois students to become the future leaders of business and industry in the area. We are proud that Farmers sees the real value in that mission."
Since 2015, the Invent Penn State initiative has awarded seed grants to 21 campuses to create LaunchBoxes and innovation spaces, and to date, the NCPA LaunchBox has served over 14,000 clients, including 24 new start-ups. This mission is continuously driven through collaboration with area industry and communities.
Lashinsky is available to assist businesses and individuals in finding ways to meet their unique needs. He can be reached at 814-375-4704 or [email protected]
For information on all giving at Penn State DuBois, contact Director of Development Jean Wolf at 814-372-3038 or [email protected].
Support for this endowment will advance "A Greater Penn State for 21st Century Excellence," a focused campaign that seeks to elevate Penn State's position as a leading public university in a world defined by rapid change and global connections. With the support of alumni and friends, "A Greater Penn State" seeks to fulfill the three key imperatives of a 21st-century public university: keeping the doors to higher education open to hardworking students regardless of financial well-being; creating transformative experiences that go beyond the classroom; and impacting the world by serving communities and fueling discovery, innovation and entrepreneurship. To learn more about "A Greater Penn State for 21st Century Excellence," visit greaterpennstate.psu.edu.