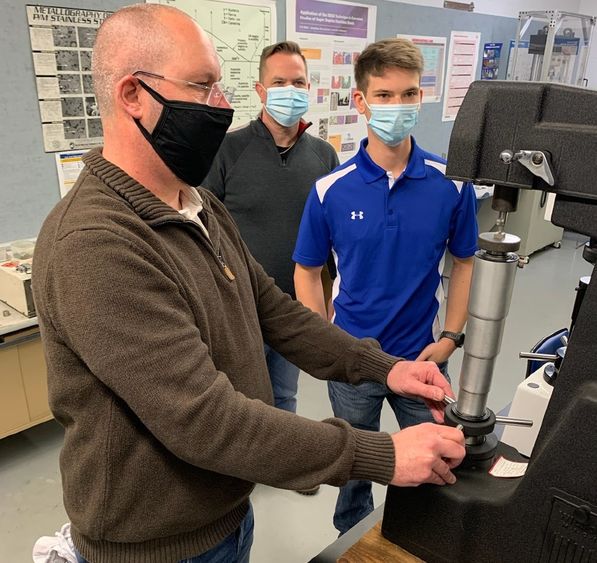 DUBOIS, Pa. — Professional goals often pursued by seasoned experts and academics alike are already being achieved by a pair of undergraduate students conducting research with the Penn State DuBois Engineering programs. Scot Coble of Marion Center, Pennsylvania, and Jacob Feldbauer of DuBois, Pennsylvania, are researching a new process for manufacturing powder metal (PM) parts that is impacting the global industry, and has caught the attention of a major industry publication.
A professional article written on the discoveries Coble and Feldbauer have made has been published in the January 2022 issue of Thermal Processing Magazine titled, "The impact of complete lubricant removal on the mechanical properties and production of PM components."
Coble is a senior in the four-year Engineering, Applied Materials program at Penn State DuBois.  Feldbauer is a junior majoring in material sciences and engineering at Penn State University Park, who began taking college courses at the DuBois campus during his senior year under the campus' Dual Enrollment program. He began working on this research project with Coble at that time, in 2019, and has continued with the project throughout his student career.
Coauthors on the article include Feldbauer's father, Stephen L. Feldbauer, a senior adjunct faculty member at Penn State DuBois and director of research and development at industry partner Abbott Furnace. Also contributing to the research performed in this project are Amber Tims with the North American Hoganas Co., and Craig Stringer with Atlas Pressed Metals; research space was provided by Symmco Inc. of Sykesville, Pennsylvania.
"This is creating a paradigm shift in how we process powder metal," said Steve Feldbauer of the research that he has served as adviser on through both his roles at Penn State DuBois, as well as Abbott.  "It's rare that you can say that."
Steve Feldbauer went on to explain that the team set out to find a solution to a leading problem in the PM manufacturing industry: the removal of lubricants from compacted metal parts. Through the powder metal process, metal powder is compacted to form a shape. Lubricant must be added to this powder mixture to allow the ejection of the compacted metal part; however, the lubricant must be removed from this compact before the metal particles can come in contact with each other and bond in the sintering step of the process.
"For over 10 years, we've been doing research on lubricant removal, and it's the number one problem in the industry," Steve Feldbauer said. "To find the most efficient way to remove the lubricant means more cost-effective production of an increased number of higher quality parts.  Parts are stronger, more durable, and more affordable to make."
This new process that Abbott Furnace has pioneered has been dubbed the "Vulcan Process," named after the Roman god of fire and metalworking, and it can yield cost savings all the way down the chain to consumers. Using a Vulcan Furnace, as developed by Abbott Furnace, the process uses an unconventional method of lubricant removal. The work of Coble and Jacob Feldbauer has proven, through direct comparison to conventional powder metal processing, that the Vulcan Process performs as expected.
As Jacob Feldbauer described, "In the past, people always increased the temperature while sintering to remove the lubricant. We found the best way to do it is actually the opposite. If we reduce the heat to an ideal temperature for the individual material and lubricant being used, the process is actually much more efficient than the broad approach of just sintering every part at the same high temperature."
To accurately evaluate the impact of this new approach to conventional processing for materials used in PM production, the team ran trials with three different lubricant materials, different amounts of those lubricants, and various patterns of loading parts into the furnace. All told, they've tested 1,350 individual samples produced by North American Hoganas since the project began in fall of 2019.
Their findings indicate that the Vulcan process can produce PM parts with up to 25% greater strength and durability. Additionally, the process can be used to double the number of parts produced without compromising their properties, due to the effectiveness of stacking parts within a furnace for sintering. The new process allows more parts to be sintered at once, while producing equivalent properties to that of a conventional sintering furnace.
Coble remarked, "These findings are huge," indicating the benefits to the PM industry, the other industries it serves, and right down to savings that could be experienced by consumers.  "If you're going to buy a piece of equipment and adopt a process to stay competitive today, nothing compares to this."
Not only has the significance of this research led to articles appearing in industry publications, both Coble and the junior Feldbauer offered presentations on their work at PowderMet 2021, an international conference on Powder Metallurgy that was held in June 2021 in Orlando, Florida. Due to close interaction with faculty and individualized attention made possible by small classes sizes at Penn State DuBois, these opportunities are rare among undergraduate students.
Coble stated, "It's definitely an honor to participate in research like this.  Nobody at the conference could believe that we were undergrads who had a chance to do this work. Other schools just can't offer students this kind of opportunity."
Jacob Feldbauer added, "I'm very thankful to work on this level, and to learn on this level. Some graduate students don't even get to have these experiences, and we get to have them as undergrads."
Steve Feldbauer commented, "What was great to see was how accepted these students were at the conference. Leaders in powder metal listened to them, talked with them, offered them advice, and accepted them as peers. It's clear that professionals saw that their research will be valid in the industry for years."
Not only will the team's discoveries have long-lasting value, but it's also a process that is already being utilized. Jacob Feldbauer noted, "You can walk into a manufacturing facility and see a Vulcan Furnace right now, you see the lubricant coming out, you see the parts stacking up, and you know there is so much more production."
Coble added, "It's amazing to see this work adopted right into the industry. It's not down the road, it's happening now."
Industry partners played a vital role in bringing this process-to-market research to fruition, the students explained. With Penn State campuses switching to virtual delivery during the early days of the COVID-19 pandemic, Symmco Incorporated, a leader in PM and engineering, opened up their labs to the research team where they could safely continue their research while maintaining social distance guidelines.
"Without Symmco, we would have been stuck," Coble said.
Though articles have been published, and presentations have been made, this research project is far from over, the team said. Coble and Feldbauer plan to further their work by studying additional lubricant and powder combinations, hopefully increasing the industry applications that can employ the Vulcan Process. They have both been accepted to present further findings at this year's PowderMet Conference, planned for June in Portland, Oregon.
After graduation, Coble plans to pursue a career in engineering and manufacturing in Central Pennsylvania. Feldbauer has his sights on graduate school and eventually earning a doctorate in material sciences and engineering.
To learn more about both two and four-year engineering programs available at Penn State DuBois, and the career opportunities graduates qualify for, visit https://dubois.psu.edu/academic-options-engineering or contact Admissions at 814-375-4720 or [email protected]
Penn State DuBois awards approximately $500,000 in scholarships to students each year. Virtually all Penn State DuBois students qualify for financial aid. Learn more at https://dubois.psu.edu/tuition-and-financial-aid.