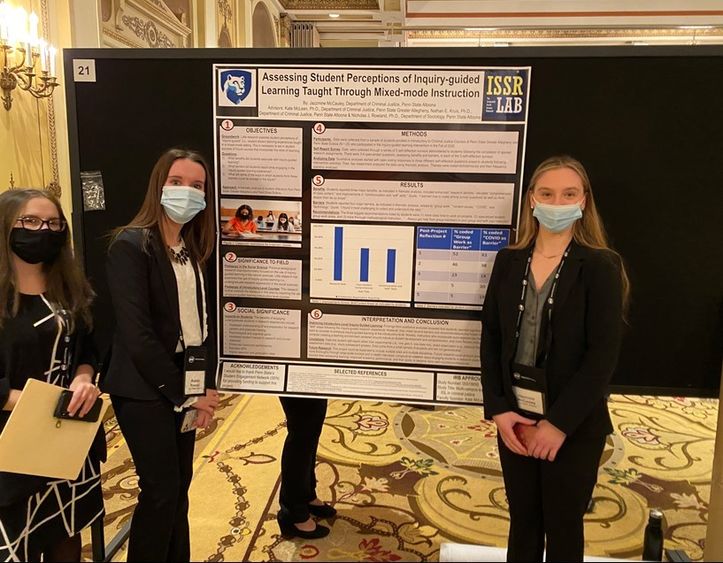 ALTOONA, Pa. — Penn State Altoona student Jazzmine McCauley presented her research on student perceptions of a course-based undergraduate research experience (CURE) in Introduction to Criminal Justice courses with peers Samantha Penascino, Penn State Greater Allegheny; Rachel Russell, Penn State DuBois; and Kerian Martinez Pitre, University Park, at the annual meeting for the American Society of Criminology (ASC), held in November in Chicago.
At the conference, McCauley, a sophomore criminal justice major and member of the Integrated Social Science Research Lab (ISSRL), participated in a thematic panel where she offered personal insight and empirical findings from a multi-campus collaborative teaching intervention headed by Katherine McLean, associate professor of criminal justice at Penn State Greater Allegheny. McCauley became involved in the project when she enrolled in Introduction to Criminal Justice with Nathan Kruis, a co-investigator and co-instructor of the project, in fall 2020.
"I was nervous about the project when I was first introduced to it, but my excitement quickly overpowered that, and I was optimistic it would be something I would find great interest in," said McCauley, who had no prior research experience. "At some points it was difficult, but through the help of Dr. Kruis and my peers, the project turned out great!"
Many studies show undergraduate research to be a "high impact" practice, which promotes student retention, academic confidence, and aspirations toward post-graduate work. The CURE model, which integrates research into a regular course setting, is a means of distributing these benefits to a large population of students. "Rather than just lecturing to students about criminal justice statistics, we wanted them to be able to generate data themselves," stated McLean. "In order to understand research, you really have to experience it yourself."
The CURE included a series of five mini-research projects through which students were introduced to basic research methods, trained in ethical research conduct, and given the opportunity to conduct applied research through their normal coursework. The intervention was implemented in Introduction to Criminal Justice courses at Penn State Greater Allegheny, Penn State DuBois, and Penn State Altoona.
"I was able to help create a survey, collect data, and analyze findings related to a project intended to assess student perceptions of campus carry, gun control, and police" said McCauley. "These are 'hot topics' in criminology and ones that I am very interested in, so it was fascinating to look into the substantive findings related to that part of the project. Through the semester-long training, I came to realize the importance and value of research and could apply the skills I was taught. I fell in love with it."
At the end of the fall 2020 semester, McCauley was invited to continue work on the project with Kruis, Mclean, Nicholas J. Rowland, co-director of the Penn State Altoona ISSRL, and David Bish, assistant teaching professor of criminal justice at Penn State DuBois. She analyzed data on the intervention's impact on student research abilities and found that students' research interest, knowledge, and skills increased following the intervention. Those findings are what McCauley presented on at the conference.
She also co-presented a poster on student perceptions of inquiry-guided learning taught through mixed-mode instruction. Manuscripts based on these projects are currently under review and being given publication consideration in two leading journals in the field.
"Jazzmine shows real promise as a scholar," said Kruis. "She has that level of enthusiasm and grit needed to be successful in the discipline. What she is doing as a sophomore is truly impressive; she was one of only a handful of undergraduate students who presented papers at the conference. She represented the University well — they all did."
The students' conference success also affected their faculty mentors. "Seeing Jazzmine and her peers present at major professional conference was not only inspiring, but motivating for me as a faculty member," said McLean. "Watching them light up with interest at different panel presentations reminded me of why I became a researcher in the first place." 
McCauley says she loved her experience at the conference and was pleased that her research findings could be shared with professors and students from other universities. "Knowing that I made an impact gives me the confidence to keep conducting research."
The project was supported by Penn State's 2020-21 Engagement Academy fellowship program, headed by Alan Rieck, associate vice president and associate dean for Undergraduate Education, and Mike Zeman, director of the Student Engagement Network.