Enforcement mechanisms include temporary loss of Canvas access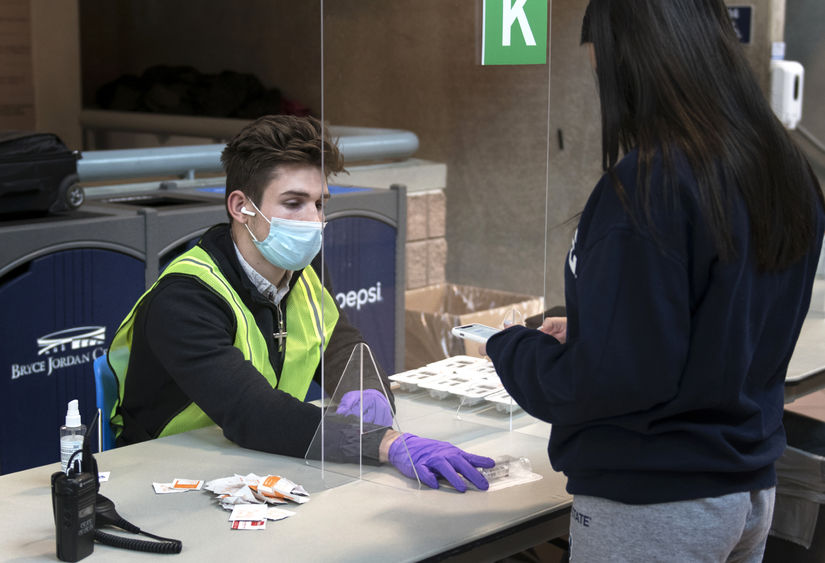 UNIVERSITY PARK, Pa. — As previously announced, students who have not shared with the University proof that they are fully vaccinated against COVID-19 must test weekly for the disease throughout the spring 2022 semester.
Enrolled students who are noncompliant with the weekly required testing will lose access to Canvas until they become compliant. Students who subsequently meet their testing requirement will typically have their access to Canvas restored within 1-2 hours after completing their required test. Students can contact the COVID-19 Call Center to request a one-time, one-week reprieve in the event of an urgent academic need.
Continued noncompliance will result in additional disciplinary sanctions, up to and including conduct suspension upon the completion of a formal student conduct process.
The University sought a more streamlined approach to enforcing the testing requirement than was in place in the fall semester, which was a three-strikes approach that included a registration hold, a referral to student conduct and, ultimately, an interim suspension after missing a third weekly required COVID-19 test.
Students who have not shared with the University that they are fully vaccinated will receive an email each Monday throughout the semester to remind them to be tested. These students have until the following Sunday to complete a University-administered COVID-19 test. If they do not complete their required test on or before Sunday, the compliance process begins on Monday, with students losing Canvas access early in the week.
At University Park, drop-in testing is available Sunday through Friday at the White Building for students who are required to test, as well as those who believe they may have been exposed to COVID-19.
At other campus locations, tests are either distributed from a location on campus or ordered via mail from Vault Health. Students should check with their campus Student Affairs staff to learn how to obtain and complete a test on their campus. The weekly email contains a link that provides students additional details for their campus testing process.
Students who receive a positive result will be referred to isolation and the University's contact tracing process will commence. Students who must isolate — whether on or off campus — will have support from the University to help them continue their studies, maintain their physical and mental health and stay connected to others.
Students at University Park, Commonwealth Campuses and Dickinson Law, who have not yet done so, can upload their proof of vaccination into the MyUHS portal and are encouraged to do so as soon as their vaccine series is complete. World Campus students can provide their proof of vaccination to the University using SalesForce Health Cloud, a secure online platform for collecting health data.
All three COVID-19 vaccines authorized in the U.S. are readily available at hospitals, urgent care centers, doctor's offices and pharmacies. Providers can be easily located by visiting Vaccines.gov.