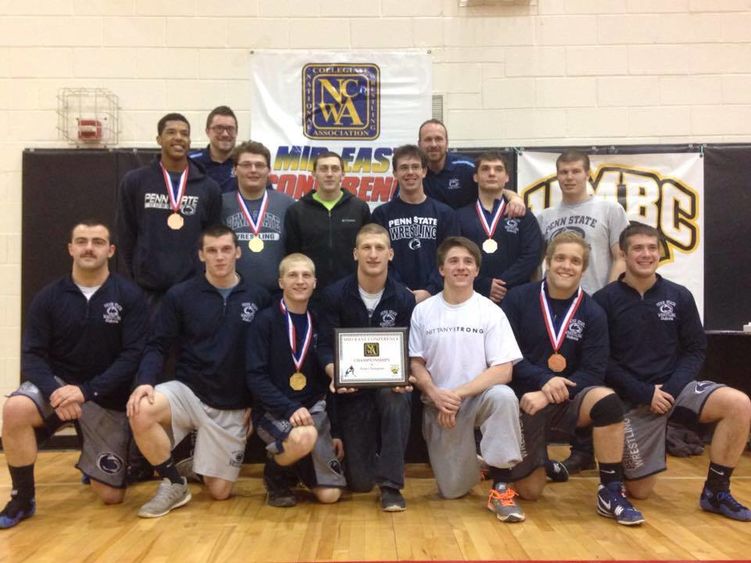 DUBOIS, Pa. — The Penn State DuBois wrestlers continued their successful roll through the postseason, claiming the NCWA Mid-East Qualifier team championship, hosted by the University of Maryland, Baltimore County (UMBC) on Saturday afternoon. Leading the way for Coach Dave Hoare's wrestlers were champions Brett Himes (125), Garrett Brown (133), Ty Haines (149) and Bryce Hanley (285).
The team champions, Penn State DuBois outdistanced runner-up UMBC by a whopping 55 points, 174 to 119. Third place was the Penn State University Park wrestling club (108), fourth was Rowan College (105) and fifth was Temple University (104).
A total of 13 Penn State DuBois wrestlers qualified to advance to the NCWA National Championships in Orlando, Florida, on March 10-12 at the Silver Spurs Arena. Also placing were Devin Joiner (sixth at 141), Jake Himes (second at 157), Matt Humes (sixth at 157), John Prentice (second at 165), Joe Knar (fifth at 165), Deontay Wadley (fifth at 174), Dennis Lumadue (second at 184), Nate Rodgers (sixth at 197) and Andrew Bigley (sixth at 235).
All the news was not good for Penn State DuBois, however, as two wrestlers were injured and forced to injury default their last matches. The team is hopeful that the extra week between competitions will allow them to heel and get back on the mat for the championships on March 10.
The Penn State DuBois wrestling team is coming off its best finish at the NCWA championships in 2015, with the success that the team had at the NCWA National Duals in January, they will start the tournament in Orlando with 17 team points earned at the National Duals by placing seventh as a team. A top five team finish is the goal, as well as add to the squad's four All-Americans from 2015.
The wrestling action can be followed at NCWA.net with live video feed and up-to-the minute results posted through the NCWA website.