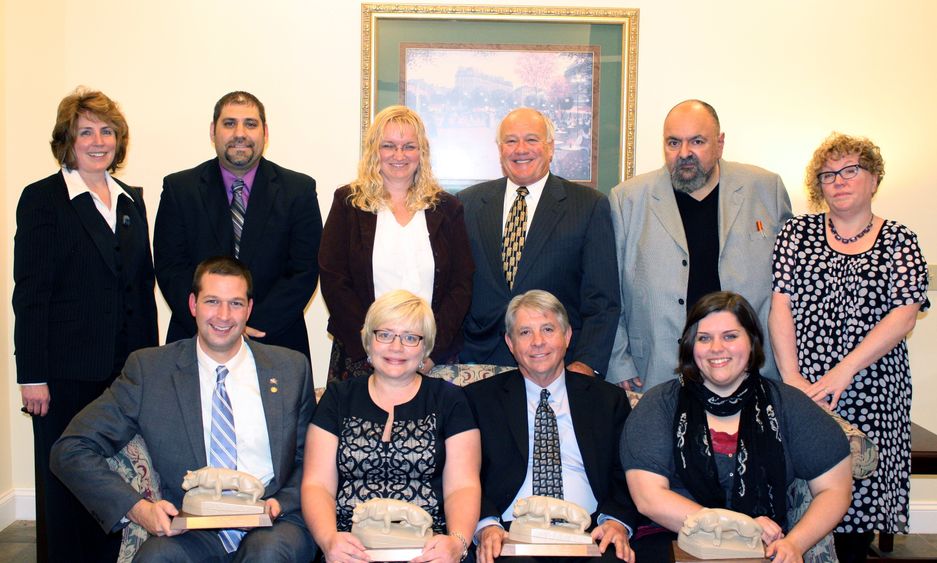 DUBOIS, Pa. — Four individuals were honored for their career accomplishments, as well as their steadfast support of Penn State DuBois, at the campus' annual Alumni Awards Banquet on Thursday evening, Oct. 15, at the DuBois Country Club.
This year's award recipients included Jessica Noland, '14 IST, recipient of the Dave Shaffer Outstanding Young Alumni Award and an information technology resident with Google in New York City, as well as Marcella Jo Lucas, '86 MET, '89 SDCET, who received the Outstanding Alumni Award. Lucas is a research project manager at the Pennsylvania Department of Transportation Materials Testing Lab in Harrisburg. Two Distinguished Ambassador awards were presented to Matt Gabler, state representative for Pennsylvania's 75th Legislative District, and Dan Kohlhepp, '69 BS, '71 MBA, senior lecturer in real estate infrastructure at Johns Hopkins' Carey Business School in Washington, D.C.
The Dave Shaffer Outstanding Young Alumni Award is presented to a Penn State DuBois alumnus who graduated from or attended campus less than 10 years ago and has achieved significant professional accomplishments, is an active community leader, and is engaged with a campus or alumni group. Noland provides internal IT support and works in a variety of areas related to internal IT operations at Google. Most recently she has been working on a project with the privacy teams in relation to privacy compliance efforts. Noland began her career at Google Inc. only a few months after graduation, having received a job offer during her senior year. Prior to graduating, she was also an IT intern in Google's Pittsburgh office. During her college years, Noland worked as an IT intern for Jason Long, senior instructor and program coordinator in Information Sciences and Technology; completed an IT internship at Echo Star Co.; and spent time as an IT consultant for two self-owned businesses. Tony Vallone and Jackie Atkins, both English faculty members at the campus, presented Noland with her award.
"All her assignments were impeccably done," Vallone recalled of Noland when she was his student. "She even found time to assist other students and talk with me after class or whenever she saw me on campus. She was such a pleasure to work with, and her work was so good I hired her to create a website for my publishing company. I wish more students were like her."
Upon receiving her award, Noland said, "During my time at Penn State DuBois I learned so much more than just the degree curriculum. I learned how to be an adult. Much easier said than done. I learned how to make a name for myself and to show others that I could have impact. I learned how to throw myself way out of my comfort zone, and, most of all, I learned to enjoy life by making the most of everything." She went on offer a bit of advice, and thanked the campus community for its support. "Don't stop pushing yourself to do things that you think are out of your reach because they probably are closer than they appear," she said. "Thank you for supporting me during my adventure out in the real world."
The Outstanding Alumni Award is awarded to a Penn State DuBois alumnus who graduated from or attended campus 11 to 40 years ago and demonstrates professional leadership with an impact on society, leadership within their professional field, citizenship in their community, and engagement with a campus or alumni group.
Lucas has worked at PennDOT for 26 years. She is the author/co-author of seven national technical reports. She has authored numerous internal reports and papers for PennDOT and has authored/presented research findings at various construction conferences throughout Pennsylvania. She has been a recipient of PennDOT's Innovative Idea Award for one of her research projects. She has her engineering-in-training certificate for civil engineering. The Transportation Research Board selected Lucas for a three-year term as a committee member for the Field Testing and Non-destructive Evaluation of Transportation Structures Committee; she is currently serving her second year. In her current position with the Bureau of Project Delivery, Lucas evaluates the use of new material products and construction technologies through research projects. Sheri Little, Lucas' close friend and colleague, presented her with the Outstanding Alumni Award.
While introducing Lucas, Little said, "She is not only my coworker, but also my college roommate and best friend. Marcy has been a sister to me, and an aunt to my kids. It gives me great pleasure to award a sister and outstanding friend the Penn State DuBois Outstanding Alumni Award."
Lucas accepted the award while expressing her gratitude for the opportunities and support she has had. She said, "It is amazing that you can start out in a small town and end up seeing the whole state, the whole country. The education you get at Penn State DuBois is amazing. It is family."
The two Distinguished Ambassador Awards were presented next. This award is given to an individual who may or may not be an alumnus, but has made outstanding contributions to the campus and its mission.
Daniel Kohlhepp received his award from his close friend and Penn State Board of Trustees member Ryan McCombie. In addition to serving as a senior lecturer at Johns Hopkins, Kohlhepp is also president of Granite Road LLC, a real estate development company in DuBois. He began his career in real estate as a college professor at the University of Oklahoma and Penn State University and then spent 30 years as a real estate investor and developer before returning to academia five years ago when he retired from Crescent Resources LLC as the president of both its commercial division and its residential development company, LandMar Group. At the Johns Hopkins Carey Business School, Kohlhepp has served as the academic program director of the master of science in real estate and infrastructure program and has been responsible for the school's real estate development, investment and modeling courses. He has just completed two online courses in real estate development for the NAIOP Commercial Real Estate Organization.
Kohlhepp attended Penn State on a wrestling scholarship, but a career-ending knee injury sent him to the cheerleading squad, where he gained notoriety as the Nittany Lion mascot during the 1967-68 and 1968-69 football seasons. At Penn State, he was a member of the Phi Gamma Delta fraternity and the Parmi Nous honor society. He is a member of the DuBois Education Foundation and served as its president from 1998 to 2000. In 2004, he was recognized by Penn State with the Alumni Fellow Award. He has been a loyal supporter, donor, and advocate for Penn State DuBois for decades.
McCombie said of Kohlhepp, "His philanthropy in DuBois and at Penn State is legendary. He's a great man in mind, body and spirit. A great man that I'm grateful to call a friend."
Holding the event program with its list of past award recipients, Kohlhepp shared, "Thank you for this award with its honor and recognition. This pamphlet makes me feel humble, because there are so many impressive people listed here. I do feel like an ambassador for Penn State DuBois as we celebrate the success of its students and supporters over the last 80 years." He went on to explain his reasons for supporting the campus over the years, saying, "Penn State DuBois is a critically important and integral part of our area. It defines our history in so many ways. Penn State DuBois has been and is the ladder for upward mobility in our area."
Gabler received his Distinguished Ambassador Award from his lifelong friend Nick Suplizio. Representing Pennsylvania's 75th Legislative District, Gabler serves more than 64,000 constituents in Elk and Clearfield counties. He was first elected in 2008 and is currently serving in his fourth legislative term. A DuBois native, Gabler graduated from DuBois Central Catholic High School as valedictorian in 2002. He attended Bucknell University on a four-year Army ROTC scholarship and received his bachelor of arts in political science with a minor in physics in 2006. Upon graduation, he was commissioned as a second lieutenant in the United States Army Reserve. He served as a company commander with the 424th Multifunctional Medical Battalion before accepting his current assignment as a medical plans and operations officer in the headquarters of the 28th Infantry Division, Pennsylvania Army National Guard. He currently holds the rank of captain. He has been a vocal supporter of the Community Education Center and the DuBois Educational Foundation.
"Matt continues to support the campus as an ambassador," Suplizio said. "I've always said that he serves our area so well. We are lucky to have him as our state representative."
Gabler, while accepting his award, said, "It is a true honor and a pleasure to serve this area as your state representative and to work as a grateful partner with the alumni, students, faculty, staff and administration of Penn State DuBois. Please keep up the great work in helping our community, and the people who make up our community, to reach their potential."