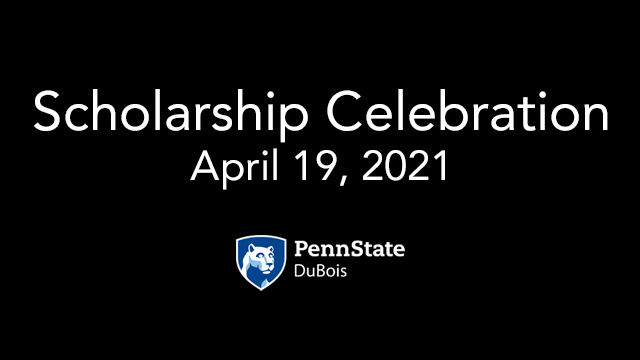 DuBOIS, Pa - Penn State DuBois recently celebrated donors and scholars alike at the 2021 Scholarship Celebration. Held virtually via Zoom this year, the event recognizes both those who make scholarships possible, as well as those who achieve their dreams of obtaining a higher education through the use of these funds. The virtual event is open for all to view here. A full list of this year's Penn State DuBois scholarship recipients can also be found here.
Chancellor M. Scott McBride welcomed attendees to the event, sharing, "Today we join together to reflect on the significant impact of donor scholarship funds on the lives of our Penn State DuBois students. Thanks to the extraordinary generosity of our donors, many of whom we welcome here today, for the current academic year we awarded over $615,000 in scholarships to 268 students. That's an increase of over $24,000 in scholarship dollars awarded compared to last year."
McBride continued, telling donors, "For this opportunity to help students, we are exceedingly grateful. Through your gifts, you have demonstrated that you entrust us to effectively apply these valued resources to help our students earn a coveted Penn State degree.
"In the 2000-2001 academic year, we had 29 scholarships that awarded $185,000; since then, donors have created an additional 49 scholarships awarding an additional $431,000. We are exceedingly fortunate that our donors recognize the incredible financial need of our student body. Yet, with nearly $3 million annually in unmet need, we continue to depend on the generosity of our donors to create these important scholarship endowments."
Typically, donors and scholars gather in-person with Penn State DuBois faculty and staff for a Scholarship Luncheon each year. With COVID restriction prohibiting the face-to-face event this spring, the virtual event served to keep everyone connected in a new way. Breakout rooms hosted smaller groups of scholarship recipients and donors, reflecting the way people had been seated at tables during the luncheon event, and were intended to allow donors and scholars direct interaction so that they might share how philanthropy has opened doors for them, or how giving has made positive change in their life. When possible, scholars were grouped with donors who have established or directly impacted a scholarship they received.
Additionally, event speakers shared personal stories about how philanthropy has touched their lives with the entire program audience. Christine Beretsel, who established the Christine Beretsel Open Doors Scholarship, and David and Deborah Ross, who established the Dr. David S. and Deborah M. Ross Open Doors Scholarship, spoke from the donor perspective. Katie Jimenez, recipient of the Sell Kohlhepp Open Doors Scholarship, and Thomas Hibbert III, who has received both the Cornell H. and Edna M. Cordie Scholarship, as well as the Donald T. Hartman Endowed Scholarship shared the student perspective. Their complete testimony can be viewed in the Scholarship Celebration video.
David Ross grew up on a dairy farm in Jefferson County. He attended Penn State DuBois for two years, before moving on to University Park to continue studies in Agricultural Engineering. He is a professor emeritus at the University of Maryland. Deborah worked full-time in addition to raising a child while she earned her bachelor's degree. In 2019 she retired as an information technology coordinator at the University of Maryland Extension. David Ross told students, "Debbie and I wish you success. We are both life members of the Penn State Alumni Association and support Penn State Students as our way of giving back."
Christine Beretsel was a student-athlete and a member of Delta Mu Sigma, the DuBois Campus Honor Society. She retired from the pharmaceutical firm, Merck, where she had worked since graduation. She has supported the campus for years, serving on the campus' campaign committee. Beretsel said, "I strongly believe that getting my degree and having the college experience were the triggers leading to finding success in my career. Without the degree and the experiences, life would be very different. I'm now in the position where I can give back. I always direct my funds to Penn State DuBois, where I know it will be put to good use, and help students and their communities."
From the student perspective, Jimenez shared, "I don't know if I can share how much this has meant to me personally, and how much it means to all students. I just want to say thank you for the scholarship I received. I'm a first-generation college student, so, coming into college I didn't even know how the financial aspect worked. This scholarship tells me that someone believes in me, believes that I can go far with my education, and that I can make an impact on the world."
Expressing his gratitude from his own student viewpoint, Hibbert said, "There is truly not a good way to describe what it means to you. I can't even begin to thank all of you for the enriching experiences I've had, and it's all because of you."
For more information on all giving at Penn State DuBois, contact Director of Development Jean Wolf at (814) 372-3038 or [email protected]