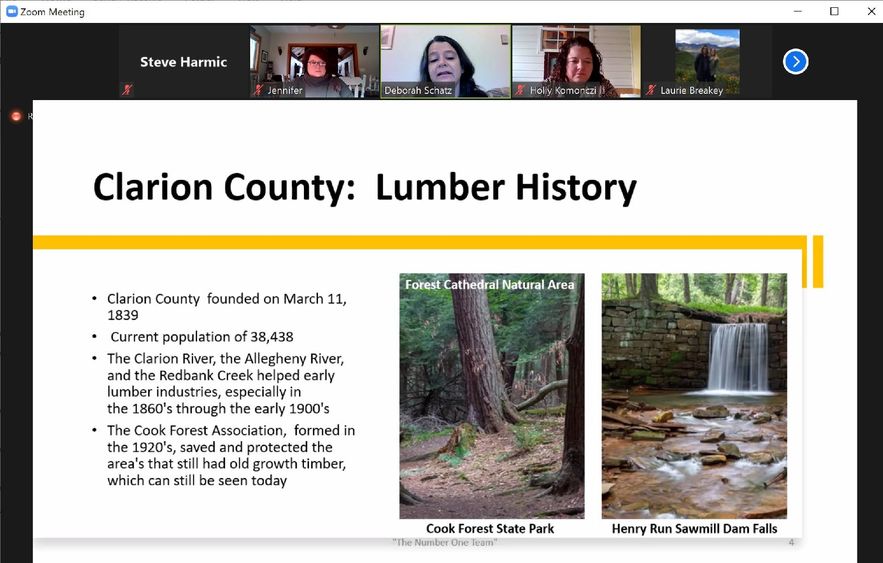 Like the countless trees that have reclaimed Pennsylvania's once cleared forest land, an effort has taken root to help preserve the history of communities founded upon the heritage of the region's lumber industry. A group of Penn State DuBois students are helping the Lumber Heritage Region (LHR) to grow the opportunities built upon this foundation. Juniors in Business Administration 321 at Penn State DuBois were assigned a project in which they broke up into teams to research ideas that could stimulate the growth of local communities. They recently presented their findings to LHR administrators through Zoom.
The LHR is a nonprofit, state-funded organization overseeing a 15-county region in North West/North Central Pennsylvania. LHR promotes the importance of the lumber industry for the past, present, and future. The goal is to market its tourism assets to potential visitors, to serve as a resource to the Pennsylvania hardwood industry, and to keep the economic impact of the region in the forefront.
After conducting initial research, students compiled their discoveries into formal papers and presentations in order to share their findings with administrators at LHR, and offered information on each county in the LHR service region during their virtual meeting. The topics researched included lists of attractions and relevant tourism assets like parks, trails, and driving tours, as well as the region's history. They highlighted attractions such as the Kinzua Bridge, Cook Forest, Parker Dam State Park, and more. The outcome of the project is two-fold, giving students valuable real-world lessons, while also providing the LHR with an abundance of data that would otherwise require tremendous effort to gather.
"One of the goals for the class is for students to learn about different industries in Pennsylvania and potential job opportunities," explained Assistant Teaching Professor of Business Administration Laurie Breaky, who organized this assignment and serves as program leader for the campus Business program. "Students were impressed with the lumber heritage of the area and worked hard to add additional information and insight that will be used to help develop tourism within the Lumber Heritage Region."
LHR Executive Director Holly Komonczi agreed that her organization earned a big win through collaboration with the students. All told, students conducted approximately 400 hours of work in recording research and organizing their findings, all of which is now available to LHR.
Komonczi said, "This information is truly invaluable. This is something that would take years and years to compile without this help. We are funded by a grant through the Department of Conservation and Natural Resources, and these volunteer hours can even be used to create a match for that grant. This is huge. It's bigger than you can even understand."
Komonczi added that the benefits of this work will go far in furthering the LHR's mission of promoting the region's attractions and assets as well. She noted the students' extensive documentation of state parks, nature trails, museums, and more. She said, "This gets people excited and helps young people stay in the region, and helps attract visitors to the region. There are so many cool things going on here that people may not know about, but seeing them can make people want to come here, or make people from here want to stay. And it's a big economic benefit as people travel to these destinations; they're eating, they're buying gas, so we keep people in business."
Student Luke Witherite shared that learning about the area in which he lives while helping an organization to promote local history made for a satisfying out-of-class room experience. He said, "These are things we can physically go and see. It's interesting to learn about things we can be involved with – especially when we are helping people. It's a great symbiotic relationship."
Student Trevor Hanna came to appreciate the mission of the LHR through the project, sharing, "We learn so much about world history and United States history growing up, but we don't always get to learn about local history. I think there is something about the project that is invaluable because our ancestors grew up here and founded these communities, and it's so important to keep that alive. The Lumber Heritage Region is an awesome way to do that."
Classmate Mario Scotto hopes informing residents of the region about healthy activities available to them will help reduce things like crime, dependance on electronics, and substance abuse. He said, "If we promote these things more and show people the nature and the scenery throughout the state maybe we can help people see there is so much more this world has to offer."
For more information on the Lumber Heritage Region, visit https://lumberheritage.org/
For more on programs offered at Penn State DuBois, including Business Administration, visit https://dubois.psu.edu/academics