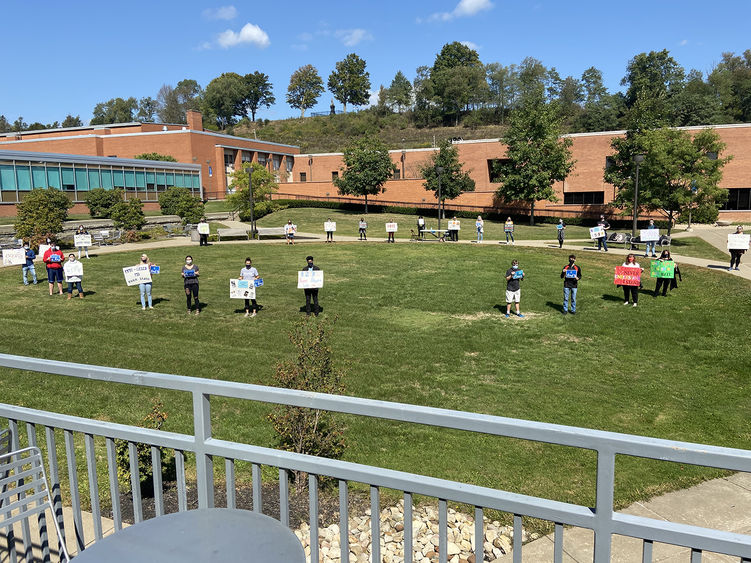 DUBOIS, Pa. — Students, faculty and staff at Penn State DuBois took a peaceful stance against social injustice on Sept. 23 by celebrating a "Day of Peace" on campus. While maintaining social distance and masking up, individuals mounted a demonstration to spread the word that hate is not tolerated on campus, or in the community. They made signs displaying messages of acceptance and love, and carried their messages through campus and along Route 255 in front of campus in order to reach members of the community. Others participated virtually through online platforms.
This effort was led by members of the IDREAM Team, a group of faculty, staff and students assembled under leadership from the chancellor with a mission to promote equality and acceptance for all. IDREAM stands for Inclusion, Diversity, Racial equality, Equity, Accountability and awareness, and Multiculturalism.
"It's about spreading the message of love and peace, and reminding people that we are all equal on this campus," said Assistant Director of Career Development and IDREAM Team Co-Chair Anna Akintunde. "We don't support hate, and we want to respond to recent events in our world by spreading a strong message that hate does not live here at Penn State DuBois."
Student TJ Genevro, a junior majoring in human development and family studies, supported the cause, inspired by personal experiences.
"I've experienced hate since I've come out as transgender, and this is a place I can make a stand against hate similar to that; it doesn't matter what someone's skin tone is or how they identify, we all bleed the same," Genevro said.
Leandra DeMarco, a senior business major, joined in the demonstration saying, "I believe standing for equality is so important, especially as students in the current environment we are in. Everyone deserves to feel welcomed and we will always stand for that."
The IDREAM Team will continue to educate the campus community through varied programming including films, open forums, speakers and more.
For more information, contact IDREAM co-chairs Marly Doty at [email protected] or 814-375-4819, or Akintunde at [email protected] or 814-372-3015.