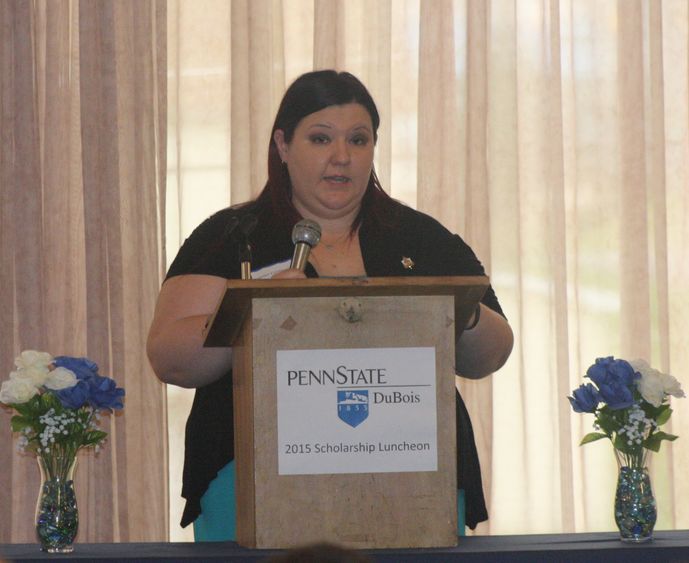 Scholarship recipients had the chance to thank many of the people who help to make their education more accessible and affordable at the annual Penn State DuBois Scholarship Luncheon, held at Lifetime Celebrations in DuBois on April 17. Each year, donors and scholars alike are invited to the event to get to know one another over lunch. Donors get to see, first hand, the kind of impact they've had in the lives of students, and the students have the chance to explain how critical the scholarships have been in their educational pursuits.
"At Penn State DuBois, we are proud to award more than $350,000 in scholarships each year. That is an incredible amount of support for a campus of our size," said Chancellor Melanie Hatch during her welcoming comments.
She went on to thank the donors, saying, "We are exceedingly grateful for your support. You've demonstrated, through your kindness, that Penn State DuBois is an educational institution that you believe in; we strive each day to live up to that ideal for our students and those who support us in providing opportunity for them."
During a short program, students P.J. Monella and Tawnya Cordwell spoke, offering the student perspective. Scholarship donors Bill Allenbaugh and Dan Kohlhepp also offered remarks on the donor's perspective.
"Thank you, from the bottom of my heart," Monella said to the donors in the room, explaining that his scholarships help make it possible for him to attend college. "There's no way I could have done it without money from all of you wonderful folks. I hope someday I can return to Penn State DuBois as a donor and donate to scholarships."
Cordwell added, "Without donors such as yourselves and these scholarships, I don't know how my life would have been different, nor do I want to think about it. I have accomplished so much here, and still have so far to go. I can't thank you all enough for the generous gift you have allowed myself and other students to receive. You have given us one of the best gifts a student can receive, and that has allowed us to shine by taking some of the financial burden off of us."
Personal experiences like the ones the students shared are sometimes what inspire people to give back, years later, when they are able. Bill Allenbaugh and his wife, Nancy, are no exception. The couple established a scholarship fund at Penn State DuBois last year. Allenbaugh, a Penn State alumnus, successful psychologist and part-time instructor at Penn State DuBois said, "A Penn State degree opened doors for me that I never even knew existed. Knowing how students sometimes struggle, I knew the most important thing Nancy and I could do is give back."
"Penn State DuBois is good for you," Kohlhepp said as he unveiled a sign he had printed with the campus logo and that slogan. He later gifted the sign to Hatch.
Kohlhepp, who led a successful career in real estate investment and development, continued, "Penn State DuBois is good for you, the students, because it opens doors; doors to new ideas, doors to new skills, doors to new friends, doors to new travel and doors to new opportunities.
"Penn State DuBois is good for me, and the other contributors as well, because it allows me to share vicariously in your incredible discovery of the great, big, wonderful world outside as you open all those doors. Finally, The Penn State DuBois is good for our community as it enriches the lives of our friends, our families, our co-workers, employers and caregivers."