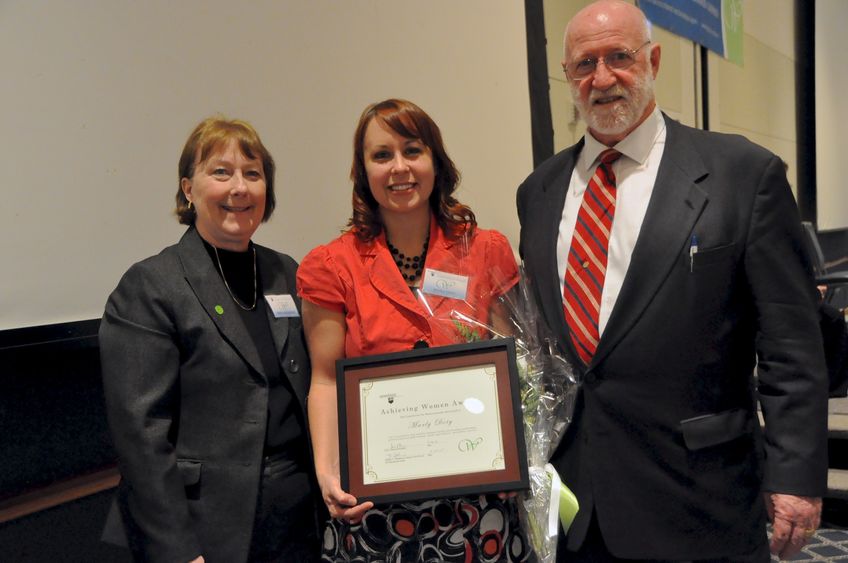 Penn State DuBois Assistant Director of Student Affairs Marly Doty has revived the University-wide 2015 Achieving Women Award from Penn State's Commission for Women. She was presented with the award during the annual Commission for Women Luncheon at University Park.
The Achieving Women Award recognizes Penn State women who have shown notable leadership and accomplishment in their fields and have gone beyond the requirements of their employment duties and responsibilities in support of the university's diversity efforts, promotion of equal opportunity or contribution to human causes and public service activities. Each year, the Commission for Women honors select women with the Rosemary Schraer Mentoring Award and the Achieving Women Awards to acknowledge and exemplify the achievements and contributions among Penn Staters, reflecting the University's mission of mentorship, leadership, service and promoting diversity.
Doty's various innovative activities in support of campus students include organizing a Coming Out Day and other programming in support of the campus's lesbian, gay, bisexual and transgender community; organizing and leading student participation in the regional Martin Luther King Day of Service for western region campuses; designing new student orientation activities, which include a community outreach day for approximately 200 first-time students; and planning and leading student volunteerism trips over spring break week, with activities that include Hurricane Katrina cleanup, soup kitchen work in the nation's capital and working with children at Native American reservation schools in Arizona.
Doty was nominated for the award by Barbara Holt, administrative support assistant in Student Affairs at Penn State DuBois. Holt has worked beside Doty for several years, witnessing, first hand, the award winner's passion for working with students.
"As her nominator, I am very pleased that Marly is one of the Achieving Women Award winners for 2015 from the Commission for Women," Holt said. "She has been extremely involved with students since her first day on the job. By reaching out to the students who have needs and concerns outside the classroom experience, she has assisted them to become more than they ever thought they could be. Many of her programs are open to, not only the campus, but also the community members, making her influence felt beyond the campus alone. The numerous programs, trips, activities, events and opportunities Marly has created for our students have proven what a worthy recipient she is for the Achieving Woman Award.
An alumna of Penn State DuBois, Doty first came to the student affairs office as a student worker, beginning in the summer of 2004 until fall 2007, then as an intern in the same office. After graduating with a baccalaureate degree in December 2006, she was hired as the student life coordinator. She then continued her education as a graduate student at Drexel University and received her masters of science in instruction degree in May 2013. She became the assistant director of Student Affairs at Penn State DuBois in 2012.
Louise Whyte, the campus student activities assistant said, "Not only does Marly do the utmost to constantly improve her own work, but she is always motivating students to do the same. Her work ethic drives others to work harder."
Upon receiving her award, Doty said, "I am incredibly overwhelmed and humbled to have even been nominated for this award at Penn State. This recognition is not something I take lightly. Throughout my life, I have been incredibly fortunate to be surrounded by and work with so many people that have encouraged my growth and development over the past several years, as I have had the pleasure of growing up at Penn State. I am truly grateful for the influences in my life, be it positive or negative, as each exchange is an opportunity."