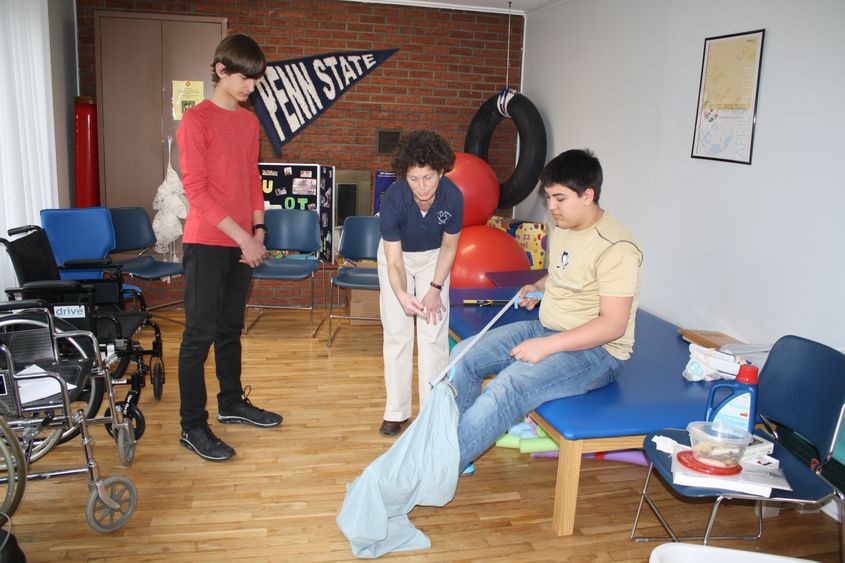 Students enrolled in gifted programs at school districts from across the region explored career options at Penn State DuBois on Wednesday. A special workshop for gifted students focused on physical therapy assistant, occupational therapy assistant, and engineering degree programs offered at the campus, providing the students with insight on a variety of career choices. A total of 40 students ranging from grade seven, through grade 12 attended, coming from school districts including Oil City, West Forest, Brookville, Redbank, Brockway, DuBois, and AC Valley.
"It's our hope that the students are inspired to look deeper into a wider variety of career choices after attending this program," said Holli Lashinsky, an admissions counselor at Penn State DuBois who organized the event. "We want them to experience things they've never experienced, and maybe develop an interest in a career that they didn't even know existed. Or, maybe some of them knew these fields existed, but needed more exposure to see if they're truly interested. It helps young students find a career path that is a good fit for them, and helps prepare them for success in the future."
In the engineering workshop, students learned the series of steps that engineers take to come up with a solution to a given problem. They were also introduced to various engineering tools, software, 3D printing, machining and testing mechanical properties of engineered parts.
Students also learned the differences between occupational therapy and physical therapy in those respective workshops. The occupational therapy workshop introduced students to the ways in which occupational therapists help patients learn to complete typical, everyday tasks, while adapting to an injury or illness that has limited their physical ability. Faculty in the program demonstrated tools and tactics that help patients do things like dress, cook, and more. In the physical therapy workshop, the students learned how therapists work with patients to improve overall physical well being, and things like joint range of motion, walking speed and balance.
Becky DeAngelo, the gifted program support teacher at DuBois Area Middle School, has brought her students to gifted workshops at Penn State DuBois for four years. She said, "I think this is very valuable. It gets them thinking about what careers they want to pursue. It exposes them to different careers and what we have to help them start a career right here in DuBois." DeAngelo continued, noting, "Parents are very impressed that we have the chance to come to Penn State DuBois and learn about these options and meet professors here."