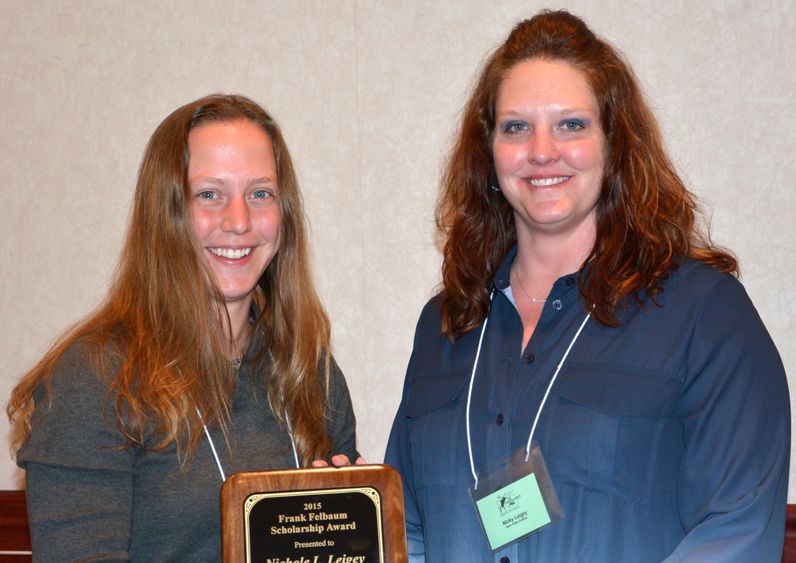 Penn State DuBois Earth Sciences student Nicky Leigey, of Clearfield, has been awarded the Frank Felbaum Scholarship from the Pennsylvania Chapter of The Wildlife Society (PATWS) for this academic year. She was presented with a plaque and notification of her acceptance for the scholarship at the Pennsylvania Chapter of PATWS Conference last weekend.
The PATWS established the Frank Felbaum Scholarship thanks to the generosity of Frank Felbaum, longtime director of Pennsylvania's Wild Resource Conservation Program and tireless conservationist. The scholarship is a one-time $500 award intended to assist outstanding students who are pursuing a career in the wildlife field. Leigey is a graduate of the Penn State DuBois wildlife technology associate degree program and currently enrolled in the earth sciences baccalaureate degree program. A returning adult student, with a family and full-time job, it was necessary for Leigey to take time off from her education after earning her degree in wildlife technology. A decade later, she returned to earn her earth sciences degree. After graduation, she plans to pursue her dream of a career centered on conservation of the environment.
"People use earth materials every day. They use oil that is produced from wells, metals that are produced from mines and water that has been drawn from streams or from underground. I want to make sure that these processes happen with the conservation and preservation of our ecosystems top of mind," Leigey told the scholarship committee. "A big advantage to living in this area is the growing Marcellus Shale industry. I would love to become part of that initiative to keep drilling safe, yet beneficial to humans. Any job aiding humans in utilizing the earth's natural resources to better our lives in a harmless way is something I want to be part of."
Senior Instructor of Wildlife Technology Keely Roen recommended Leigey for the scholarship. Roen said, "Nicky is an incredibly committed individual and continued to contribute to our program and campus even after she was no longer enrolled. Every fall for almost 10 years Nicky assisted the faculty in our program with a large-scale project to capture, weigh, measure, and tag northern saw-whet owls with our second-year students. Nicky did this of her own accord, without any financial recompense, often having to bring her daughter with her. It was a tremendous help to our program given the scope of the project and she had substantial responsibilities as a yearly volunteer including independently supervising students, managing equipment, collecting accurate data, guiding students in research, and ensuring the health and safety of the animals involved. She also is active in the conservation community and has encouraged many of our current students, whom she met while volunteering, to apply to our program or similar ones."
Scholarships, like Frank Felbaum Scholarship, are awarded each year by the PATWS to help fulfill the society's mission to serve scientists, managers, educators, technicians, planners, and others who work actively to study, manage and conserve wildlife and habitats Pennsylvania.