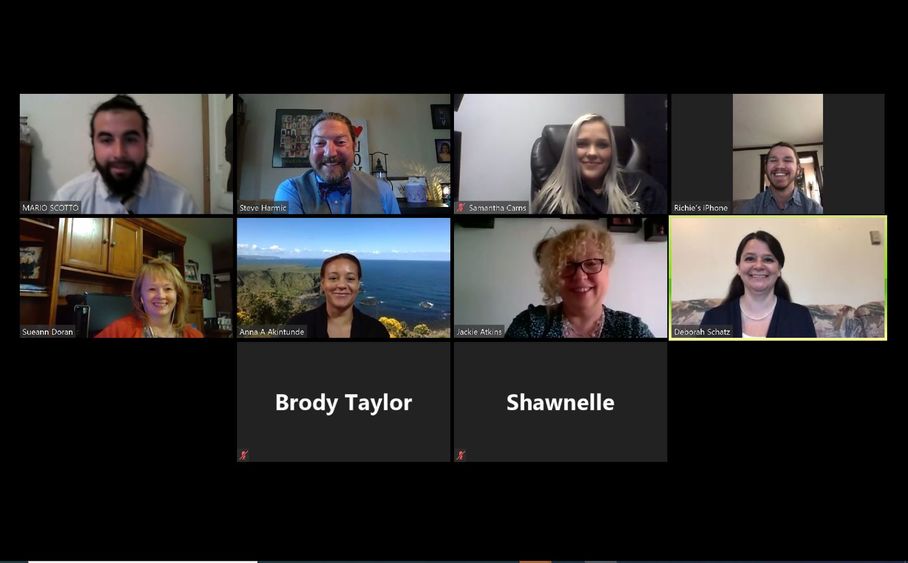 As Penn State DuBois has adjusted to remote learning, faculty and staff have remained equally committed to the mission of helping students apply their education to launch rewarding careers. Recently, a Virtual Career Fair was held, affording students the opportunity to gain experience in interviewing for jobs and in presenting themselves in a professional setting.
While this year's on-campus career fair was called off due to the COVID pandemic, faculty and staff worked to provide remote opportunities to help students practice for job interviews, and for selling themselves to employers in a digital setting. Assistant Teaching Professor of English Jackie Atkins teamed up with Assistant Director of Career Development Anna Akintunde to provide this opportunity for students in Atkins' English 202 D class. The course typically focuses on teaching methods of business communication, requiring students to create a LinkedIn profile, craft professional emails, and more. The class culminates each semester with in-person mock interviews for students, conducted by campus faculty and staff. However, the current remote learning setting required some creativity.
"When I first learned we would go remote for the rest of the semester, I thought I might have to cancel this assignment," Atkins recalled. "However, I talked with Anna, and she was so positive. She said she knew we could still pull it off. She helps with this every year when we usually do it in the classroom and thought this situation might give us a new and unique way to serve the students in using Zoom."
Akintunde explained, "Having to transition this activity to Zoom was extra beneficial as much of the country has moved to a remote work environment, including recruiting. This is what students and jobseekers will be facing for months to come, so this preparation activity is invaluable."
The work faculty and staff put into making the remote transition was well appreciated by students, as explained by adult learner Sarah Zwick. She said, "The switch to remote learning went smoothly for me mostly due to the technology Penn State already had us accustomed to using. Everyone working at our campus did everything in their power to ensure that each student was getting the quality of education they would have in normal circumstances. We truly have a great campus community." Zwick continued, "This epidemic is going to change what we consider normal. Remote interviews were already becoming common and will continue to be a way that employers interview job candidates. Before attending Penn State DuBois, I experienced one online interview. At the time, I was very uncomfortable with this method and ultimately did not get the job. Having the opportunity to practice virtual interviews and watch the interviews of my classmates made me much more confident and prepared for any virtual interview I may have in the future."
Aside from the virtual setting, much of what students were required to do stayed the same. The assignment called for them to make an elevator pitch, a concise statement selling their greatest skills and assets to potential employers. They then had to be prepared to answer specific questions about the attributes they felt made them the best candidate for the job.
"This exercise is an essential part in getting our Penn State students ready to launch their careers," Akintunde said. "It helps them market the skills they have gained throughout their college experience and in life up to this point. Knowledge and skills are great, but if you cannot sell those skills and knowledge to an employer, you will not be able to launch a successful career."
Atkins added," "This exercise allows students to work on ways to set themselves apart from other candidates. Anna and I encourage students to explain their specific skills, education, and experiences and tailor those to the position and company."