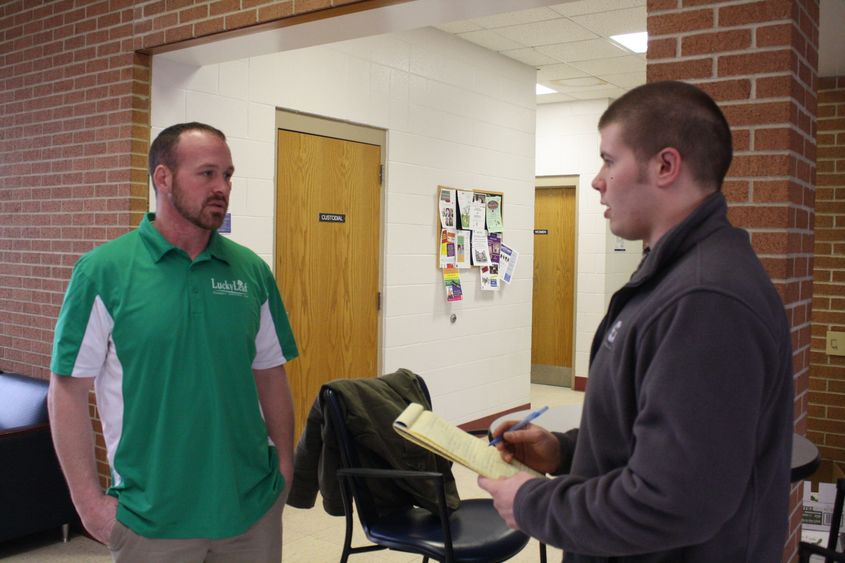 Business students at Penn State DuBois heard first-hand accounts of the hard work, and the rewards, involved in running a small business from a local business owner recently. Dave Hoar, owner of Lucky Leaf Property Services of DuBois, was the final speaker to visit the classroom in a series this semester aimed at exposing students to small business operations by interacting with real business owners. Hoar visited the Business 250 class, Problems of Small Business, which requires each student to invite a small business owner to campus and interview that person about their experiences. Tige Woodson, a member of the campus wrestling team, interviewed Hoar, who is also the head coach of the wrestling team.
Hoar told the students he started Lucky Leaf three years ago, after gaining experience and saving money for his start-up for several years. He last worked as a surveyor for another company. Hoar said, "When you work for someone else, you often can only go so far, and advance only so much. I wanted to go further. I knew what kind of money my work was bringing in for the company, so I figured I could make that money for myself."
Among the positives Hoar has enjoyed while running his own business, is making his own schedule. He said, "My family is my biggest drive. I got into this to have more free time. I have three young boys, and I wanted to have the freedom to be with them. And, hopefully, I'll be able to leave them something if they want to go into this business."
The benefits to being his own boss don't come without sacrifices, however, Hoar explained. "It's a lot of fun, but it's a lot of work," he said. "I get to the shop an hour before my guys show up, we put in a 10-hour day, and in the evening, its paperwork."
Hoar advised the students to be prepared for things like record keeping and other clerical work when entering business, as those are parts of the job many people don't initially think about. He said, "There's a lot of paperwork. There's a lot to record and it takes a lot of time to work on things like taxes. I took it for granted. I thought it would be easier, but I'm getting my feet under me with it."
Like other business owners in this program, Hoar also advised students to accept help and learn from others if they decide to start out on their own as entrepreneurs.
"I go to other contractors when I have a problem or a question," Hoar said. "I try to pick their brains, and form relationships through work where we can help each other."
He also advised passing on that positive relationship building to employees. He said, "Make an employee feel like they're making a difference and they will. You want to make them feel good and help them succeed."