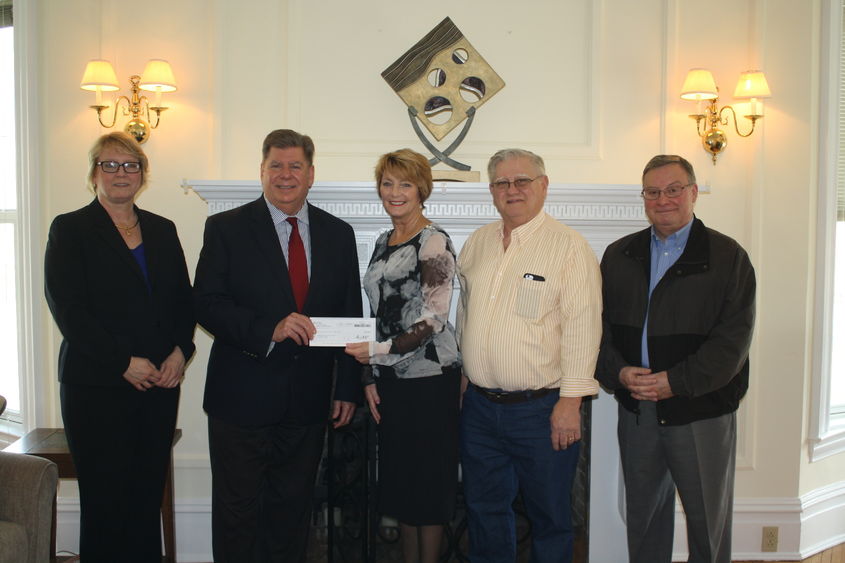 DUBOIS, Pa. — The A.J. and Sigismunda Palumbo Charitable Trust has committed an additional $50,000 to a scholarship fund that will help students earn an education at Penn State DuBois. The fund, The Palumbo Scholarship at Penn State DuBois, was established in 2008 with a $25,000 gift from the Palumbo Charitable Trust. To date, the trust has gifted more than $525,000 to campus scholarship funds.
The scholarship is intended to provide recognition and financial assistance to outstanding undergraduate students enrolled, or planning to enroll at Penn State DuBois, who have a demonstrated need for funding. All students who have achieved superior academic records, or those who show promise of outstanding academic success, will be considered for funding from the scholarship.
A.J. Palumbo lived from 1906 until 2002 and pursued a career in the coal mining industry. Today, educational institutions, healthcare facilities, and youth organizations continue to benefit from his success through the A.J. and Sigismunda Palumbo Charitable Trust.
Joe Palumbo, an A.J. and Sigismunda Palumbo Charitable Trust board member, said the trust was created by his late uncle, A.J., and it helps to carry on the legacy of A.J., and his wife, Sigismunda.
"My uncle believed in education, and he believed in youth," said Joe Palumbo. "He believed in lifting up the community by helping to raise educated youth who have ambition and a drive to get ahead. The education our scholarship donors receive at Penn State DuBois will help them to contribute back to the communities that my uncle invested in, and believed in."
Penn State DuBois Chancellor M. Scott McBride thanked the Palumbo trust for their generous gift saying, "With the current social and economic challenges brought about by the coronavirus pandemic, scholarship support is more important than ever. Not only does it help students to financially reach their goals of attaining a higher education, but it demonstrates to them that they are supported in these efforts during these difficult times. We are so very grateful to the Palumbo Charitable Trust, and all of our donors, for their support of our students."
Each year, more than $500,000 in scholarship dollars is awarded to Penn State DuBois students through nearly 80 individual scholarship funds established by donors, including the A.J. and Sigismunda Palumbo Charitable Trust. The scholarships help to assure an affordable and accessible education remains in reach for area students.
Gifts to scholarships will advance "A Greater Penn State for 21st Century Excellence," a focused campaign that seeks to elevate Penn State's position as a leading public university in a world defined by rapid change and global connections. With the support of alumni and friends, "A Greater Penn State" seeks to fulfill the three key imperatives of a 21st-century public university: keeping the doors to higher education open to hardworking students regardless of financial well-being; creating transformative experiences that go beyond the classroom; and impacting the world by fueling discovery, innovation and entrepreneurship. To learn more about "A Greater Penn State for 21st Century Excellence," visit greaterpennstate.psu.edu.