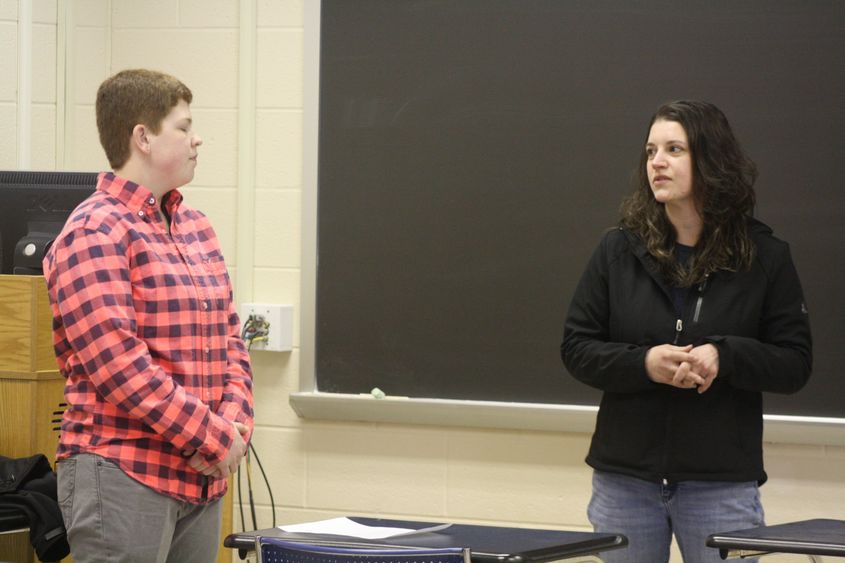 Business students at Penn State DuBois got an insider's account of the ups and downs of small business ownership during a recent visit with an area entrepreneur. Angie Meyer, of St. Marys, was interviewed during a class period on campus about her experiences owning, and subsequently selling an auto detailing business. It was part of an assignment for the Business 250 class, Problems of Small Business, which requires each student to invite a small business owner to campus and interview that that person about their experiences. Student Kristy Hanes, of Kersey, served as interviewer.
Meyer provided an honest, straight-forward description of life as business owner, sharing both the good and the bad. Several years ago she became a young entrepreneur when she took over as proprietor of Don's Detailing in St. Marys, a business started by her father during his retirement.
"There's good, and there's bad," Meyer explained. "Having your own business is freedom; being able to make your own schedule, do your own thing, hire the people you want to hire, having your own personal touch. But, I also worked 16 hour days, plus weekends. Working for someone else now, I can put in 40 hours, go home, and not have to think about it. There's give and take."
That someone else she works for now is Clean Start Auto Detailing. The company recently offered to buy Meyer's business and retain her as scheduling manager for the newly merged company. She said it was a great opportunity, just as her business was going so well that demand became overwhelming.
"We were in one small garage, doing two cars a day and booked out for two months," Meyer recalled, noting that she served individual car owners, as well as held contracts with several area dealerships to detail their inventory. "Going together with the new business gave us so much more room to grow with financial backing and larger facilities, and it's a big advantage for the customers."
The good and bad of owning and operating a small business worked out for Meyer in the end. And she was pleased to share the story and happy ending with Penn State DuBois students. She said," This class is allowing students to get out and form relationships with business people, I think that's really great, and very important."
Hanes not only asked the questions, but is a former employee of Meyer who would like to start up her own auto detailing business in the area. She invited Meyer to class due to their previous connection, and the valuable advice she knew Meyer could provide.
Hanes said, "This is my favorite class because of this; learning about small business. We're actually working on a business plan in class, so I won't have to work on that outside of school, and I could start a business right after school."
During her presentation, Meyer invited students to learn from her own experiences, relating just how important it is to have that business plan. She said, "Have a plan, because we didn't. Without a plan, you're just treading water. It helps to know where you want to go and where you're going. Have a plan, and stick to it."
Meyer explained, however, that Don's detailing grew out of her father's side-job that he took on during retirement, never planning for it to become the success that it became, or a full-time job. So, a plan was never something Meyer or her father anticipated a need for until things took off once she made it a full time job, and a sole income. But generating that much business did provide a lesson in how hard work and dedication pays off, which she was very happy to drive home to the students.
"Word of mouth is the best advertising," Meyers said. "That's where my business grew to a point where I couldn't even keep up. So, do a good job and people will notice."
Senior Instructor in Business Administration Annette Muth, who teaches the Business 250 class, said, "Angie gave us so much insight on things that you can't read about or predict how to plan for. Owning a business can be great at one stage in your life, and maybe not at another stage in your life. So, that's another important thing to think about."