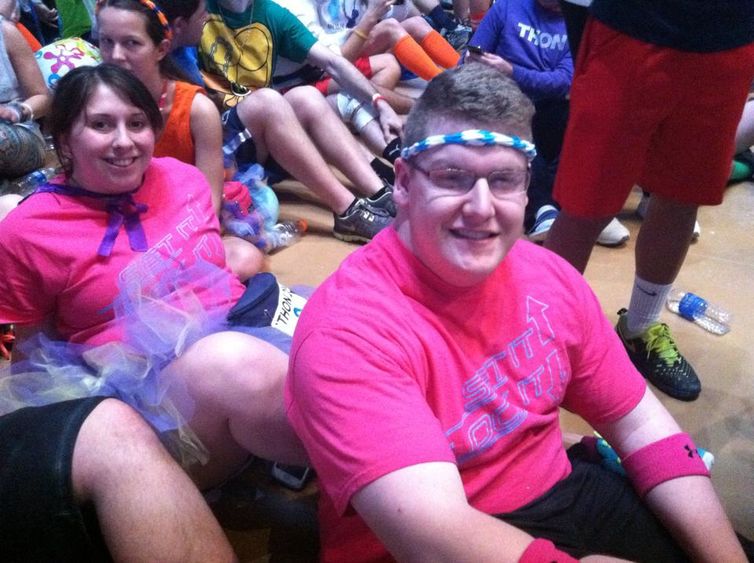 Darcie Grenier and Greg Myers are resting comfortably following 46 consecutive hours on their feet at THON 2015. Grenier and Myers were selected as this year's designated campus dancers for Penn State DuBois, representing the campus during THON, held from Friday until Sunday at the Bryce Jordan Center at University Park. Both of them made it all the way through the entire event.
University-wide, THON raised a total of $13,026,653.23 to benefit those battling childhood cancer this year. The Penn State DuBois THON Committee contributed approximately $14,500 to that total. Students from Penn State DuBois, and across all of Penn State, work in numerous ways to raise money for the cause throughout the year. They hold dinners, canning drives, hair auctions, and other fundraisers, holding the dance marathon at the end of a long fundraising season.
The largest student-run philanthropy in the world, engaging more than 15,000 students across Pennsylvania, THON has raised $114 Million for the Four Diamonds Fund since its inception in 1977. The event's sole beneficiary, and a leader in the fight against pediatric cancer, the Four Diamonds Fund fills in the funding gaps that insurance leaves for the patients it serves, enabling families to focus on caring for their child. Because of large donors like THON, Penn State Hershey Hospital recruits world-class talent to continue innovative research, and to maintain and expand the state-of-the-art Children's Hospital.