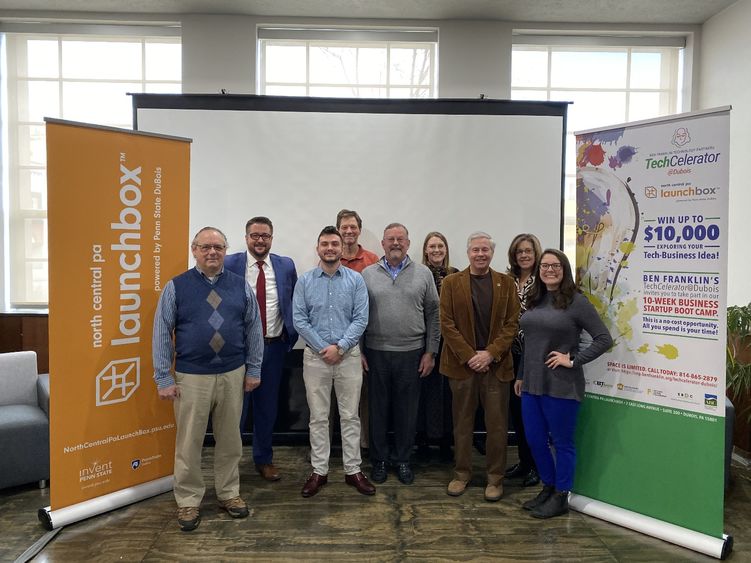 DUBOIS, Pa. — Two award-winning entrepreneurs will split the $10,000 top prize for business ideas submitted to Ben Franklin Technology Partner's Techcelerator Competition. Kristen and Boyd Lewis with EasyRaising fundraising will receive $5,000 to be used for the development of their business idea for improving school and community fundraising. Evan Klapec of EMKO Technologies, Oil City, will also receive $5,000 to develop a new dust collection system for auto body shops.
As participants in a 10-Week Business Startup Boot Camp, six startups, including Emko Technologies (Evan Klapec), Odin's Eye (Dr. David Parrott),Workflow Automation (Cesare Ferrari), Shop Local Fundraising (Kristen and Boyd Lewis), Lattus (Peter Schramm and Nick Furar), and Vandervort Photography (Kelly and Judy Vandervort), made their presentations to a panel of local judges to compete for the available $10,000 prize.
Emko Technologies manufactures and sells a new style of airborne dust collector called the Preme-Air 150. According to Emko, it is an effective and convenient in-house dust collector that eliminates airborne dust particles that can damage the health of employees, decreasing production efficiency and hurting the overall quality of products.
EasyRaising's presentation explained the creators' intent to take the stress out of school and community fundraising with easy, customizable online fundraisers that feature responsibly sourced products. Founded by busy entrepreneur parents Kristin and Boyd Lewis, EasyRaising is a tech start-up from the rural Pennsylvania Wilds with a mission to disrupt the fundraising industry for the greater good.
Held in conjunction with the North Central PA LaunchBox, the Techcelerator pitch event took place via Zoom on March 26, allowing for social distancing between contestants and judges during current quarantine measures meant to halt the spread of the novel coronavirus.
This bootcamp and pitch event were also made possible by generous support from the Fairman Family Foundation, The Appalachian Regional Commission, CBT Bank – A Division of Riverview Bank, and the Small Business Development Center of Clarion University.
The North Central PA LaunchBox is currently working to help small business owners and community members navigate this turbulent time by connecting them to the greatest possible number of resources. Visit this link for a list of resources, or contact [email protected].
More updates on continued programs aimed at assisting local small business and regional industry during the global coronavirus outbreak will be announced in the coming days.