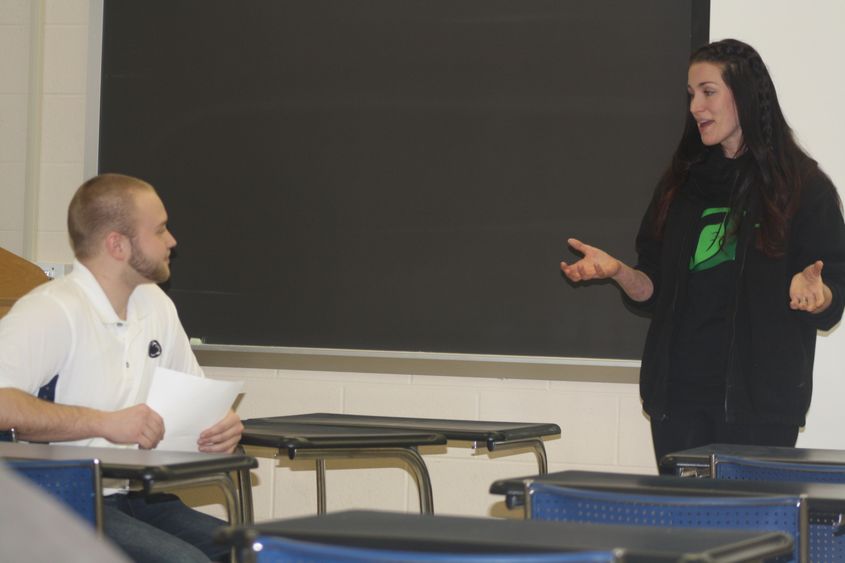 Some students at Penn State DuBois are getting first-hand accounts of what it takes to succeed as a business owner this semester. An assignment for the Business 250 class requires each student to invite a small business owner to campus, and interview that person about their experiences as an entrepreneur.
"Our area is filled with entrepreneurs who want to give back to their communities, and one way of doing that is to share their business experience with young people," said Penn State DuBois Senior Instructor in Business Administration Annett Muth. "Each student in my BA 250 class, Problems of Small Business, was given the task of interviewing a local small business owner who could choose to come to campus to share his or her story with the entire class. Students benefit by hearing first-hand accounts of real business life that they will remember long after they have forgotten what they read in a book."
For the semester's first interview, Jilynn Hess, the owner of Mint Condition Sports Medicine and Chiropractic Wellness in Grampian, Pennsylvania, visited the class. She was interviewed by Business Management and Marketing major Ray Serafini of Brockway.
Hess explained to the class that she has had a life-long passion for health and wellness, and considered becoming a doctor until she ended up taking an athletic training position while in college. It was here that she found her true calling, helping others to feel and be their best through natural treatment. Finding that true calling is something that Hess credits with her drive to find success.
"The number one thing is passion for what you're doing," Hess told the class. "You have to believe in what you do. If you have that passion, every day you wake up and you want to go to work. I don't want to take a day off from what I do. I want to drive that passion."
She next stressed the importance of hard work, sacrifice and motivation in establishing a business. She said, "You can't relax. You have to go all out and give up some fun. Give up vacations, make sacrifices, but it is what you put into it."
Noting that her father worked long hours at his own masonry business, calling on her to help him at work beginning at a young age, Hess said entrepreneurship is in her blood. Her parents served as role models for the aspiring business owner, and their experiences made it natural for them to understand and support her goals. They continue to assist her to this day at her own business, maintaining her facilities and helping to keep up the books.
"My family was a huge help," Hess said. "They supported me; I didn't do it alone. They've always offered such a great support network."
Rounding out her presentation on successful entrepreneurship, Hess even offered tips for keeping a business in the public eye. She said, "I wanted to build a brand. I'm more than just chiropractic; I offer sports medicine. So, I didn't go with 'Hess Chiropractic', I went with a name, Mint Condition. We developed a logo -- a brand.
"Also, besides advertising in newspapers and radio, word of mouth in this area is huge. Getting out to community events and showing people what you do is important."
Hess said she attends such community events such as festivals, 5K runs, and more.
After conducting the interview, Serafini said it has given him a great deal of insight that will help with his own future plans of starting up a small business in manufacturing. He said, "This really exemplified how much hard work it will be and helped me anticipate what will come. Hearing it from someone who experienced it first-hand really makes those things clear."