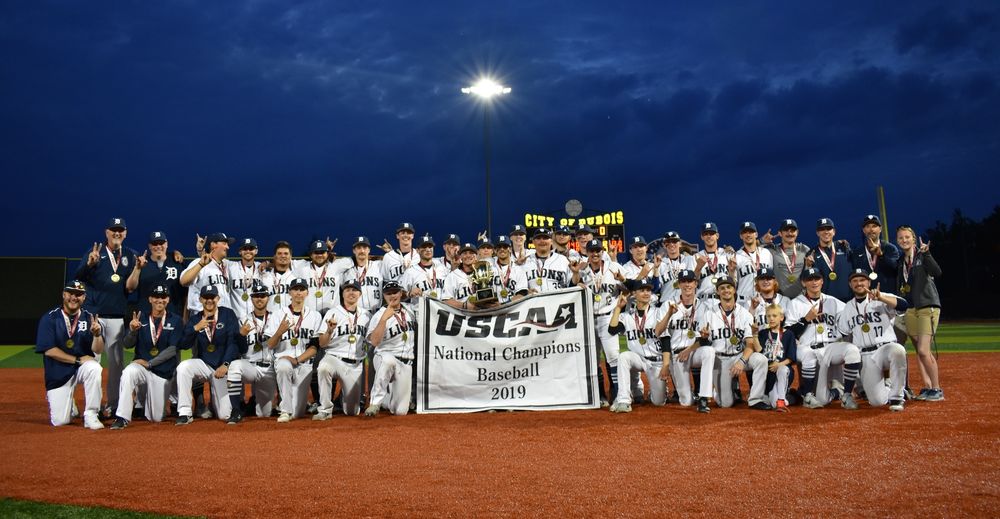 Editor's note: This event has been canceled in response to the global coronavirus outbreak.
DUBOIS, Pa. -- The United States Collegiate Athletic Association (USCAA) Champion Penn State DuBois Baseball Team will be recognized by three state representatives at their home game scheduled for noon on Sunday, March 15, at Showers Field in DuBois. State Representatives Tommy Sankey (R-73, Clearfield/Cambria), Matt Gabler (R-75, Clearfield/Elk), and Cris Dush (R-66, Jefferson/Indiana) will present the team with a citation commemorating their championship 2019 season before the DuBois Lions square off against Wright State – Lake Campus. The community is invited to come out and support the team, and take in the game.
Headed by Coach Tom Calliari, the Penn State DuBois Baseball Team secured two consecutive World Series wins in 2018 and 2019. The team earned spots to play in the World Series both years prior to those wins in 2016 and 2017, the first two years since the baseball program at Penn State DuBois was resurrected after being disbanded in the 1990's. The team ended last season with a record of 32-13 overall and 13-2 in the Penn State University Athletic Conference (PSUAC). Additionally, both championships were won on home turf, as Penn State DuBois has hosted the USCAA Small College World Series for the last two years. The USCAA has announced the tournament will be held in DuBois once again this year.
For a full schedule, results, and more, visit https://psuduboisathletics.com/landing/index