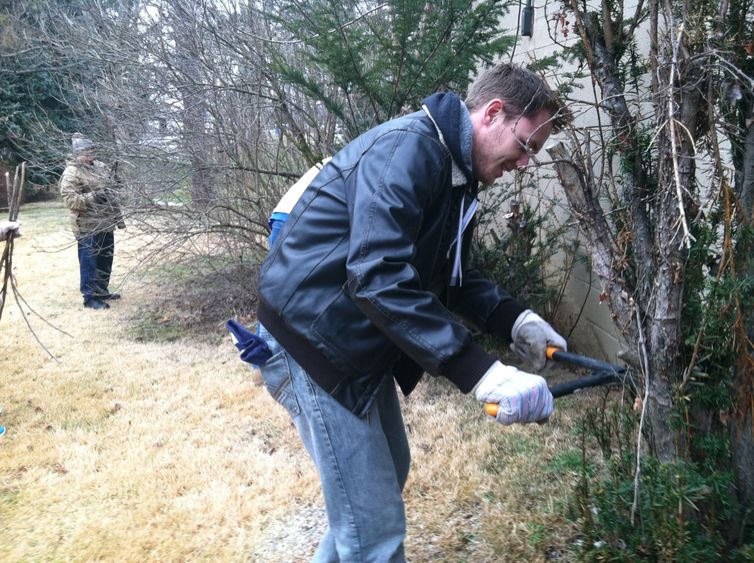 A group of 10 Penn State DuBois students participated in a Martin Luther King Jr. Day tradition, choosing to take part in the MLK Day of Service, rather than taking the day off. They were part of a group nearly 100 students strong, from seven Penn State campuses including Behrend, Beaver, Shenango, DuBois, Greater Allegheny, Fayette and New Kensington.
Each year, the community of one of the campuses is chosen for the MLK Day of Service, and students volunteer at various organizations in that community in honor of Martin Luther King Jr., and his dedication to serving others. This year, Penn State Beaver was the hosting campus, placing students at organizations in and around the community of Monaca, Pennsylvania, such as the Lutheran Service Soceity, the local YMCA, the Women's Center of Beaver County, Sisters of St. Joseph, and more. Tasks they performed included cleaning, working on small outdoor projects, and serving food to people in need.
Penn State DuBois business student Courtney Mullins said, "My favorite thing about MLK Day of Service is working alongside other PSU students to work toward a common goal. I'm thankful we have the opportunity to come together as one university to serve in Dr. King's honor."
"It is refreshing to work with such giving students," said Penn State DuBois Assistant Director of Student Affairs Marly Doty. "We are lucky at Penn State to have students that want to go serve on their day off."
Martin Luther King Jr. Day was first observed in 1986. In 1994, congress designated the holiday as a national day of service, charging the Corporation for National and Community Service with leading this effort. Martin Luther King Jr. Day is the only national holiday designated as a national day of service.