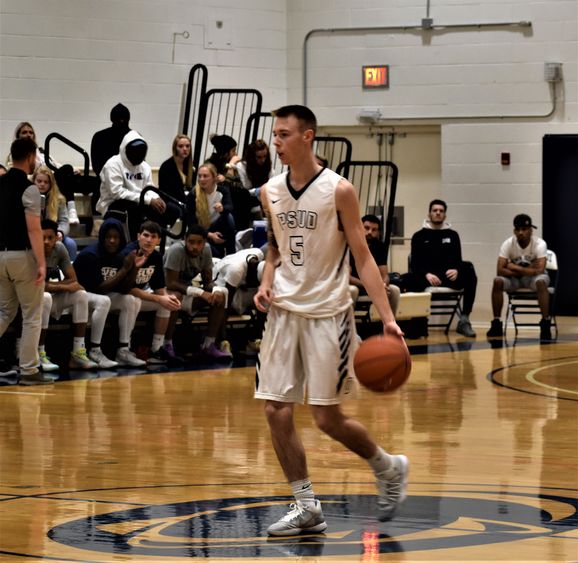 DUBOIS, Pa. — The Penn State DuBois men's basketball team went on a two-game conference road trip this weekend. Friday night DuBois traveled to Penn State Scranton before heading to Penn State Wilkes-Barre on Saturday afternoon.
DuBois went down big early in the first half to Scranton, 42-31. DuBois' adjustments made the difference in the second half however, as they started their comeback. With 17 second half points, Russell Gariepy (Albion, Pennsylvania) was lights out from the field. Cole Morris (Rimersburg, Pennsylvania) added another 12 points in the second half to help his team in the comeback win, downing Scranton, 83-81.
Gariepy ended the night with 22 points, and 8 rebounds. Morris finished with 14 points, and 8 rebounds. Malik Gordon (Allentown, Pennsylvania) capped off the victory with 15 points, and 5 rebounds.
The following day DuBois faced off against the defending USCAA National Champions from 2019. Wilkes-Barre was ready to go after they had their National Championship ring ceremony just prior to the tip off. DuBois did not let that negatively affect the way they played.
DuBois came out strong, and went bucket-for-bucket against Wilkes-Barre for the entire first half. They went into the locker room tied at 26. The second half was much the same, but time was winding down for both teams.
DuBois held Wilkes-Barre to 6-28 from the 3-point line however, and played very efficiently on the offensive end of the floor. Shooting 49% from the floor, DuBois took the driver's seat at the end of the game, and went on to seal the victory, 64-62.
Gariepy had 16 points to lead all scorers, as well as pulling down 10 rebounds. Morris and Gordon both finished with 12 points apiece.