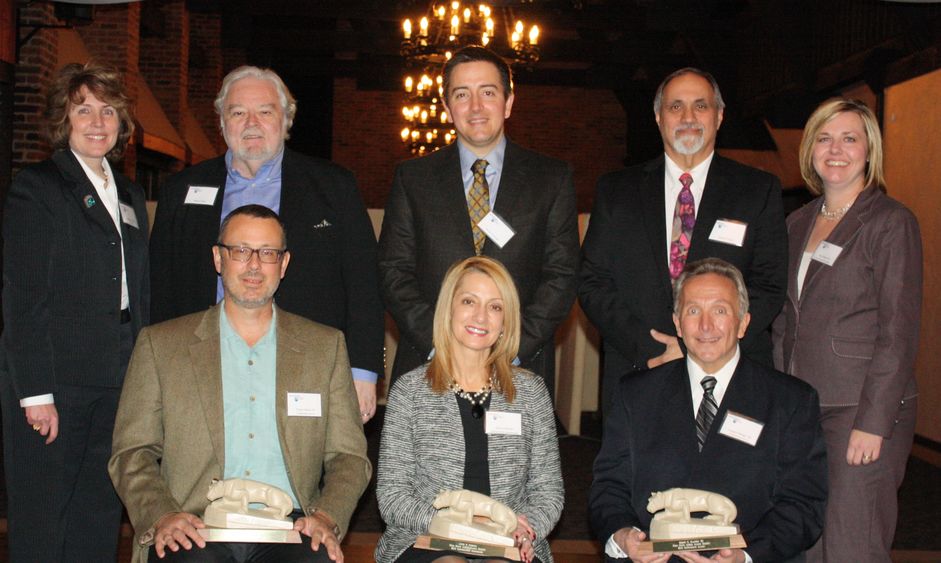 Three accomplished member of the Penn State DuBois community were honored at the annual Penn State DuBois Alumni Awards Banquet on Thursday evening (Nov. 20) at the Lakeview Lodge at Treasure Lake. All award recipients have demonstrated leadership and ingenuity in their fields, as well as steadfast support for the campus.
Joyce Fairman, of DuBois was selected as this year's recipient of the Distinguished Ambassador Award. Craig Pearce, currently of Istanbul, Turkey; and Robert Ellinger, currently of Maridi, South Sudan, both received Outstanding Alumni Awards.
Fairman was presented with her award by Derek Fairman, her son and vice president of the Fairman Family Foundation. The Distinguished Ambassador Award is given to an individual who may or may not be an alumnus, but who has made outstanding contributions to the campus and its mission. Joyce Fairman is the president of the board of directors for the Fairman Family Foundation. Established by her late husband, Alan Fairman, the foundation supports activities that promote the physical and mental health of young people in area communities. At Penn State DuBois, the Fairman Family Foundation contributes support for efforts including children and youth programs and the BEST Robotics Competition, and is the naming contributor to renovations on the Alan R. Fairman House, a home on campus for the honors program and alumni as well as staff offices.
Upon presenting the award to his mother, Derek Fairman said, "She is the face of our foundation, and at the heart of everything it does. It is my honor to present my mother with the Distinguished Ambassador Award."
Joyce Fairman said upon receiving her award, "I am only here today because of a very smart decision I made 38 years ago this month when I married my husband, Alan Fairman." She explained that before Alan Fairman succumbed to a two year battle with kidney cancer, he established the Fairman Family Foundation.
"He decided to give back to the communities he loved. I am only trying to be a good steward," Joyce Fairman said. "I am proud to be an ambassador and I will continue to do what I can to promote and support the campus."
Joyce Fairman currently works in the oil and gas production field and is part owner of Fairman Corporation, an operator of natural gas wells. She retired from Atlas Pressed Metals in 2011, where she worked for 20 years as the accounting and systems manager. She received a bachelor's degree in sociology with a minor in psychology from Indiana University of Pennsylvania in 1976, and her MBA in 1984, also from IUP. Fairman serves on the Council of Trustees for IUP, is active in her community with such organizations as the St. Catherine Church Fundraising Committee, The Association of Women Investors Organization, the DuBois Area YMCA, the United Way and the DuBois Public Library. She is a former member of the Penn State DuBois Athletics Fundraising Committee.
The Outstanding Alumni Awards, which were also presented, go to Penn State DuBois alumni who graduated from or attended campus 11 to 40 years ago and demonstrate professional leadership with an impact on society, leadership within their professional fields, citizenship in their communities, and engagement with a campus or alumni group.
Pearce was presented with his Outstanding Alumni Award by his friend Henry Sims. A retired professor, Sims was a mentor and advisor to Pearce while Pearce was an undergraduate at Penn State.
Pearce is a University Distinguished Professor at MEF University in Istanbul, Turkey.
He is the founding director of the Deloitte Leadership Institute at Ozyegin University in Istanbul, Turkey. He was formerly the dean of the School of Business and Entrepreneurship at the American University of Nigeria and was the Donald Clifton Chair in Leadership and the director of the Institute for Innovative Leadership at the University of Nebraska-Lincoln. Previously, he worked with Peter Drucker at the Peter F. Drucker and Masatoshi Ito School of Management.
Upon making the presentation, Sims said, "I've known Craig since he was an undergraduate. He has a sophisticated portfolio of international experience, but has remained a true son of Central Pennsylvania."
"He has humble roots from Punxsutawney, Pennsylvania, that are still with him, and make him one of the most wonderful people in the world," Sims added later.
Pearce thanked his mentor, as well as his family, including his wife and mother, who attended the awards banquet. He credited their support, and the support of others, for making his success possible.
"In 1676 Isaac Newton wrote that his success was achieved 'by standing on the shoulders of giants.' I feel much the same way," Pearce said. "My parents, Wilma Pearce and the late Clayton Pearce, always encouraged me to stretch myself; they empowered me. My best friend Jeff Kuntz, owner of Best Kawasaki in Big Run, demonstrated how hard work could payoff; he is a role model to me. Professor Emeritis Henry P. Sims Jr. was my mentor when I was an honors student at Penn State and continues to be my mentor today; he developed me. Finally, my wife, Christina L. Wassenaar, fosters my continuous improvement; she inspires me. It is these giants on whose shoulders I stand and it is to them, as well as my entire Penn State family, that I give my thanks."
Pearce received his bachelor of science with honors and distinction in management and a minor in psychology from Penn State in 1987, his Master of Business Administration in management from the University of Wisconsin-Madison 1988, and a doctorate in management and organization from the University of Maryland-College Park in 1997. He is also a co-founder of an agricultural biotechnology company and an active keynoted speaker and consultant to organizations including American Express, Behlen Manufacturing, British Bakeries, the CIA, Land Rover, GEICO Insurance, Panda Restaurant Group, Rayovac, Pickering Foods, Nebraska Educational Telecommunications, The Rouse Company, Rover Cars, Serono, SK Group Korea, and SmartScan Imaging. His research interests are Shared Leadership, Hierarchical Leadership, Ethics/Sustainability/Corporate Social Responsibility and Organizational Performance.
Robert Ellinger received his Outstanding Alumni Award from friend and presenter James Fragle. Fragle noted the life-long friendship he has had with Ellinger, during which he saw Ellinger make countless contributions to his community.
"Please congratulate my friend, Bob Ellinger, on this award," Fragle said.
Ellinger is senior management advisor for the National Rural Electric Cooperative Association (NRECA) International Ltd. He currently works as South Sudan Country Director in Maridi, South Sudan, Africa, but calls Treasure Lake home. He is chief of party for the Electrification Sustainability Program (ESP), overseeing a technical assistance program funded by the U.S. Agency for International Development (USAID) supporting the process of achieving long-term sustainability for three recently constructed electric generation-distribution utilities serving the towns of Kapoeta, Maridi and Yei in the Equatoria states of South Sudan. Prior to his current assignment, Ellinger worked on several short-term assignments in the African countries of Uganda and Liberia. In 2011 he completed a three year assignment as chief of party for the Rural Electrification Development Program (REDP) in Bangladesh.
Ellinger began his career in rural electrification as the energy management advisor for United Electric Cooperative in DuBois. He has more than 25 years of experience in rural electrification programs having served in staff positions in DuBois prior to moving to Delaware, Ohio where, at the age of 34, he became Ohio's youngest general manager of an electric distribution cooperative. While in Ohio, Ellinger served as vice president of the Ohio Managers Association and chairman of the Ohio Rural Electric Cooperatives Youth Committee. Ellinger earned an associate degree in business administration from Penn State DuBois in 1980, and was awarded membership in the Delta Epsilon Sigma National Honor Society upon receiving his bachelor's degree in business administration from Ohio Dominican University in Columbus, Ohio. He is a life member of the Penn State Alumni Association and an avid follower of Penn State athletics both in DuBois and University Park.
Upon receiving his award, Ellinger said, "I am humbled to share this stage with Joyce and Craig, two outstanding individuals. I thank the Alumni Society and Penn State DuBois for the opportunity to be here."
Ellinger offered gratitude to his wife, who has supported him throughout a colorful career, stretching around the globe.
"I would not be here if not for my wife, Marie," he said. "She has always been here to offer support. I have to thank her first and foremost."
Penn State DuBois Chancellor Melanie Hatch closed the ceremony saying, "I would like to thank each of you for being here tonight to help us celebrate with three incredible people. Penn State DuBois is truly an amazing place to produce such gifted alumni. You are fabulous role models for our students, and interacting with you reminds our faculty and staff members that we chose a career in higher education to provide our students with the necessary foundation to become successful in life."