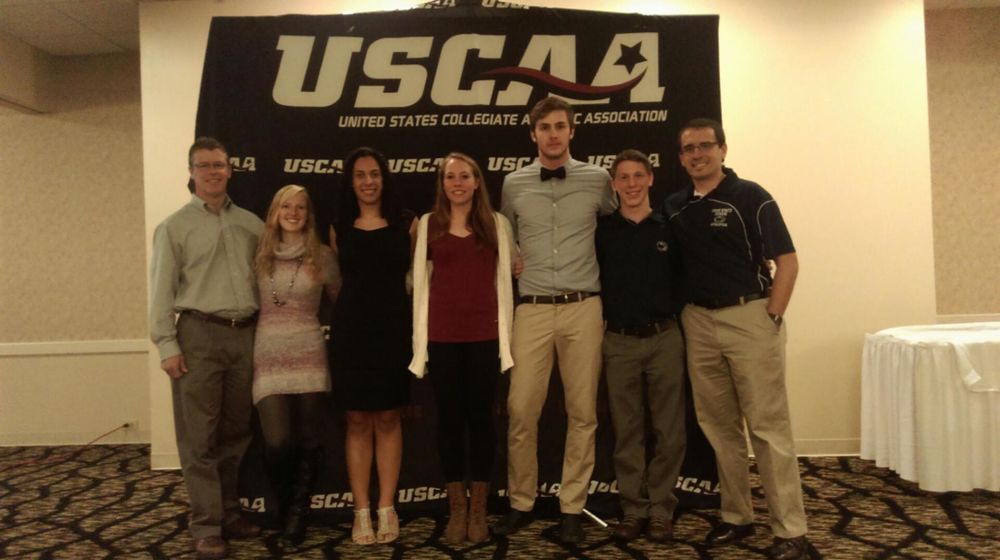 Runners from Penn State DuBois competed at the U.S. Collegiate Athletic Association (USCAA) Cross-Country National Championships on Nov. 7. Representing the DuBois Nittany Lions were Juliann Boddorf, Tamera Anthony, Heidi Rodgers, Matthew Burke and Charles Miller. It was a tough race for the Lions as they ran in the frigid air of Syracuse, New York, and against the toughest schools in the country for their division. Some of the schools they competed against were SUNY-ESF, Dine College, Paul Smith's, Illinois Tech, Florida College, Navajo Tech and New Hampshire Technical Institute. Among the diverse field of teams, there were some familiar faces to Penn State DuBois' own conference, the Pennsylvania State University Athletic Conference (PSUAC), including Penn State Greater Allegheny, Penn State Wilkes-Barre, Penn State Brandywine and Penn State Worthington Scranton.
The women's 6-K race had a total of 178 competitors. Penn State DuBois placed one runner, Boddorf, in the top 17 percent at 31st place. This is the best national performance by a Penn State DuBois runner in school history. Not to mention, Boddorf also beat the PSUAC conference champion and runner-up, whom she had previously placed third against in their conference championships only weeks before the national race. Finishing out the women's team was sophomore Rodgers who placed 131st and Tamera Anthony at 141st.
"I couldn't be more proud of our ladies. Julie has been closing the gap between her and Rachel Ramsey (PSUAC top runner) since they first met in September," said Penn State DuBois head coach Kyle Gordon. "I knew from the moment that I first saw Julie run, that she would be capable of great things in our conference and we had every confidence that she would eventually make it to the top. In regards to our other ladies, they are two of the strongest supporting cast members that we could ask for. At this rate, A PSUAC title is within our grasp next year."
Boddorf and Anthony will both return to the team next year.
On the men's side, there was an impressive conclusion to the running careers of two exceptional athletes. Out of a pack of almost 200 runners, Burke placed 124th and Charles Miller placed 182nd. At the Championship Banquet, on the night prior to the race, Miller received the honor of making the Academic All-American Team. Recipients of this honor must be above freshman status and carry a grade-point average (GPA) of 3.5 or higher. Miller displays an impressive 3.9 GPA. Both Burke and Miller will transfer to Penn State University Park next year to finish their degrees.
"We've had a lot of success with a small team this year. From All-Conference Honors, to invitational and conference medalists, this team has certainly created momentum for the future success of the program," said Gordon. "Of all the honors received by our runners, the Academic All-American honor is really special. We're really proud of Miller. What a great way to end the season."