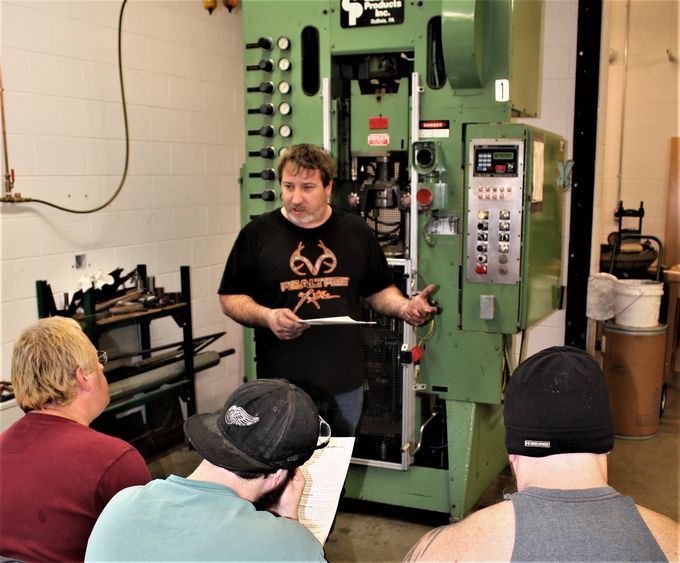 DUBOIS, Pa. — Most people in north central Pennsylvania have heard tidbits of information about the local powder metal (PM) industry. Like the one about how there are about 25 pounds of parts in your car and truck that are made right here in our region. Or the one about how one-third of the world's PM companies are located right here in our neck of the woods.
Whether those facts are completely accurate portrayals of the local industry or not, one thing is certain: If you don't work in that industry, you probably don't know much than that about PM.
The other time most people see information about the PM industry is when the "help wanted" ads appear in the newspaper searching for die setters.
A relatively low-profile industry when it comes to the promotion of its importance in the economic landscape of our region, the PM industry is a financial giant among manufacturers. Companies began locating in our region in the 1950s and have continued to increase in numbers as the uses for PM parts has increased. Growth of the local companies often hinges on the economy. When the automakers were struggling, so was the PM industry. However, the last few years have brought a resurgence to the industry. PM parts are now found in your lawn mower, firearms, surgical equipment, exercise equipment, and just about anything that has parts made from metal.
While the tens of thousands of local PM presses are pounding out millions of parts each week, company human resources professionals are trying to figure out how to staff those machines to keep them running.
With the cooperation of those same companies, Workforce Solutions of North Central Pennsylvania and Penn State DuBois developed a training to help fill those die setter positions. The class has been ongoing since it's creation in 2017 and has helped companies close the skills gap for nearly 60 incumbent workers.
Now, officials are looking for a few job seekers to run through a pilot program, alongside of current incumbent workers, to see how those without a PM background will do with the 74.5-hour class. A job seeker is classified as someone who is not currently employed and actively seeking work. Students should currently live in the north central region and have good mechanical and math skills.
If job seekers are accepted into the program, an attempt will be made to pair them up with a current employer to job shadow an incumbent die setter at some point during the training period.
The program, which takes place in the evenings over the course of five months, is held partially in St. Marys and partially in DuBois. The classes are a great mixture of classroom learning and hands-on learning that prepares the participant for an entry-level job in the PM industry with an exciting upside for a lifelong career in the industry.
Utilizing some of the region's best engineering instructors and veteran die setters, students gain both the knowledge and the skills to tackle all types of press set-ups from straight-wall, flange and spherical to multiaction set-ups like dual top and dual bottom processes. Hands-on classes are taught using Gasbarre presses.
The Penn State training is a total of 71 hours with a mix of classroom and hands-on training. Students learn in three modules, starting with the basics: math, blueprint reading, metrology (the science of weights and measures) and statistical process control. The module is capped off by students' first introduction to the powder metal press with a 10-hour training for the process to make the most basic parts, the straight wall set-up.
The second module digs deeper into the classroom trainings and ends with more hands-on training to learn set-ups to make flange and spherical parts. The final module introduces students to why PM parts break or fail during the manufacturing process and how to avoid those issues. Students are then introduced to a more complex PM press that can make parts using a dual top or dual bottom pressing process.
Companies or individuals wanting information about this opportunity to join the upcoming class starting on Feb. 13 can learn more on the Penn State DuBois website at dubois.psu.edu/die-setter-training. General information, including name, contact information and current occupation, also can be submitted via email at [email protected]