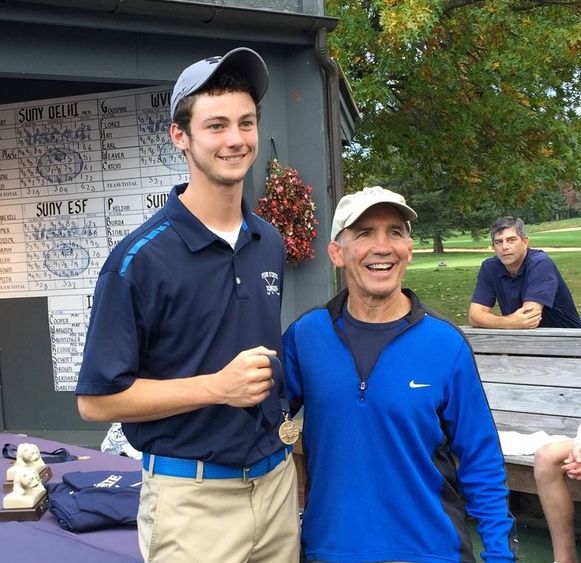 The Penn State DuBois golf team completed another extremely successful season by taking third place in the Penn State University Athletic Conference (PSUAC) Championships as well as a 16th place finish in the United States Collegiate Athletic Conference (USCAA) National Tournament on Oct. 13 and 14.
Penn State DuBois was lead by PSUAC All-Conference selections freshman Tyler Woodard (Smethport High School) and sophomore Vinnie Montanari (Redbank Valley High School). Woodard led the team will an 85/87 for a two-day total of 172. Montanari carded 86/91 for a two-day total of 177. Woodard and Montanari were both named to the PSUAC All-Conference team.
Mitchell Gilmore (Ridgway High School) and Kristy Hanes (Elk County Catholic) rounded out the Penn State DuBois scoring. Gilmore turned in a 96/90 for a total of 186 and Hanes was close behind with an 89/98 and a 187.
"We lost our top five golfers from last year's PSUAC championship team and Vinnie was the only golfer back. Tyler, Mitchell and Kristy all really stepped in and filled the void that was left due to matriculation to Penn State University Park," stated head golf coach Pat Lewis.
He added, "Tyler and Vinnie really played well at the championship. Vinnie peaked at the right time and I believe that Tyler will be in the 70's next year on a consistent basis. I felt bad for both Mitchell and Kristy because they both have scored so much lower all season long and they both had a couple of off days. They will both be back next year with Tyler to make some noise in the conference."
Kristy Hanes also picked up two special awards from the USCAA. Hanes was named USCAA Academic All-American. To earn this honor, a student/athlete must have over a 3.5 GPA and be at least a sophomore. The second award was the USCAA Putting Champion. Hanes won the award by defeating designated putters from 27 schools.
The Penn State DuBois golfers finished their second season with a final record of (21-7-2). This gives the PSUD Golf Program an overall record of (52-14-2) since the start of the golf program last season.