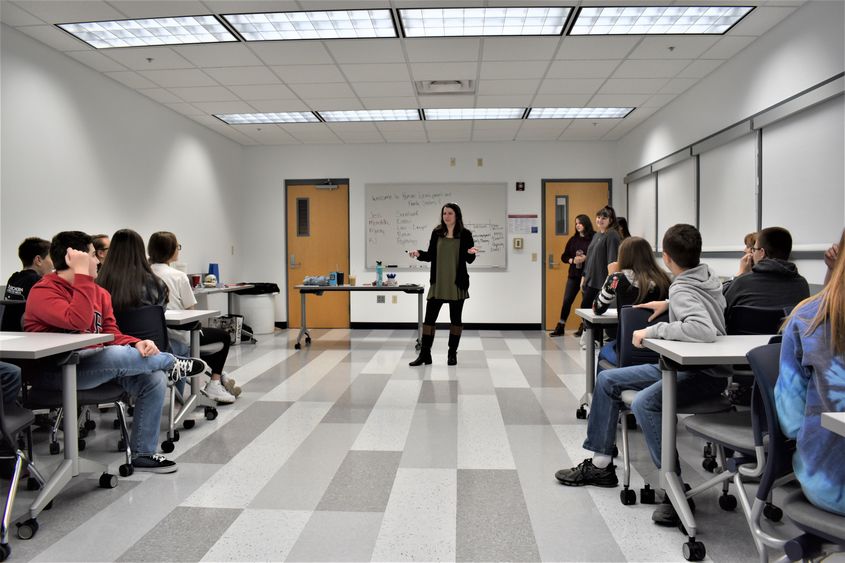 DUBOIS, Pa. — Faculty and staff members at Penn State DuBois hosted a collection of workshops on Nov. 20 to help introduce area middle and high school students to some of the options they'll have in both higher education and also in careers. The Gifted Workshop series was aimed specifically at students in gifted or advanced curriculums, and welcomed more than 40 students in grades seven through 12, from Brockway, Cranberry, DuBois, Keystone, and St. Marys school districts.
Degree programs featured on this particular day were Human Development and Family Studies (HDFS), and Wildlife Technology. Graduates of HDFS go on to work in fields including counseling, social work, and probation. Wildlife technology graduates work in fields of environmental and wildlife conservation. Faculty members Jessica Clontz and Keely Roen made presentations on HDFS and wildlife technology respectively.
"We want to expose these students to our programs so that they're aware that there are great educational opportunities in this area, without having to travel far from home," said Assistant Director of Admissions Holli Lashinsky. "When we bring students to campus who already excel academically, we have confidence that they'll perform well in a college setting. So, we want to make sure they are aware of all of the options available to them, and really get deep into exploring our programs."
In the HDFS session, Clontz led students in a workshop examining how human services professionals contribute to solving social problems impacting society. She gave them an inside look at what it is like to work in those fields by offering an understanding of the role human service professional play in addressing social issues.
Roen led a hands-on exercise in the wildlife workshop, teaching students how to create and use dichotomous keys. The keys are used as a ledger for organizing plants and animals into groups. Keys are used by foresters, wildlife biologists, fisheries scientists and more. The students then used their newly learned skills to create a way to age deer by examining the jawbone.
Roen said, "I really liked being able to expose these students to the diversity of opportunities we have here at Penn State DuBois. It was an excellent way to share my professional interests, as well as what our college students do in our program. Our students do the same exercises these younger students did today, because it's such an important tool in our profession."
Penn State DuBois offers a variety of opportunities to visit the campus and explore the educational programs available. A visitation event featuring both two and four-year engineering programs is planned for Dec. 4. Individual tours can also be scheduled. For more information, or to register for a campus visit, go to www.dubois.psu.edu/visit or call 814-375-4720.