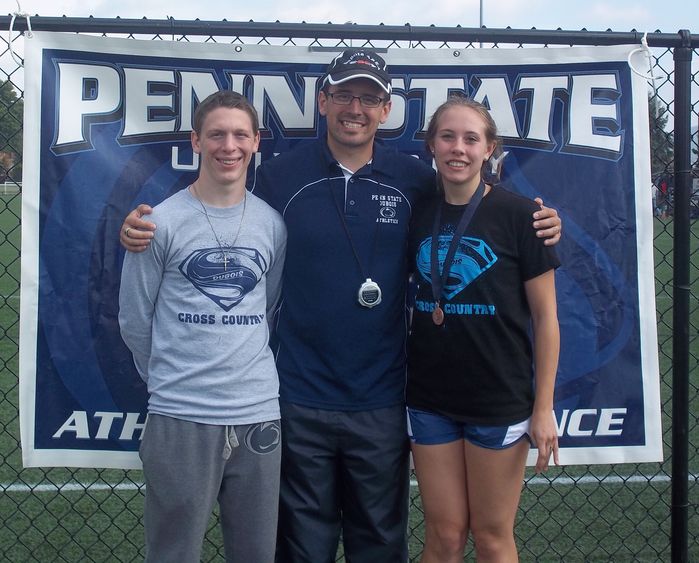 On Saturday, Oct. 11, the Penn State DuBois cross country runners competed at the Penn State University Athletic Conference (PSUAC) Championships on the official course of the Penn State Nittany Lions at University Park. Several of the runners were no strangers to the course, having run a similar competition in high school for the annual Harry Groves' Spike Shoe Invitational. Competing for the conference championships along with Penn State DuBois were Penn State Worthington Scranton, Penn State Wilkes-Barre, Penn State Lehigh Valley, Penn State Mont Alto, Penn State Greater Allegheny, Penn State Schuylkill, Penn State Fayette and Penn State Brandywine.
Matthew Burke and Juliann Boddorf, for Penn State DuBois, finished the race in the top 10 and were awarded the honor of All-Conference Team. Burke is the first male runner from Penn State DuBois to receive this honor since DuBois' current coach, Kyle Gordon did it in 2009. Boddorf is the first to receive this honor for Penn State DuBois since former runner, Gabby Brennan in 2010. Boddorf finished the race in third and is the first conference medalist for Penn State DuBois since 2006.
Heidi Rodgers and Tamera Anthony finished 20th and 21st for the women, while Charles Miller and Micah Shaffer finished 34th and 37th. The overall winner for the women was Rachel Ramsey from Penn State Greater Allegheny with a time of 25:49. Winning for the men, was John Ciccone from Penn State Worthington Scranton with a time of 29:32. Coach Gordon and his runners have three weeks to prepare for the USCAA National Championships which will be held in Syracuse, New York.
"Overall, it was an incredible race for everyone who ran. Juliann, Matt, Tamera, and Heidi all ran their best times today. They've worked really hard and today, they saw the results. Juliann was only 14 seconds from second place and only 43 seconds from first. She closed in significantly on the top runner in the conference since they last met in Greater Allegheny. We could very well see her taking home gold next year," said Coach Kyle Gordon.