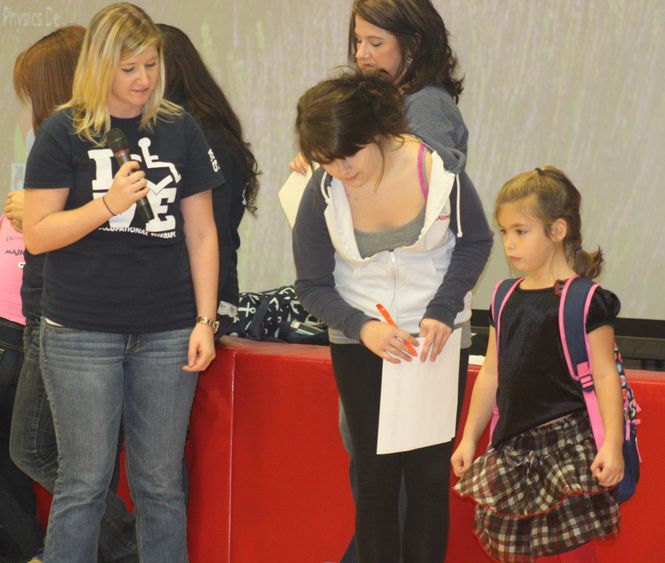 Some area elementary school students got a lesson in health and safety from students in the Penn State DuBois Occupational Therapy Assistant (OTA) Program on Oct. 16. The Penn State students presented the Backpack Awareness Program to around 400 students at Juniata Elementary School in the DuBois Area School District.
The Backpack Awareness Program is intended to teach youngsters the safest practices when it comes to carrying backpacks, in terms of the amount of weight that should be carried, the proper ways to wear a backpack and more.
A rule of thumb the program follows, in accordance with the American Occupational Therapy Association, is that a backpack should not exceed 10 percent of a child's body weight. One exercise in the program has students step on a scale with their backpack on, then again without it, in order to see if they are in line with this rule.
Occupational therapy experts say, sometimes surprisingly, something as simple as improper carrying of a backpack can lead to significant health issues later in life.
"We go over backpack safety and why wearing the backpack correctly is good for them," explained Brittany Auman, a sophomore in the Penn State DuBois OTA program from St. Marys. "We want to assure that they can participate in everyday activities, such as sports, without pain or lack of ability. They're so young, so we want to make sure they stay healthy.
"A lot of shoulder and back pain can happen, if they don't carry their backpack correctly, that can affect them later down the road, as they get older."
Penn State students also provided informational packets for the elementary students to take home and review with their parents, so the whole family can study up on backpack safety. Elementary educators were pleased to see the benefits these tips could have.
"I think that backpack weight has always been a concern for our faculty and staff, as well as parents," said Juniata Elementary School principal Barbara Jo Smith. "Giving them a better awareness of how it should be worn and how heavy it should be can only improve student health."
All while helping youngsters to stay healthy, the Penn State DuBois OTA students also got some real-world experience in the career field they plan to enter.
Senior instructor in the campus OTA program LuAnn Demi said, "Our students learn leadership skills from setting up this entire program; they organized it from start to finish. Also, they will interact with people of all ages in their careers, some may even work within the school system. This gave them some great hands-on experience working with children."