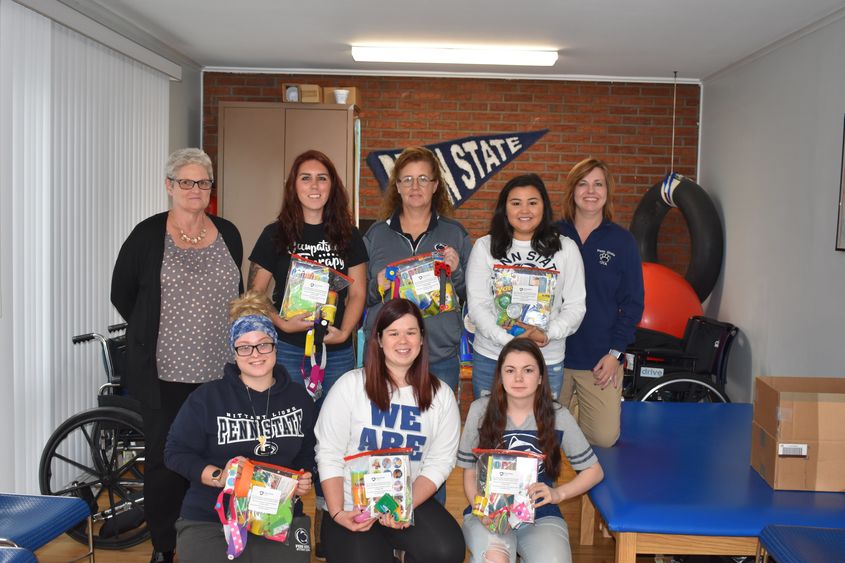 Students in the Occupational Therapy Assistant (OTA) program at Penn State DuBois have donated "busy bags" for use at area shelters that serve families who have been displaced by domestic violence. They made the donation on Oct. 22, to Dorothy Van Dyke, a domestic violence outreach specialist with the Crossroads Project at Community Action Inc. of Jefferson County. Van Dyke will distribute the bags to the shelters.
Students completed this project for the Occupational Therapy Global Day of Service. They collected items through donations from faculty, staff and students at Penn State DuBois, and assembled the bags for use by children age 3 and up. Items include crayons, puzzles, sticker activities, crafts, small toys, and educational handouts for parents explaining how children learn through play.
"I think this will have a great impact on these children," said Van Dyke. "These children are coming out of a volatile situation, but they're still coming out of a home they know. Children may not be able to process that the way an adult can. I think this will give them a sense of comfort and help with any anxiety they may have."
In addition to offering comfort to children who may be staying in a shelter with a single parent, faculty in the OTA program said they also hope the kits provide developmental benefits to children. Faculty said the children are already distressed, making things like focus difficult, and they also may not have had the opportunity to bring their own toys or other items with them to the shelter.
Assistant Teaching Professor in Occupational Therapy Amy Fatula explained, "One of the potential outcomes of occupational therapy is a term called Occupational Justice. It means we remove barriers that keep people from doing meaningful activities. So, service to this organization is a small part of that. We can provide help to a population that is at risk of being deprived of participation. These kits might go to someone with no other opportunity for age-appropriate activities, and they'll be able to learn and develop with these."
Fatula explained that many of the items in the bags are used for activities that help in the development of fine motor skills.
For those looking to learn more about a career as an occupational therapy assistant, an Occupational Therapy Assistant Visitation Day is planned for 10 a.m. Friday, Oct. 25, at Penn State DuBois. To register, visit www.dubois.psu.edu/visit or call 814-375-4720.