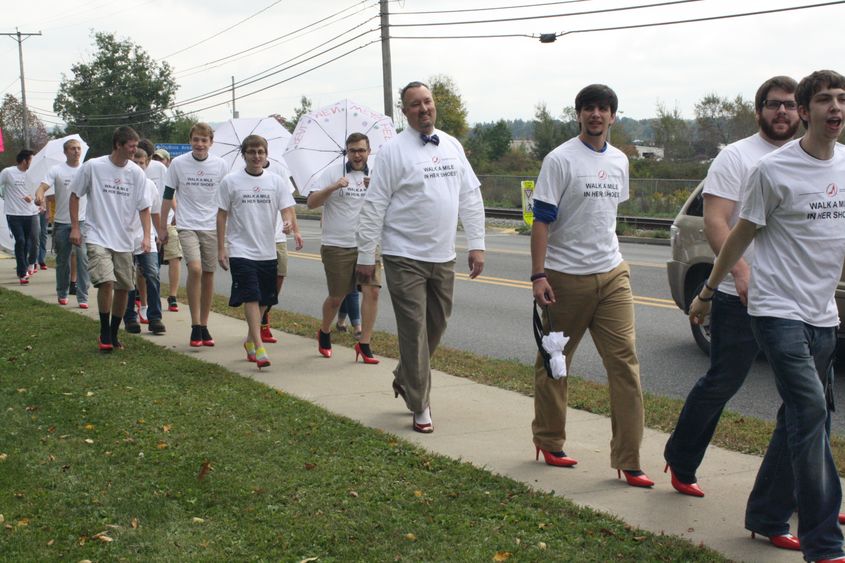 A total of 34 Penn State DuBois men wore high heels for the Walk a Mile in Her Shoes event on Wednesday. The men's march is meant to raise awareness of the battle against rape, sexual assault and gender violence.
The event was organized by victim advocacy group Passages of Clarion, Clearfield and Jefferson counties, in conjunction with the Penn State DuBois Office of Student Engagement. The idea behind the march is to get men more involved in issues surrounding sex crimes.
The men marched through campus, as well as off campus and down Liberty Boulevard, then back, covering a full mile in their pumps.
April Fleck, a prevention educator with Passages, said encouraging men to take a stand against issues surrounding sex crimes is a significant part of raising awareness. She said, "Particularly for men, it's important. Getting men involved makes a difference, and decreases the amount of abuse that occurs."
Fleck told the participating men before the march, "Every step you take in those shoes today is a step closer to eliminating sexual violence."
According to the Rape, Abuse and Incest National Network someone is sexually assaulted in the United States every two minutes. Statistics like that are what inspired some of the marchers at the Walk a Mile event.
"It's a lot more common than we think it is," said student Jerod White of Punxsutawney. "It's crazy how many women are victims of abuse."
Fellow marcher and student Joseph Perpich said he was happy to raise awareness in such a visible way. He said, "It's a good cause; it's a serious matter, and victims need help. It's hard for the public not to see us and get the message out when they see a bunch of men walking in high heels."
As for the walking in high heels itself, White said, "It was a long walk, but I went the whole way. I'm in pain, but it really shows what women go through wearing these. I couldn't do it every day."