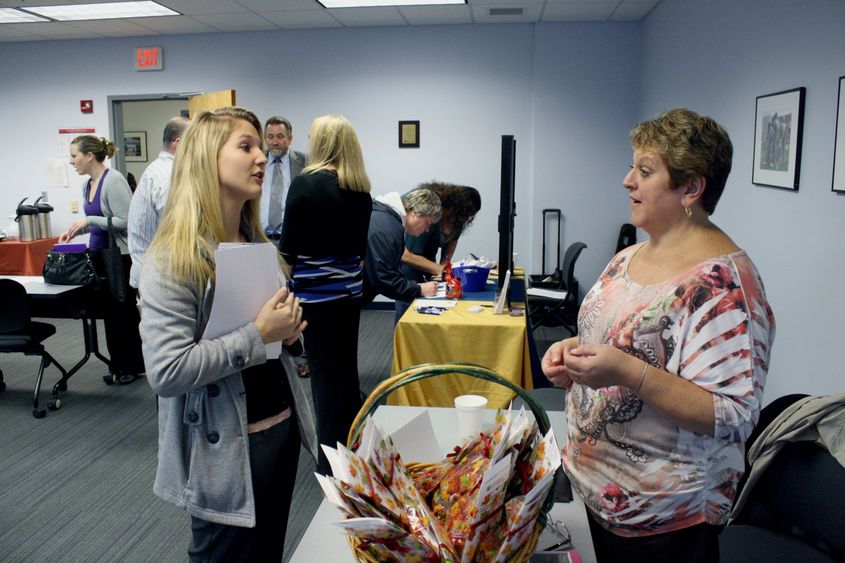 Students in the Penn State DuBois Occupational Therapy Assistant (OTA) program met face-to-face with potential employers during the OTA Job Fair held on campus on Oct. 10.
The training they receive in the OTA associate degree program will prepare them to work with a licensed occupational therapist and administer therapy to people who have been injured, or suffer from debilitating illnesses. A number of companies in health and rehabilitative services that are recruiting professionals in the occupational therapy field were on hand at the job fair. The event is held specifically for students and recent graduates in this high-demand field, and designed to get them placed in their careers as soon as they are ready to enter the workforce.
"When I graduate I want to get out and start working as soon as possible, so I'm always looking for opportunities," said OTA student Renee Hines, a native of Brookville, Pa., who plans to graduate in December. "I want to stay local, and I'm getting to know a lot of companies here that are local. There are a lot of companies here that I didn't even know about before."
Hines said she is thankful that the faculty members in the OTA program go the extra mile and bring the search for career opportunities right to the students. She said, "I think it's wonderful that they do all this work, and they don't even have to. It's great that they give us so much help finding a job."
For others, who want to spread their job search over a broader geographical area, there were representatives from some companies at the job fair which were recruiting for locations in other states or other parts of Pennsylvania. Student Matt Dietrich of Grove City, Pa., for instance, would like to find work a little closer to his hometown. "It's nice to see that there are companies all over in different areas that are looking for occupational therapy assistants," Dietrich said. It's great they put this fair together. It's more personal than us just going out and job searching ourselves."
The job fair benefits more than just the students, however. As Lorain Knapp, a recruiter for Indiana Total Therapy in Homer City, Pa., explained, "It offers the students an opportunity, and it offers me an opportunity. It helps to fill the positions that I need to fill."
Knapp said she has been pleased with the quality of the graduates she has already recruited from the Penn State DuBois OTA program, and that quality keeps her coming back for more.
"We do take students from this program, we have four working for us now. They come highly skilled and very motivated and excited about their profession," Knapp said.
Monster.com has ranked the position of occupational therapy assistant as one of the 10 best jobs you can get with an associate degree. The Bureau of Labor Statistics has projected that job opportunities for occupational therapy assistants will increase by 43 percent between 2010 and 2020.