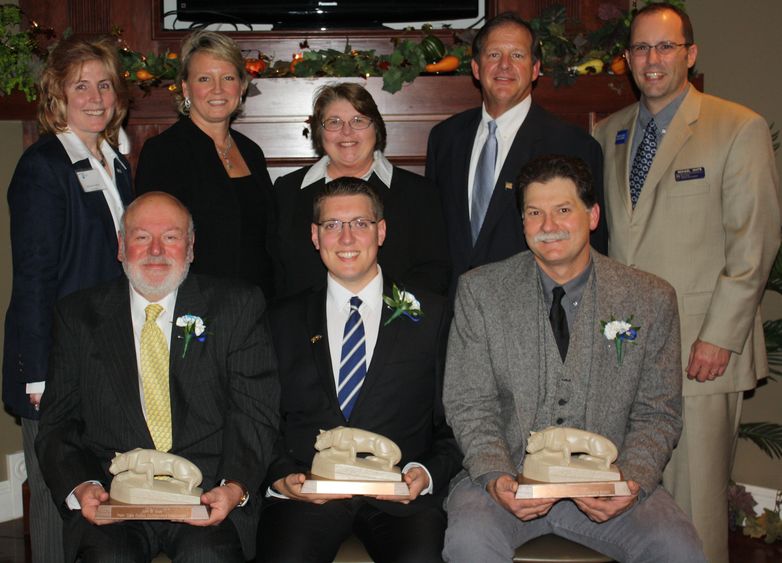 Three individuals were honored at the Penn State DuBois Alumni Society's Annual Alumni Awards Banquet held Thursday evening at the DuBois Country Club. David Roush received the Dave Shaffer Outstanding Young Alumni Award, Rawland Cogan accepted the Outstanding Alumni Award, and John Bean was presented with the Distinguished Ambassador Award.
Roush is an instructor of media communications and video production at Harry S. Truman High School in New York City and a freelance news reporter and anchor at News 12 Networks, also in New York City. He graduated, with distinction, with a bachelor's degree in journalism in 2004, as well as a bachelor's degree in Communication Arts and Sciences.
DuBois City Councilwoman Diane Bernardo presented the award. She recalled meeting Roush when he was an aspiring young reporter covering city council meetings many years ago. She said, "I was meeting someone who had an outstanding future ahead of him, and I remember thinking of what an impact he'll make on the future of our world."
In accepting his award, Roush credited his family and friends for contributing to his success. He honored his mother by recognizing her as "the rock" in their family, and called her up to the podium to present her with a dozen roses.
"I can't take all the credit for the accomplishments I've achieved," Roush said. "There's always been someone reaching down to lift me up. None of this was possible without someone reaching down and giving me a hand up."
Roush's career in journalism got off to an early start when he became a freelance writer for the
Courier Express newspaper in DuBois during his freshman year at DuBois Area High School. At the same time, he also worked as an on-air personality at Sunny 106 WDSN. After graduation from Penn State, he became a television reporter for WJAC-TV, covering a four-county area as the DuBois Region Bureau Chief.
In 2007, Roush moved to New York City to accept a position with News 12 The Bronx. He has covered stories on such notable people as New York Mayor Michael Bloomberg, President George W. Bush, and Pope Benedict XVI. After covering several stories at Truman High School, he was offered the job of instructor for the school's brand new media communications academy.
Roush has received numerous awards and recognitions prior to this, including first-place honors from the Collegiate Fraternal Editors Association for a personality profile he penned for The Sinfonian Magazine. Roush represented Penn State with a first-place finish in the 2002-03 William Randolph Hearst Journalism Awards Competition in the Radio Broadcast News Feature category. Additionally, his students were nominated for a New York Emmy Award and have won thousands in scholarship prizes from various video contests. He also was selected as a 2013 New York City "Big Apple Awards" nominee for excellence in teaching.
Roush is a life member of the Penn State Alumni Association. He is an alumni volunteer with the Penn State New York City Admissions Office and has sent several of his students on to various Penn State locations including Penn State DuBois. He remains active with the Phi Mu Alpha New York City Alumni Association.
Cogan was presented with his award next. He is the president and CEO of The Keystone Elk Country Alliance, a nonprofit Pennsylvania-based conservation organization whose mission is to conserve and enhance Pennsylvania's elk country for future generations. The Alliance operates and manages The Elk Country Visitor Center, which is located in Benezette, Pa. This premier conservation facility, which has earned a LEED Certification with a Gold Designation, has thus far attracted approximately 500,000 visitors from 33 countries and all 50 states. He earned an associate degree in wildlife technology from Penn State DuBois in 1979. He went on to earn a bachelor's degree in recreation in 1981, and a master of science in forest resources, wildlife and fisheries science in 1991, both from Penn State.
Cogan began his career in 1982 with the Pennsylvania Game Commission, where he became the state elk biologist. During his tenure with the Game Commission, Cogan was instrumental in developing and coordinating all research activities associated with Pennsylvania's Elk Management Plan. Under his guidance and expertise, Pennsylvania's elk herd developed into a healthy and viable population.
From 2002 to 2009 Cogan was an integral part of The Rocky Mountain Elk Foundation, serving as development officer and lands program manager. In 2009, he created and managed The Rawley Cogan Consulting Business, the purpose of which was to fund raise and to provide project management for the completion of The Elk Country Visitor Center.
Cogan has authored a large number of articles and research reports, which have appeared in many conservation, outdoor, research, and professional magazines and periodicals. He has made guest appearances on such television programs as Pennsylvania Outdoor Life, Outdoor Journal, and Jack Hubley's Wild Moments. He also serves as a host on the national television show, Friends in Wild Places, which airs on ABC 23, Fox 8 and on The Pursuit Channel.
Throughout his life he has been the humble recipient of many conservation-based awards from such foundations and organizations as The Rocky Mountain Elk Foundation, C. Ted Lick Conservation Foundation, and The Pennsylvania Game Commission. He also has been honored by the Pennsylvania Senate with their Special Recognition Award and by Penn State with the David T. Wanlass Wildlife Award.
David Spigelmyer, Cogan's close friend, presented the award, making for a mirror image of last year's Alumni Awards Banquet. Spigelmyer was the 2012 recipient of the Outstanding Alumni Award, and Cogan presented the award to him during last year's ceremony. Spigelmyer spoke about Cogan's hard work and dedication to making the Elk Country Visitor's Center a reality, and the positive impact that Cogan's work continues to have on wildlife, the environment and the local economy by generating tourism.
"He turned straw into gold in the heart of Pennsylvania's elk country," Spigelmyer said. "His work has enormously benefited this area, providing opportunities for business owners."
"I'm proud, and very pleased to accept this award from Penn State," Cogan said. He thanked his family for their support of his efforts, and expressed his gratitude for the education he received that made it all possible. He continued, "I wouldn't be here today without my degrees. I wouldn't be here today without Penn State DuBois. I wouldn't be here today without my family. It's come full circle for me; we now have Penn State DuBois students interning at our facility in Benezette. I recognize that bright-eyed look they have."
Next, John Bean stepped forward to receive the Distinguished Ambassador Award. This award is given to an individual who may or may not be an alumnus, but has made outstanding contributions to the campus and its mission. Bean is semi-retired as chairman of Symmco, Inc., a leading manufacturer of powdered metal engineer parts, located in Sykesville, Pa. He and Symmco Inc. have long been supporters of Penn State DuBois, providing support and funding for education and other projects. The campus administrative building, the Symmco House, is named in honor of the company and its support. Bean was presented his award by Jean Wolf, the director of development at Penn State DuBois.
"John has been said to have influenced personal and business associates by example, always encouraging the idea of the responsibility to give and have pride in the place you are from," said Wolf. "John, you have done that far and wide for many causes and, in particular tonight, we recognize the support you have provided to Penn State DuBois."
"I'm very privileged to have been able to start Symmco Foundation with my father, and that we have been able to support Penn State DuBois and other community organizations," Bean said. "I am overwhelmed by this honor. I thank the Alumni Association for it. I am honored."
Bean began his career at Ideal Products, Inc., retiring as President after 40 years of service. Residing in Sarasota, Fla., since 1994, his current pursuits include serving on the board of Children First, the Head Start provider for Sarasota County that has been three times nationally recognized as a Program of Excellence. Additionally, he is a trustee of the New College Foundation in Sarasota, supporting the Honors College of the Florida State system.
In the recent past, Bean has served as Trustee of Washington and Jefferson College in Washington, Pa., where he received his bachelor of arts in political science and economics in 1965, and vice chair of the board of the Marie Selby Botanical Gardens in Sarasota, Fla., a leading research institution of epiphytes; orchids and bromeliads. Bean served in the US Army in various overseas and domestic assignments.
Bean said he has enjoyed his long and productive association with Penn State DuBois, supporting the continuing efforts of the DuBois Educational Foundation and the Materials Engineering program thorough his association with Symmco, Inc.
Chancellor Melanie Hatch closed the ceremony with a few remarks for the award recipients and guests. She said, "What an outstanding group of honorees. I'd like to congratulate each one of you. I've been here since February, and I continue to be amazed by the students and alumni of this campus."
Hatch also underscored the significant role that people like the award recipients play in helping an educational institution thrive, and expressed her gratitude for the same.
"No university can function without the support of alumni and friends. We couldn't do what we do without you," Hatch said.
The Penn State DuBois Alumni Society hosts the Alumni Awards Banquet annually. Anyone interested in nominating an individual for one of next year's Alumni Awards is asked to contact Julie Duffee at 814-375-4775 or [email protected]