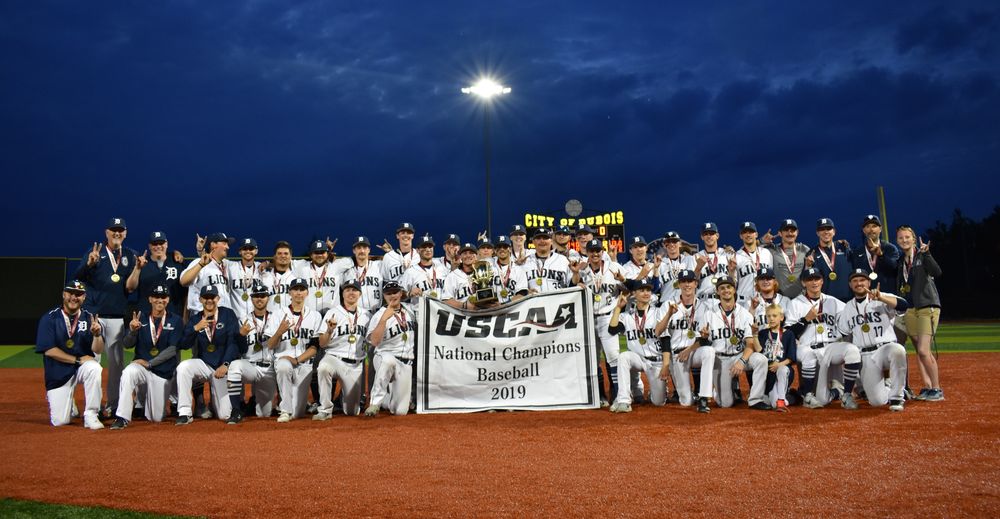 DUBOIS, Pa. — Head Coach Tom Calliari said the Penn State DuBois baseball team will remain committed to success in the coming year, on the heels of its second consecutive United States Collegiate Athletics Association (USCAA) Small College World Series win. Though the coach lost 15 of his 33 players to graduation or transitions to University Park, he remains enthusiastically confident in his team.
"We lost half of our team, so some of that's going to be tough, but we started from scratch four years ago and have won the World Series twice since. We're well ahead of starting from scratch now," Calliari said, pointing out that the Penn State DuBois Baseball program has only existed in its current form since 2015.
"We'll have the talent to be very good again. We have 15 core guys from our championship team who are returning, and I have 15 freshmen coming in who are really solid players," Calliari said. "Our 15 returning guys know the standard and they'll mentor the new guys and show them how our program is run. We play aggressively, we play tough, and we do things right on and off the field."
Calliari said he also has two players returning who were off the roster last year but have previously played for him. Talon Falls left to pursue studies at Penn State Behrend during last season and returns to Penn State DuBois this year. "He was the league's best hitter for two years and First Team All American. I'm excited to have him back," Calliari said.
Additionally, Josh Sobera returns. Calliari explained, "Josh went to University Park to finish his degree. He graduated, and is back for a second degree, so it's great to have him back."
Also, in addition to 15 strong freshmen coming in, the coach said three players transferring from other schools will be solid additions to the team. Nolan Walters comes from Mercyhurst North East, Dan Stauffer from St. Bonaventure, and Braden Blair from Jamestown Community College.
Calliari said, "Nolan is a right-handed pitcher, originally from Hollidaysburg, and he's a very hungry, competitive player, and he can't wait to get here. Dan can play a lot of different positions and we're blessed to get a player with his skill set; and Braden is a very talented left-handed pitcher coming in."
The team is also looking forward once again to hosting the USCAA Small College World Series at home at Showers Field, as they have the last two years. In fact, the USCAA just finalized a contract that will keep the tournament in DuBois for the next five years.
A short Fall Ball season is set for the team affording them the chance to warm up before the spring. They take on Jamestown Community College at home on Sept. 15, and Ohio State Mansfield in another home matchup on Sept. 22. They'll travel to Pitt-Bradford on Sept. 29. The Penn State DuBois Alumni Game is set for Oct. 6, at Showers Field.