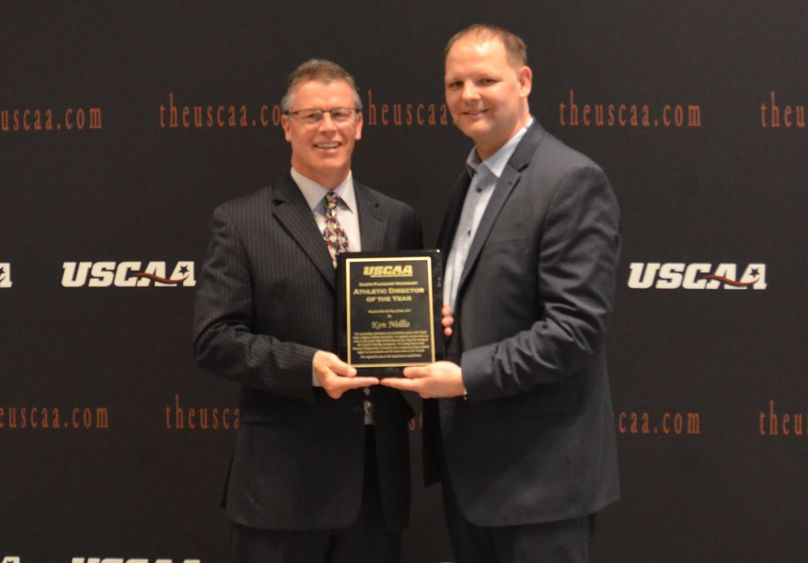 Penn State DuBois Athletic Director Ken Nellis was recognized at the 2019 United States Collegiate Athletic Association (USCAA) National Convention for his outstanding service. Nellis was named the 2019 USCAA Athletic Director of the Year for his continued service to student-athletes, his successful department, and his roles in running the USCAA Wrestling Championship Tournament and major contributions in running the USCAA Small College World Series for both baseball and softball.
Nellis has been heavily involved in many facets of the USCAA and the Penn State University Athletics Conference (PSUAC), and can always be found lending a helping hand in any way possible. Executive Director and CEO of the USCAA Matt Simms had this to said, "Ken Nellis has been instrumental in the advancement of the USCAA, through his work with the emerging sport of wrestling, to the production of the Small College World Series. Additionally, the success of the DuBois baseball program is a testament to his leadership in developing his own department."
This year, under the direction of Nellis, the Penn State DuBois athletic program also earned 3rd place in the nation in the Presidents Cup standings for highest department GPA among student-athletes. DuBois student-athletes earned a 3.15 overall GPA, another outstanding accomplishment under equally outstanding direction.