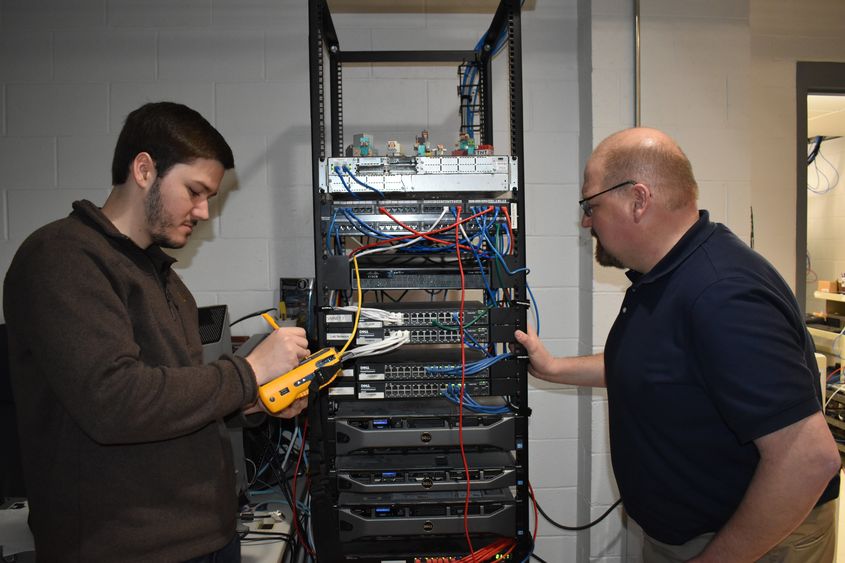 A 2019 graduate of the Penn State DuBois Information Sciences and Technology (IST) program is launching his career with the nation's leading producer of military technology in areas of aeronautics, maritime systems, space exploration, and more. CJ Seitz, of Treasure Lake, landed a position as a software engineering associate with Lockheed Martin months before his graduation. Now, with his degree complete, he'll begin work at Lockheed Martin's Space Operations Facility in King of Prussia, Pennsylvania, this spring.
Lockheed Martin's software engineering associates like Seitz maintain and set up operations systems, and work on cutting-edge military information systems, including GPS and communications applications, and even work with NASA on projects like the Mars Rover.
"I wanted to work for a government contractor," said Seitz, "And the space operations is just really cool." He explained that he wanted to use the skills he learned while completing his IST degree to do something meaningful.
"I wanted to work on something that's exciting, and this was my number one choice," Seitz said. "And I ended up getting it."
Seitz credits his education and experience at Penn State DuBois with helping him to land the job. He attended a hiring fair at Lockheed Martin, armed with his résumé that outlined his networking experience gained during hands-on projects in the Penn State DuBois IST program. He noted IST program leader and assistant teaching professor Jason Long has constructed an entire computer network in the campus' IST network lab located in the DEF building that is dedicated solely to student instruction. Without the risk of damaging a real network, this dedicated network lab allows the students unlimited hands-on trials and lessons.
Seitz said of his interview with Lockheed Martin, "There were over 1,000 applicants, and they said they picked me because of what we did here at Penn State DuBois. Because of the hands-on projects. They liked that I had an internship and got all of this experience."
Long added, "You want to have a program that stays on top of the technology trends. You can learn as much technology as possible reading about it, but it's not enough. If you're not using the technology in hands-on lab exercises, you don't really learn it," he said. "People like to tell you how strong their programs are. I like to just show people how strong our program is by pointing them to students like CJ. He's proof of that."
Long noted that past graduates of the Penn State IST program have gone on to work for global tech companies like Google, Amazon, and multiple government agencies.
As for the latest success story from this program, Seitz advises casting a wide net on a job search and starting early. He began looking for jobs as much as a year out from graduation and was even offered jobs in security at Las Vegas casinos. But, ultimately, he found the opportunity he was looking for much closer to home, and before he even had his diploma in hand. That has Lockheed Martin's newest space operations associate over the moon.
"I feel prepared. I got the associate and the bachelors. I got a minor in security and risk analysis, I just learned everything I could," Seitz said. "And it's crazy. I didn't have to settle. I'm really, really happy about it. This is just what I wanted."
According to Lockheed Martin, the government contractor employees 100,000 people in 70 countries, in more than 590 facilities.