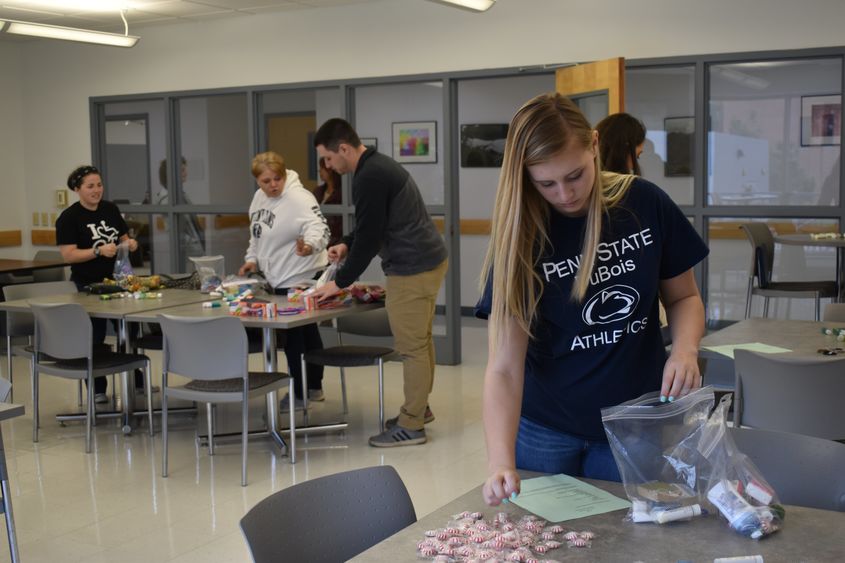 DUBOIS, Pa. — Students in two distinct classes at Penn State DuBois have teamed up to help others in need with a special service project. "Purses with a Purpose" is aimed at helping women who are homeless or in need, by providing purses and bags for their use, as well as a variety of hygiene and comfort items included in the purses. Those items include lotion, tissues, lip balm, candy, gum, and more. Purses and other care items were donated by members of the community, as well as campus faculty, staff, and students.
For the Occupational Therapy Global Day of Service, Occupational Therapy Assistant (OTA) students have completed the "Purses with a Purpose" project in their Management and Ethics course by creating the unique care packages. They'll hand those items off to students in the course, Civic and Community Engagement, that is a required class for students participating in the Alternative Spring Break (ASB) service trip. This coming year for ASB, 20 students will travel to Washington, D.C., to volunteer at various shelters, public kitchens, and charitable organizations. While in D.C., they'll distribute the purses to women who are homeless.
"This cross collaboration between two courses is a powerful way for students to work together to alleviate some of the symptoms of homelessness," said Marly Doty, instructor in human development and family studies who organizes the ASB trips each year. "Students will deliver these during our outreach runs to shelters and parks in D.C. They really make an impact on the people who receive them."
Doty said they hope to launch a similar drive collecting hygiene items and backpacks or drawstring bags in the spring to be distributed to men who are homeless.
In addition to helping others, the faculty members behind these efforts use service projects to add real-world perspective to their students' education.
Amy Fatula, lecturer in the OTA program, said, "Course-related service at any level allows for application and better understanding of classroom concepts. This OT Global Day of Service project provides an experience for Penn State DuBois OTA students to connect with others on campus and with those in need in Washington, D.C. The Purses with a Purpose project allowed the students to be more aware of the injustices facing people that are homeless. Students were asked to identify occupations that are impacted by having or not having a purse. As future OT practitioners, they identified that a person's ability to complete self-care, hygiene, money management, personal device care, and health maintenance can be affected by not having a purse or it's contents."
OTA student Jada Palmer said, "This was a great project to make us more aware of what people are facing outside of what we see every day."
Spring break at Penn State is scheduled for March 3 through March 9, 2019, when students will make delivering the bags part of their overall service mission in D.C. According to the Department of Human Services, a 2017 study revealed there were 7,473 people who were experiencing homelessness in the District of Columbia, 897 of whom were unsheltered, 5,363 were in an emergency shelter, and 1,213 were in a transitional housing program.