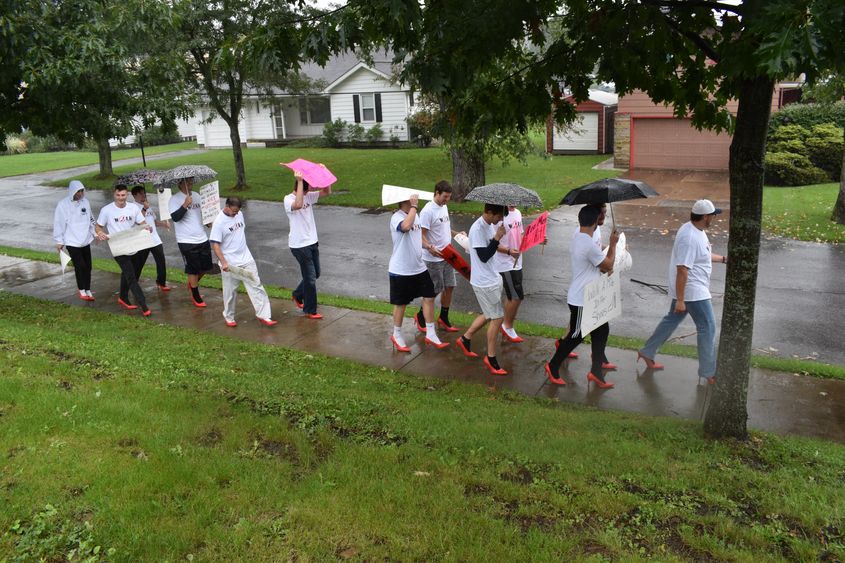 DUBOIS, Pa. — A group of Penn State DuBois men braved the pouring rain while wearing high heels on Wednesday, Sept. 26, for the annual "Walk a Mile in Her Shoes" event. The men's march is meant to raise awareness of the battle against rape, sexual assault, and gender violence, and to get more men involved in the effort. The event was organized by the victim advocacy group Passages of Clarion, Clearfield and Jefferson Counties, in conjunction with the Penn State DuBois Office of Student Engagement.
The men marched along Route 255 in front of campus, as well as through campus buildings, dodging the heavy rains when possible, wearing their high heels for the entire walk.
Following the march, Laura Ruane, a junior in the human development and family studies program, spoke about the importance of such awareness events. She said that according to the National Center for Injury Prevention and Control, women experience around 4.8 million intimate partner-related physical assaults and rapes each year.
To the men, soaked with rain, and nursing sore feet, Ruane said, "Imagine if you felt like you do now, day in and day out, because a man you trusted and cared about abused you — yet you refused to report him. There are women across our nation, as well as our hometowns, who deal with this every day."
According to Passages, 1 in 5 women, and 1 in 71 men will be a victim of sexual assault at some point in their lives.