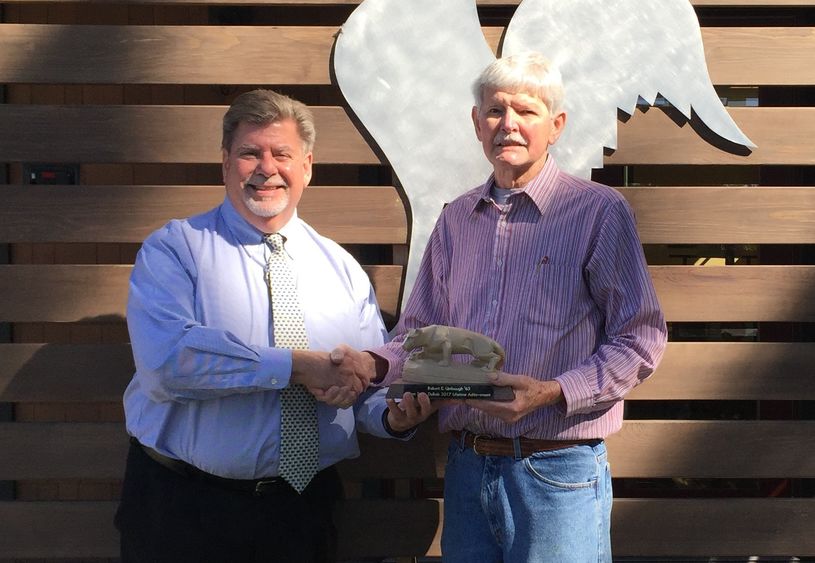 DUBOIS, Pa. — An unprecedented gift to the Open Doors Scholarship Program at Penn State DuBois by Robert Umbaugh has generated $900,000 in scholarship endowment funding for students. Taking advantage of the 2:1 match Penn State provided, Umbaugh pledged $300,000 to establish the Robert E. Umbaugh Open Doors Scholarship. With the University's match, the endowed fund stands at $900,000.
"The gratitude we at Penn State DuBois feel for Robert Umbaugh's generosity is beyond measure," said Chancellor M. Scott McBride. "He has been a steadfast supporter of our campus for many years, creating an impact on the lives of generations of students, providing the support they need to achieve their educational and career goals. For that, we are incredibly grateful."
Studies have found that only 50 percent of students from low-income households graduate in six years. The Open Doors Scholarship Program is aimed at addressing such issues by funding scholarships for students enrolled in programs that will address the financial, academic and personal challenges students face in graduating from Penn State. Through the program, the University offered a 2:1 match to donors like Umbaugh who made a minimum $30,000 pledge, payable over five years, to establish an Open Doors Scholarship before June 30 of this year. Although the 2:1 match has expired, the University is now offering a 1:1 match to gifts of $50,000 or more to create Open Doors Scholarships. To date, the Open Doors Scholarship Program — between donor contributions and University matching funds — has generated more than $3 million for student scholarship endowments at Penn State DuBois.
Umbaugh and his wife, Joyce, established a scholarship at Penn State DuBois more than 20 years ago, and have continued to support campus students in a variety of ways since. An annual lecture on campus is named in honor of the couple; the Umbaugh Lecture brings highly qualified speakers to the campus each year. Umbaugh is also a past chair of the Penn State DuBois Capital Campaign Committee for the "Grand Destiny" campaign, and was the campus' honorary chair for the "For the Future" campaign. Last year, he received the Lifetime Achievement Award from the Penn State DuBois Alumni Society.
For 15 years, Umbaugh was information systems manager and vice president of Southern California Edison Company. Prior to that, he was vice president of Computer Usage Company, a software development firm.
Umbaugh retired as president of Mission Land Company, and has served as president of Carlisle Consulting Group.
As president and CEO of Mission Land Company of Brea, California, Umbaugh spent his career in development of residential, industrial, and office properties. He was also an adjunct professor of Information Science at Claremont Graduate School.
Umbaugh graduated cum laude from Penn State in 1963 with a bachelor of science degree in education. He attended graduate school at Fairleigh Dickinson University in New Jersey, and is a graduate of the University of Idaho's management program. He has authored 14 books and has been featured in a variety of articles in industry publications including Fortune, Infosystems, and more. He has lectured in Canada, Brazil, Japan and Italy.
The Robert E. Umbaugh Open Doors Scholarship will help to advance "A Greater Penn State for 21st Century Excellence," a focused campaign that seeks to elevate Penn State's position as a leading public university in a world defined by rapid change and global connections. With the support of alumni and friends, "A Greater Penn State" seeks to fulfill the three key imperatives of a 21st-century public university: keeping the doors to higher education open to hardworking students regardless of financial well-being; creating transformative experiences that go beyond the classroom; and impacting the world by fueling discovery, innovation and entrepreneurship. To learn more about "A Greater Penn State for 21st Century Excellence," visit http://greaterpennstate.psu.edu/.
For more information on the Open Doors Scholarship Program, and giving at Penn State DuBois, contact Director of Development Jean Wolf, at 814-372-3038 or [email protected], or visit http://dubois.psu.edu/open-doors-scholarship-program.