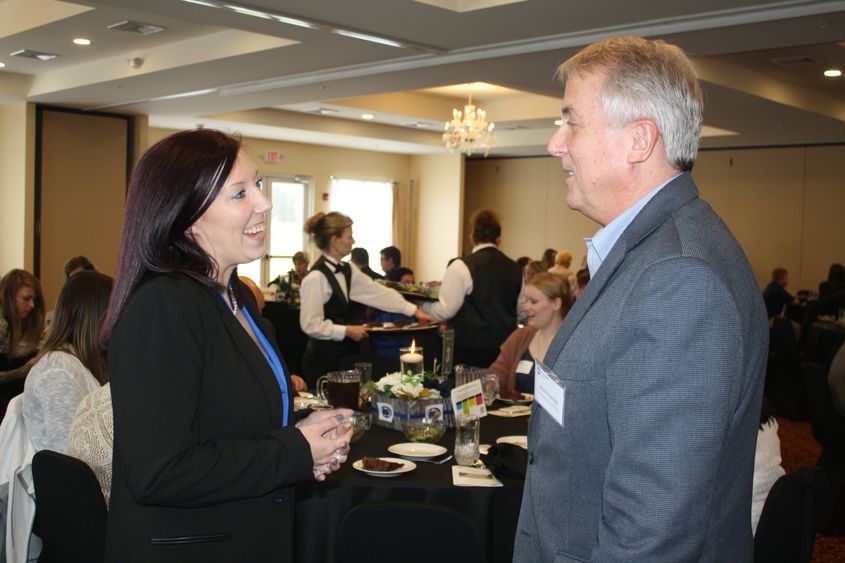 DUBOIS, Pa. — The generosity of donors and the impact of philanthropy were celebrated at the annual Penn State DuBois Scholarship Luncheon on Tuesday (April 10) at the DuBois Country Club. The luncheon brings together scholarship recipients with donors, giving them the chance to meet each other, and providing students with the opportunity to personally thank many of the people who made their scholarships possible. Donors get to see, first hand, the kind of impact they've had in the lives of students, and the students have the chance to explain how critical the scholarships have been in their educational pursuits.
"Thanks to the generosity of our donors, many of whom we welcome here today, during the 2017-2018 academic year we awarded over $466,648 in scholarships to 286 students," said Chancellor M. Scott McBride during his opening remarks. "For this we are exceedingly grateful. You have demonstrated through your gifts that you entrust Penn State DuBois to ensure the effective use of these valued resources and to strive each day to lead our students toward the successful completion of a coveted Penn State degree."
McBride also mentioned the success of the current Open Doors Scholarship Program, and how donors who have taken advantage of the opportunity have made a significant impact. He said, "As you may already know, Penn State is currently offering a permanent 2:1 match for new scholarship endowments created between now and June 30, through the Open Doors Scholarship Program. As of today, the Open Doors Scholarships created by donors along with the Penn State match will net the campus $1.8 million in endowments. As we work to help reduce the unmet need of our student body, which is nearly $3,000,000 annually, we continue to raise money for these important scholarship endowments."
Two students shared just how important scholarships are to their financial needs. Speaking from the student perspective in the luncheon program were Laura Ruane, a human development and family studies major, and Duncan LaValle, an administration of justice major.
Ruane offered an emotional expression of gratitude for receiving the Jordan Andrulonis Scholarship, named in honor of her friend and Penn State student who died suddenly in 2009. She thanked Mark Freemer, stepfather of Andrulonis, who established the scholarship with his wife, Betty, in 2012.
"I grew up with Jordan. When I started my college career long ago, at another university, I did so with Jordan by my side. At one point he and I were inseparable and we did everything together," Ruane said. "Jordan was the type of person who could brighten your day simply by walking into the room. If Jordan were here today, I know he would be making a difference for his family as well as his community."
Through complete coincidence, Ruane learned this year that she would receive the scholarship established in her friend's honor. She continued, "I hope to honor his memory by also making a positive impact on my community, and your generous gift will make that possible.
"I would like to thank the Andrulonis family for creating this scholarship in Jordan's name. I am not only honored, but I am humbled to be able to continue my college career with Jordan by my side again."
LaValle spoke to the ways scholarships actually make attaining an education possible for some students who otherwise may not be able to cover the costs.
"The fact that I received scholarships makes it so I do not have to worry about paying as much; I don't have to rely on working two jobs and having that get in the way of me really putting the effort I need to into my classes. I can go to events on campus because I don't have to worry about cramming and having enough to pay for college. This is what makes Penn State DuBois not just a college to me; it's a home," LaValle said. "These scholarships not only help me to get my education, they also help me get the experience of being part of something so much bigger than myself. I would like to say thank you to all of our donors, not just from myself, but on behalf of all students."
Donors who spoke during the program were Bill Marsh, president of Farmer's National Bank, which recently established an Open Doors Scholarship; and Beth Giese of Pennsylvania Wildlife Habitat Unlimited, a group that provides scholarships to students in the Wildlife Technology Program.
"When an opportunity to support the Open Doors program arose, the decision was effortless," Marsh said. "We can all agree education is one of the cornerstones for success. Farmer's National Bank and Penn State DuBois are both in the business of improving our communities."
Giese recalled working with campus Wildlife Technology students on conservation and habitat improvement projects in the area, noting the students' work is worthy of support. She said, "We are very grateful for the opportunity to combine our resources with Penn State DuBois, and hope to continue to in the future."
At Penn State DuBois, 90 percent of campus students have a need for financial aid. Though $450,000 in scholarship dollars is currently awarded annually, many students remain in need. The average unmet need per student is over $7,000 a year.