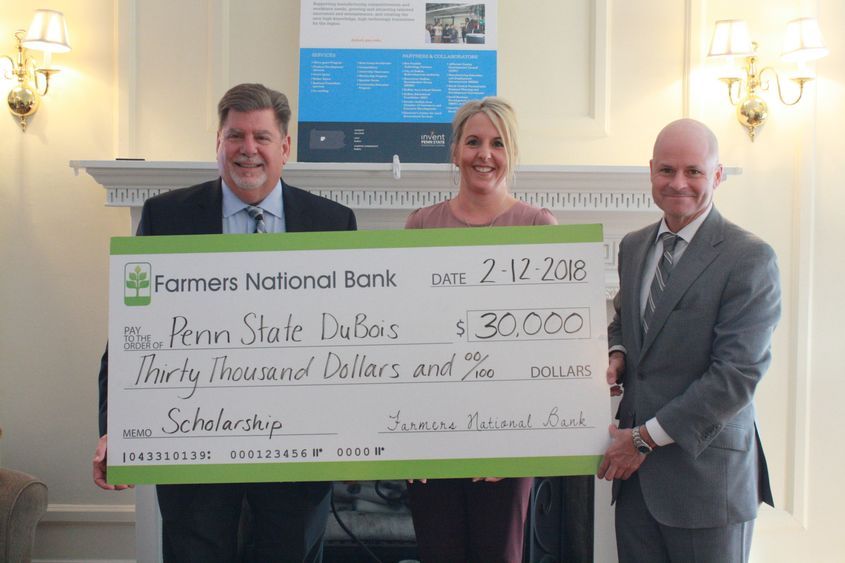 DUBOIS, Pa. — The Farmers National Bank of Emlenton has made a $30,000 contribution to Penn State DuBois in support of The Open Doors Scholarship Program. This endowment will provide financial assistance to students who are attending the DuBois campus and involved in Open Doors programs designed to keep them on track toward graduation.
"Not only do the scholarships and programs this gift supports help students financially to reach their goals, but it demonstrates to them that they are supported in these efforts," said Chancellor M. Scott McBride. "It shows the students that we as a campus, as well as the donors who make these programs possible, believe that these students are worthy of our investment. We are incredibly grateful to Farmers National Bank, and to all the donors who invest in the education of our students."
Accepting the gift on behalf of Penn State DuBois was Chancellor M. Scott McBride. Representing The Farmers National Bank of Emlenton was William C. Marsh, chairman of the board, president and chief executive officer.
"Farmers National Bank takes great pride in supporting the scholarship efforts that Penn State DuBois has created for its students. We believe that education is the foundation for success and having the opportunity to eliminate a piece of the financial burden provides students with more time to focus on their degree and future goals," said Marsh. "The knowledge these students will acquire through their college education is vital towards building a better community, which is one of the missions of our organization."
The $30,000 gift, combined with the permanent 2:1 match from Penn State, will increase the total Farmers National Bank Scholarship endowment to $90,000. The Open Doors programs were created to help students overcome the obstacles to earning a Penn State degree. Current programs include Pathway to Success: Summer Start, The Student Transitional Experiences Program, RaiseMe, Complete Penn State and Smart Track. Penn State will offer this unprecedented matching opportunity to donors through June 30 of this year.
The Farmers National Bank of Emlenton is an independent, nationally chartered, FDIC-insured community commercial bank headquartered in Emlenton, Pennsylvania, operating 17 full-service offices in Allegheny, Butler, Clarion, Clearfield, Crawford, Elk, Jefferson, Mercer, and Venango Counties, Pennsylvania and Hancock County, West Virginia. The bank is a wholly owned subsidiary of Emclaire Financial Corp (NASDAQ: "EMCF"). For more information about The Farmers National Bank, please visit the website at www.farmersnb.com or call 877-862-9270.
Penn State DuBois, located in the north central Pennsylvania city of DuBois. Since opening in 1935, thousands of degree-seeking individuals have received a world-class education delivered in a friendly, small campus setting. Solid ties to business, industry, and the community help enhance the strong academics of the Penn State DuBois experience, creating a well-rounded foundation for lifelong learning. Today, Penn State DuBois continues to prepare leaders for the twenty-first century through a continuing tradition of cutting-edge technology, faculty expertise, and dedication to excellence. For more information, please visit www.dubois.psu.edu or call 814-346-ROAR.
Gifts from Penn State's alumni and friends have been essential to the success of the University's historic land-grant mission to serve the public good. To fulfill that mission for a new era of rapid change and global connections, the University has begun "A Greater Penn State for 21st Century Excellence," a fast-paced campaign focused on the three key imperatives of a public university: Private support will keep the doors to higher education open to hard-working students regardless of financial well-being; create transformative experiences that go beyond the classroom; and impact the world by fueling discovery, innovation and entrepreneurship. To learn more, visit greaterpennstate.psu.edu.