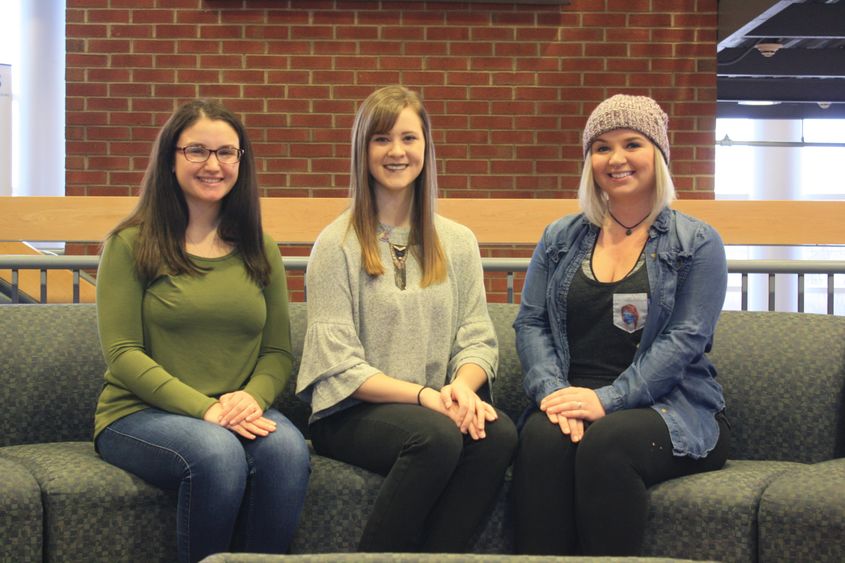 DUBOIS, Pa. — As this year's THON, slated for Feb. 16-18, quickly approaches, three dancers from Penn State DuBois are preparing to give their all at the nation's largest student-run philanthropic event. Alaina Shaffer of Clearfield, Brynn Morgan of Grampian, and Julia Test of Curwensville will represent DuBois as the official campus dancers during THON 2018. They have been challenged to stay on their feet for 46 hours during the dance marathon at the Bryce Jordan Center, alongside thousands of students from all Penn State locations.
Each year, THON raises millions of dollars for the Four Diamonds. The event's sole beneficiary, and a leader in the fight against pediatric cancer, Four Diamonds fills in the funding gaps that insurance leaves for the patients it serves, enabling families to focus on caring for their child.
"There is no question about the importance of THON to the Four Diamonds. It is the reason it thrives!" Shaffer said, explaining that THON's impact motivates her to work hard for the cause. "One hundred percent of medical costs are covered for these families so that they can solely focus their time and energy on their child. I have witnessed through shared testimonies of THON families that lives are profoundly changed because of the Four Diamonds. Children deserve to grow, and I believe THON and the Four Diamonds works to ensure just that."
Students involved with THON raise money in a variety of ways, putting in long hours even in the months leading up to the dance marathon. They hold dinners, Bingo fundraisers, solicit donations, and more. There is also a hair auction during the THON Dancer Sendoff Dinner on Thursday evening before THON Weekend that allows for bids to be placed to reach a reserve for each person who has volunteered to get their hair cut.
Morgan recalled, "In the 2017-10 year so far, I have taken part in canning, and working a haunted house at Penn State DuBois for proceeds toward THON. I also took part in a blood drive held by our THON group, and hosted a spaghetti dinner. THON has made college life so much more enjoyable, and it is such a great opportunity to help out others."
For Test, involvement became personal when members of her family were battling cancer. Fortunately, a relative who battled childhood cancer is now cancer-free, and Test remains inspired. She said, "For me, cancer has effected many people in my life, and I got involved to honor them in some way. THON is a great organization to be involved with; the membership strives to help so many people, no matter how different they are."
THON began in 1973, when dancers raised just over $2,000. Today, it is the largest student-run philanthropy effort in the nation. DuBois raised $27,616.47 last year, ranking number nine among the Commonwealth Campus locations for funds raised, and contributing to the University-wide THON total of $10,045,478.44.
Remaining THON fundraisers at Penn State DuBois leading up to the THON weekend include Basket Bingo on Friday, Feb. 2, and the Dancer Send-Off and Hair Auction on Thursday, Feb. 15.