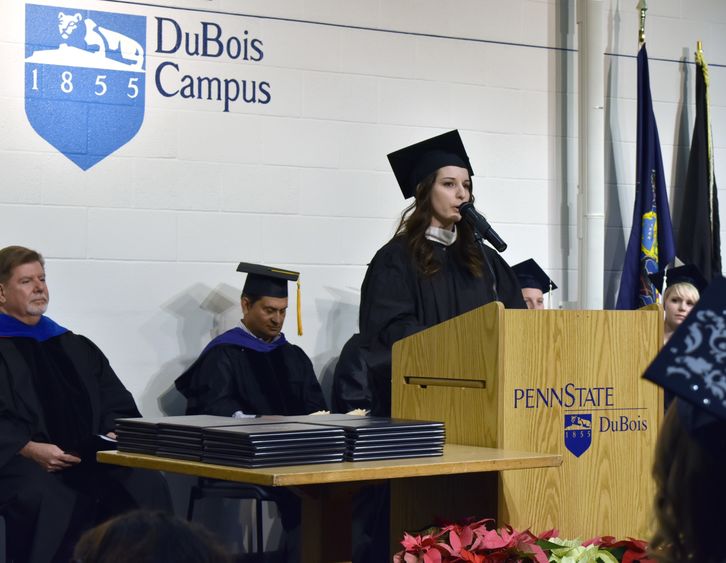 DUBOIS, Pa. — Commencement ceremonies for fall 2017 graduates were held in the evening on Thursday, Dec. 14, in Hiller Auditorium at Penn State DuBois. Chancellor M. Scott McBride presided over the ceremony and conferred degrees. Professor of Chemistry Arshad Khan served as campus marshal, and 2017 DuBois Educational Foundation (DEF) Educator of the Year Jessica Clontz offered the commencement address.
"I am delighted to welcome you here today to join in the celebration of this special occasion," McBride said. "These degree candidates seated before you would not be here today to receive their coveted Penn State diploma without the love, support and encouragement of family and friends. On this special day, we heartily thank each and every one of you for all that you have done."
Baccalaureate Academic Awardee for highest GPA Amber Metzger helped to encourage her fellow graduates in an address, saying, "This journey isn't over yet. We are still in the beginning stages of a path called life. College is just the beginning tutorial explaining what all the buttons do; now we have to go out into the world and find the best combination to use those buttons.
"I am ready to challenge everything that I know. I am ready to defy the system. I am ready to carve my own path. And I am ready to defend until my last breath. I am ready to throw that first punch, but because of this campus and my experiences here, I have the ability to make it a good one. I am ready to make my fantasies my legacy. I hope you are too. Even though our story isn't over yet, I can't wait to see what the next chapter will bring."
Clontz took the podium to offer her address as Educator of the Year. She is an instructor in the Human Development and Family Studies (HDFS) program, where she helps to prepare her students to enter fulfilling careers as counselors and social workers who will assist members of their communities in facing life's challenges. The Educator of the Year Award is given annually by the DEF to recognize outstanding teaching. This honor is based purely on student feedback, as the students submit nominations and the award winner is chosen based on the number and quality of nominations received. Clontz is a certified rehabilitation counselor. Before coming to Penn State DuBois, she worked as an addictions counselor, as well as a forensic case manager. She earned her master's degree in education from Penn State.
In addition to teaching, Clontz is the adviser to the campus HDFS Club, and co-chair of the Partnership for Prevention Coalition. She received the Adviser of the Year Award in 2015-16.
Clontz congratulated the graduates, not only for earning their degrees, but also for being part of so many things during their time at the campus that better the lives of others. She said, "This semester alone, I watched students vehemently raise funds for THON which provides medical funding for children living with cancer. I watched students gather and deliver donations to five local shelters in Jefferson, Clearfield and Elk counties, housing individuals and families in need this Thanksgiving. I read in the local newspaper about OT and PTA students giving their time to assist people living in local nursing homes and assisted living facilities. The wildlife graduates today give us hope that our environment, the Earth that we all call home, will be cared for, nourished, and appreciated for the beauty it holds. They will go on to educate others about the importance of environmental awareness and protection. The engineering graduates, business graduates, and HDFS graduates give us hope that we can build stronger, more sustainable communities in more ways than one. The information sciences and technology graduates give us hope that robots, computers and other forms of artificial intelligence will not kill us all in our sleep. This is by no means an exhaustive list but, it is enough to give me hope that tomorrow can be far better than yesterday. And this is what a Penn State Degree means. The opportunities for you to impact our communities and leave a legacy of goodwill are endless."
Continuing, Clontz assured graduates that finishing their degree doesn't mean saying goodbye.
"As my students can attest to, I am not one to sugarcoat or smooth out the rough edges of life. The road you are about to embark upon will not be easy. You will sweat, cry, possibly bleed. You will do all these things because the road to success is paved with excuses to turn around," she said. "Should you ever lose faith in your cause, falter in your journey, or forget your motivations, remember that we at Penn State DuBois are cheering you on. Penn State is so much more than an academic institution. We are a family. Know that you can always come home and we will restore your faith, get you back on your journey, and help you remember why you started."
Fall 2017 Penn State DuBois graduates are:
For the Degree of Bachelor of Arts
Letters, Arts and Sciences (LASCC)
Amber Metzger (Cum Laude), Brookville, Pennsylvania
For the Degree of Bachelor of Science
Business (BSBCC)
Taylor Jantunen, DuBois, Pennsylvania
Dominic Kriner, DuBois, Pennsylvania
Marcus Stephenson, Curwensville, Pennsylvania
Cintia Zwick, DuBois, Pennsylvania
Information Sciences and Technology (ISSCC)
Dale Moore (Magna Cum Laude), Drifting, Pennsylvania
College of Earth and Mineral Sciences
For the Degree of Bachelor of Science
Earth Sciences (EARTH)
Nichole Leigey, Mahaffey, Pennsylvania
Curtis Markle, Brockway, Pennsylvania
For the Degree of Associate in Science
Business Administration (2BACC)
Christopher Pusey, La Jose, Pennsylvania
Bradley Sowers, Emporium, Pennsylvania
Human Development and Family Studies (2FSCC)
Stephanie Graham, Rockton, Pennsylvania
Olivia Reitz, Summerville, Pennsylvania
Information Sciences and Technology (2ISCC)
Andrew Witherow, Reynoldsville, Pennsylvania
Occupational Therapy (2OTCC)
Tori Cepull, Dallastown, Pennsylvania
Lauren Decarli (Cum Laude), Saint Marys, Pennsylvania
Samantha Knepp (Cum Laude), Hyde, Pennsylvania
Justin Kubina, State College, Pennsylvania
Sarah Lenhart (Cum Laude), Corapolis, Pennsylvania
Ashley Mangiantini, Mayport, Pennsylvania
Kayla Myers (Magna Cum Laude), Irvona, Pennsylvania
Cathy Provost (Magna Cum Laude), Clearfield, Pennsylvania
Lisa Sargent (Summa Cum Laude), Clearfield, Pennsylvania
Tyler Scott, Fairmount City, Pennsylvania
Rachel Spack (Magna Cum Laude), Punxsutawney, Pennsylvania
Megan Uncapher (Cum Laude), Lower Burrell, Pennsylvania
Searra Wasicki, Rossiter, Pennsylvania
College of Agricultural Sciences
For the Degree of Associate in Science
Wildlife Technology (2WLT)
Tyler Hilliard, DuBois, Pennsylvania
Dakota Shadle, Galeton, Pennsylvania
College of Engineering
For the Degree of Associate in Engineering Technology
Mechanical Technology (AENGT)
Shawn Baker (Cum Laude), New Alexandria, Pennsylvania
Christopher Stewart, Reynoldsville, Pennsylvania