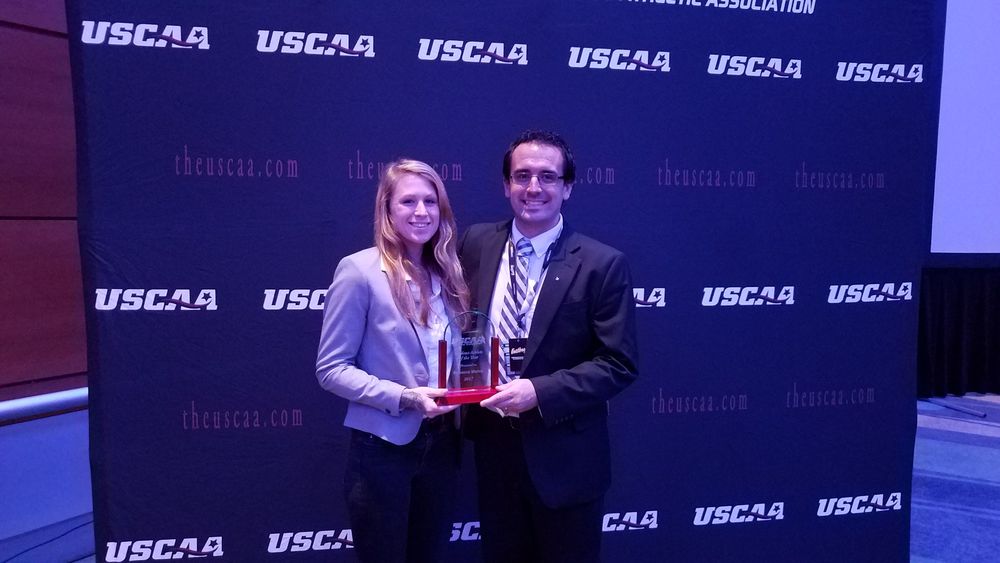 The Penn State DuBois cross country runners ended their season with flare this past weekend at the USCAA National Cross Country Championships at Virginia Beach, and history was made for the campus.
The high-marks of the weekend started at the Champions' Banquet which was held at the Virginia Beach Convention Center. Penn State DuBois' own Rebecca Maine was honored with the United States Collegiate Athletic Association's (USCAA) Student-Athlete of the Year Award. Matt Simms, executive director of the USCAA noted in his presentation of the award, "This athlete's story is a true inspiration and really tugged on the heartstrings of our entire staff."
This is Maine's first year ever running cross country and she succeeded in placing in at least the top three of every race. Her hard work and positive impact extends onto campus and into the community where she is the president of the Physical Therapy Assistant Club. She volunteers with the local food pantry, she is an advocate for the LGBT community, and she has taught kickboxing classes at local venues. More importantly, she is entering the medical field and carries a 4.0 GPA for her first semester of college. However, it's looking at where Rebecca was and where she is now, that serves as the true inspiration.
In a former life, Rebecca was addicted to heroin. She has now been clean for nearly five years. Prior to sobriety, she spent her young adulthood traveling across the country by hitchhiking and train-hopping. Eventually, the demons of addiction overwhelmed her enough that she found herself returning home. Her male role-model, who is an on-site doctor for the golden glove boxing events, got her involved in boxing as a means to turn her life around. Needless to say, it did. It was through her involvement in athletics that she found inspiration to not only break her addiction and find sobriety, but also pursue a career as a physical therapist. She then applied to the Penn State DuBois Physical Therapy Assistant program.
"Rebecca's story is truly inspiring. She's made a significant impact on my life and many others. Her life is a testimony of hope and second chances; each day she proves that nothing is too difficult to overcome," commented Penn State DuBois Cross Country Coach Kyle Gordon. "I'm so happy that she received this honor. This is the kind of stuff that movies are made of...what an inspirational story."
When asked what it was like to receive such an honor, Maine said, "We were sitting in the conference center banquet room, full of athletes from all over the country. I had zero expectations of winning the student-athlete of the year. When my name was called, I was shocked. To be honest, I was still in shock of receiving the award until the following night. I kept saying I couldn't believe it. It was the recall of my experiences, great and unfortunate, that made me realize I should be proud of my accomplishments. My struggles are what made me into the disciplined person that I am today. Receiving this award, is a great pleasure, it re-affirms my goals and pursuit. I hope it brings inspiration to others."
Maine went on to finish in the top 40 percent of the championship race.
"This is one of the better performances in Penn State DuBois history, and for this first-year runner, it's only the beginning," Gordon said.