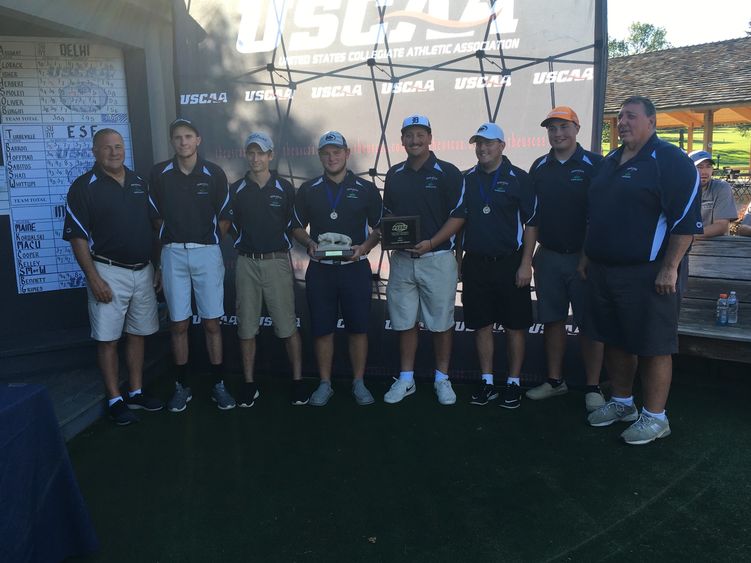 DUBOIS, Pa. — The Penn State DuBois Golf Team won its second PSUAC Championship on Tuesday with an overall score of 635 in the two-day event. Coaches Vic Gearhart and Ron Cavaline had the team ready for the tough competition at the Blue Course at the Penn State University Park campus.
The battle for the PSUAC team title was between Penn State DuBois and Penn State Lehigh Valley as they were separated by one stroke after the first day of competition, with DuBois 315, Lehigh Valley 316. Consistent play by both teams forged a tie after two rounds at a team score of 635 forcing a one-hole playoff for the championship. The playoff format was unique in that all five players from each team played the 18th hole at the same time, with the total of the 4 best scores from each team determining the winner.
DuBois won the playoff hole 19 -24 over Lehigh Valley. On the playoff hole, Alex Acree and Brandon Mancuso both birdied the par 5, with Espy Reinard securing a par, and Jordan Tosh with a bogie.
The coaches were very pleased with the consistent play of each player throughout the season. Athletic Director Ken Nellis stated, "I am very happy for this group of guys and their coaches, they have represented our campus extremely well in competition all season. More importantly is that they are all great young men and quality students. We are proud of them."
Alex Acree shot rounds of 76, 77; Brandon Mancuso, 77, 77; Colin Moore, 87, 78; Jordan Tosh, 76, 88; Espy Reinard, 86, 89; and Brandon Orsich, 80, 80.
USCAA All Academic honors for having a GPA of 3.5+ went to Orsich and Reinard. PSUAC All-Conference 1st Team selection went to Acree and Mancuso.
The full scoreboard from the tournament can be found at http://psuduboisathletics.com/sports/golf/2017-18/releases/20171011dr4xtn