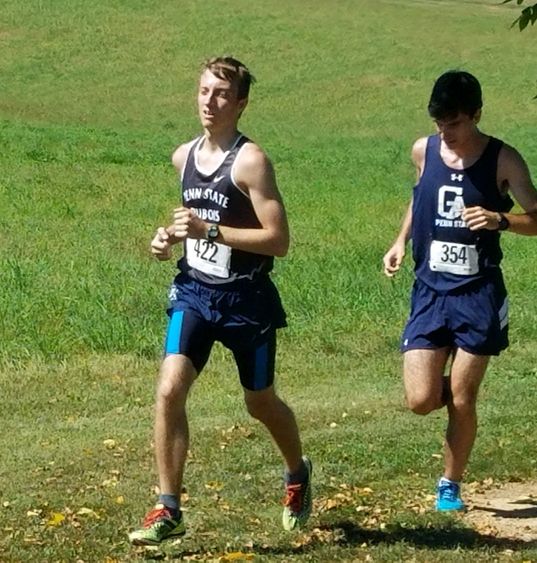 DUBOIS, Pa. — It was a scorching afternoon for cross country in what could have been easily mistaken for a midsummer afternoon, but that did not deter the Penn State DuBois runners from bringing their own heat to the Penn State Mont Alto Invitational. Among the teams competing were teams from Penn State campuses -- DuBois, Worthington-Scranton, Brandywine, Greater Allegheny, Fayette, Schuylkill and Mont Alto -- and also Kent State. Representing the DuBois Nittany Lions were Rebecca Maine and Jeremy Fischer.
Rebecca Maine continued to prove her dominance by taking third overall and second in the conference. Maine led the conference for the entirety of the race until the last 400 meters, when she was passed by Alexa Luna from Schuykill. Luna recorded a 29.09, while Maine followed in seven seconds behind. The first place time was 28.31 by a runner from Kent State who competes from outside the conference.
"I couldn't be more proud of Becca's performance. She's been training for the last five months for this, and it is all paying off. Knowing her drive and personality, losing to Luna by seven seconds is just what she needs to push her to that next level," commented Head Coach Kyle Gordon. "People have to realize that this is Becca's first year ever running cross country. She is competing against girls who ran in high school and are returning runners to the conference. It's awesome to watch her development and accomplishments."
Also competing, for the men's side of the competition, was Jeremy Fischer. Fischer, who just joined the team on Wednesday is an alumni of DuBois Area High School and a former runner of Coach Gordon's, during his tenure there as assistant coach. Due to safety concerns regarding the heat, the men's race was shortened to a 6K, mirroring the girl's course. Fischer posed an impressive 12th place overall and 8th in the conference. Times for the men's races were not recorded or reported by race officials.
"Jeremy ran today without having been to a practice, yet," said Gordon. "He surprised a lot of people today by his current abilities. I think Jeremy has a lot of potential in the conference and can't wait to see his performance with a little bit of training behind him. We have a great program this year with very competitive and comparable athletes. They keep pushing each other and making each other stronger. I can't wait to see where things are in October."
Penn State DuBois' other male runner was unable to compete due to a partially collapsed lung. "Nolan complained about his chest hurting last Saturday during his race at Greater Allegheny, but he finished anyway. He was at practice every day that week after, but he decided to get it looked at and found out Thursday that he had a partially collapsed lung. Not many people can run as much as these athletes do, let alone do so with a partially collapsed lung. We couldn't believe it. Nolan's procedure went well and we expect him to be back at it in the next couple weeks." said Gordon.
The team will travel to Scranton, Pennsylvania, on Saturday for the Penn State Worthington-Scranton Invitational.