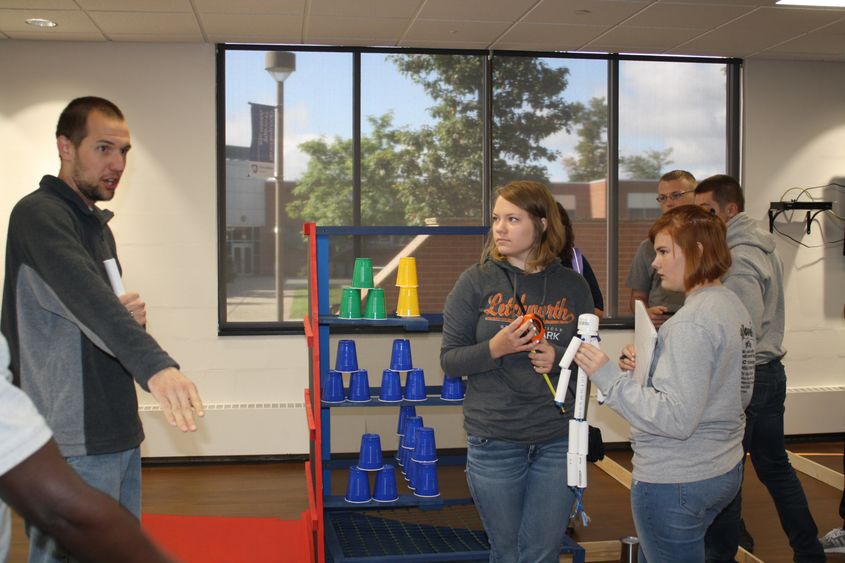 DUBOIS, Pa. — For the fourth year in a row, a national robotics competition for middle and high school students is taking place at Penn State DuBois. An official kickoff for the 2017 BEST (Boosting Engineering, Science and Technology) Robotics Competition took place in the student union on Saturday, Sept. 9.
During the event, teams received the parts they'll need to build a robot and got an overview of the competition. They also got a glimpse of the obstacle course they'll run with their robot during the official Game Days, planned for 4 to 8 p.m. Friday, Oct. 20, and continuing from 9 a.m. to 3 p.m. Saturday, Oct. 21. The games will take place in the campus gymnasium. A practice day is also planned for 9 a.m. to 5 p.m. Saturday, Oct. 7, when the public is invited to take in a preview of the robotics competition.
Schools participating in BEST this year are DuBois Area, Clearfield Area, Clearfield County Career and Technology Center, Redbank Valley, St. Marys Area, Brockway Area, Cranberry Area, Oil City, and Philipsburg-Osceola.
BEST provides all necessary parts and equipment for teams to build a robot they can use to run a course and perform specified tasks. The robot must be built within a six-week time frame. On the days of the contest, all teams will run the course, competing for the best times and course completion. This year's theme is titled "Crossfire", and is based on firefighting tactics. Through participation in this project-based program, students learn to analyze and solve problems utilizing the Engineering Design Process, which helps them develop technological literacy skills. The goal is to better prepare these students for further education and careers in the STEM fields — science, technology, engineering and mathematics.
"The educational opportunities in hands-on activities like BEST are almost limitless," said Penn State DuBois Chancellor M. Scott McBride. "This competition provides a fun, engaging environment that holds the interest of these students as they are immersed in activities that expose them to science, technology, engineering and more. This gets young people excited about these fields early on, and has great potential to inspire many of them to pursue STEM careers."
The learning opportunities with BEST don't stop at the STEM fields, however. Teams also compete and receive awards for other areas of the project, which include marketing, exhibition, sportsmanship and team spirit.
"The BEST Robotics program provides a platform for students to learn the importance of having team members with a wide range of skills, from graphic design, to engineering and programming," said Stephen Feldbauer, an instructor in engineering at Penn State DuBois who organizes BEST each year said. "For example, it teaches the engineer that if the product does not only function, but also looks good and has someone to sell it, there is now the need to build it."
Gayle Mitchell, a teacher in the gifted program at Cranberry Area High School, said this diversity in learning opportunities is one reason she sees such value in having her students participate in BEST.
"They benefit in so many ways; not just academically, which is significant, but also through team work and in working across all of the different areas together that they have to participate in," Mitchell said.
One of Mitchell's students, senior Elizabeth Dailey, sees that value, as well. Additionally, now in her second year participating in BEST, Dailey is already setting out on a career path in STEM.
"This gives me experience in the kind of job I want to go into in engineering," Dailey said. "It's nice seeing the whole design process, and how all of these parts come together with a whole team."
Winners of BEST at Penn State DuBois will advance to the Northern Plains BEST Regional Championships, to be held Nov. 29 though Dec.1 at North Dakota State University.
More information can be found at http://dubois.psu.edu/best
BEST at Penn State DuBois is made possible by sponsorships from Dave and Francie Spigelmyer, Christine Beretsel, Miller Welding and Machine, Farmer's National Bank, Comtec, Atlas Pressed Metals, Phoenix Sintered Metals, and Eastern Sintered Alloys.